Free Advice for First-Year Student Applicants (FAFSA)
Seniors reflect upon changes of 2020-21 admissions cycle, offer application tips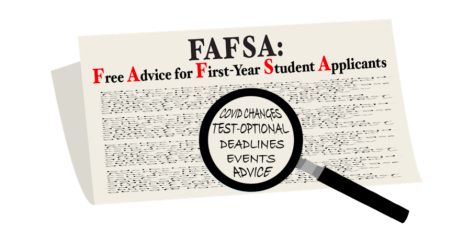 Intro
Over the past year, the COVID-19 pandemic has turned most of the world on its head as individuals, policymakers and institutions adapt to ever-changing safety protocols. These reforms are especially evident in colleges and universities that have had to rethink their applications and admissions. For the most part, these adaptations have been helpful in accommodating students' extenuating circumstances. 
How Schools Adjusted to COVID-19 Changes to Applicants
Many colleges already embraced a "holistic" admissions process, which evaluates the "whole" applicant — placing special emphasis on character — rather than reducing an applicant to grades and numbers. The pandemic has accelerated this trend as colleges place even greater weight on essays and letters of recommendation than they have in the past.
These changes are nothing new, and have not drastically changed the application process for most students. In our opinion, navigating the college admissions process virtually has posed additional challenges. Touring, interviewing and communicating with admissions officers and counselors online has made it much harder for us to get to know a school and its requirements. And, as is common among students nowadays, motivation was at an all-time-low — making it really difficult to keep up with deadlines.
We appreciate institutions for attempting to better accommodate students' struggles during COVID-19. Yet, as students across the country and globe lost valuable resources and radically altered their lifestyles, the college application process has been just as — if not more — taxing as ever. 
Test-Optional
Over half of U.S. colleges turned towards a test-optional policy for 2020-2021 admissions. And as of January 19, the College Board announced a complete elimination of SAT Subject Tests as well as the essay section of the SAT for future admissions cycles. Previous years have already seen a gradual trend away from reliance on standardized tests; but, as COVID-19 reveals the vast educational inequities that exist across different schools and communities, more colleges and institutions have embraced test-optional admissions than ever before, and standardized tests are quickly becoming a less relevant aspect of students' applications.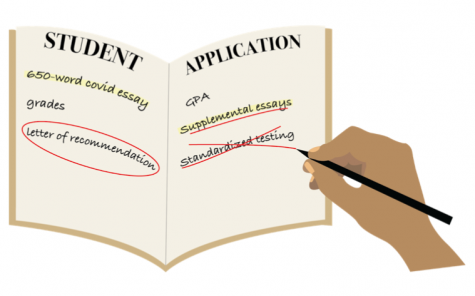 This is an important step towards equalizing admissions for students from less fortunate socioeconomic backgrounds. Standardized testing is an outdated and elitist method to determine a student's qualifications or potential, as performance in these tests is highly correlated with income level. Several institutions, such as the University of California system, have already announced plans to stay test-optional for Fall 2022 applicants as well. As admissions for this year end and institutions begin revealing their plans for the upcoming academic year, colleges should seriously consider the phasing out of standardized tests.
Deadlines
As a result of unexpected disruptions for more than nine months, numerous colleges extended their early application deadlines, whether for Early Decision, Early Action or Restrictive Early Action. Some schools pushed back submission windows by nearly two weeks; in the same vein, several universities were more accepting in terms of test score submissions — e.g., accepting self-reported test scores instead of official ones. At the same time, others did not alter their applications whatsoever, retaining dates and necessary documents from prior years. Overall, though, institutions were incredibly understanding about any application materials coming in subsequent to deadlines, especially in the wake of such unpredictability.
With later cutoffs comes later decision dates, though. It can be tempting to compare a college's decision release date from years prior and feel helpless, but it's best not to analyze past admission cycles in the midst of the unpredictability of this current rotation. Almost universally, schools have experienced a massive increase in applications; waiting two more weeks relative to the 2019-20 may enable one's application to receive additional attention.
Virtual Events
As the world did an about-face in mid-March, colleges and universities had to entirely transform their information sessions and tours so that they were accessible in a virtual setting. We sincerely applaud these schools for making such transitions so successfully and efficiently given such little time.
Although prospective students couldn't visit dorms or sit in lecture halls, remote college events felt nearly identical to those that occurred in conventional means. From detailed overviews of general education requirements to current university students offering insights about a school's culture, these sessions truly allow students to gauge their interest without having to fly hundreds of miles in an unsafe setting. Speaking of which, an enormous upside of virtual college events is the ability to view different colleges on different coasts in the span of just two hours; we feel that retaining some virtual college programming would be wise.
Just as institutions adjusted on the fly, Stevenson's own College and Career Center (CCC) was still able to inform students about the college application process through alternate means. Virtual webinars about the Common and Coalition Applications as well as college interviews provided detailed information that once would have been shared in person.
Accessibility of content increased for the CCC as well, as several college representative visits were posted online for unlimited use — no need to fret about missing a key number in a conversation about financial aid. While a myriad of videos were posted to the CCC's Canvas page, we feel that sharing recordings of the aforementioned sessions, whenever possible, would provide an excellent supplement to potentially confusing online documents or tip sheets.
Advice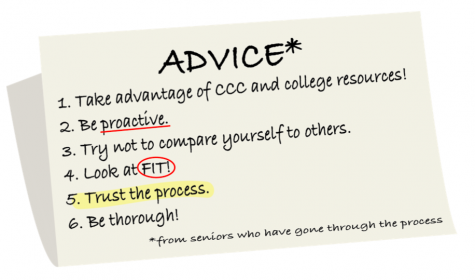 Overall, COVID or not, the college application and admissions process can be a stressful and nerve-wracking experience. To juniors, sophomores and freshmen, here's our advice:
Take advantage of resources that the CCC and colleges you are interested 44444in provide, whether that be virtual tours or conversations with students and admissions officers. This year, these resources were especially important as in-person visits were halted; but, even as we slowly return back to normal, they are an invaluable way to determine if a school is the right fit for you. 

Try to have your college list finished before your junior year ends. This can be a daunting task, but it's a necessary step in the application process. Begin by considering the types of schools you could see yourself attending; we found that looking through colleges' individual websites, and seeing what others said on sites such as Reddit and College Confidential, really helped us get a feel for a school's academic and social atmosphere. From then on, divide the schools you are considering into three categories: safeties, targets and reaches. You can fine tune your list as time passes, but aim to have something down as early as possible.

Become familiar with the requirements of each school you are applying to over the summer and begin your college essays early. If you are applying with the Common Application, a good rule of thumb is to have at least a draft of your Common Application essay done before your senior year begins. It can be easy to procrastinate a lot of supplemental essays until the last minute, leaving students stressed and frazzled during the first semester of their senior year. Time moves a lot faster than it seems; capitalize on time off from school throughout the year to finish essays and other requirements.

Don't compare yourself to other applicants. This is definitely easier said than done, especially in an academic climate as rigorous as Stevenson's. But, keep in mind that the college admissions process is going to be different for every single student. Regardless of others, make an effort to portray the best version of yourself, your character, your passions and your curiosities.

Evaluate each college on whether you think it would be a good fit for you — taking into account factors such as cost, size, location and academic rigor — rather than just looking at its prestige or what your peers have said. Ranking can certainly be a factor, but at the end of the day, ask yourself,

Would I really go here and have fun?

Look up YouTube channels of current students at schools — an example would be The Kath Path for Stanford — to see what everyday life is like on campuses.

Trust the process. No, this mantra doesn't just apply to former Philadelphia 76ers General Manager Sam Hinkie — have confidence in your applications and candidacy for any school, and don't let decisions define you as a person or your self-worth. Also, even though it may seem harrowing to collect letters of recommendation, transcripts and even portfolio materials in August, rest assured that everything should (hopefully) work out and that documents will be submitted punctually.

Be thorough. Check college websites for specific requirements and deadlines, as things are constantly in flux (and incorrect information can, unfortunately, be easily disseminated). Further, regularly communicate with your parents/guardians about any payments or documents that may require their assistance, as well as about application updates.