Stevenson Sports Waiting Game
Q&A with a multisport athlete who reflects on the continual updates to the sports seasons made by Illinois High School Association (IHSA)
Q: With new guidelines in place how do you plan to navigate both sports seasons?
A: With the guidelines currently in place I would probably prefer lacrosse because of the fact that with wrestling you are literally right on top of the person and have a greater chance of getting sick, but with lacrosse you are able to wear a mask and while there is still contact in lacrosse it's a lot more limited than wrestling
Q: Do you think you'll do any sports at all this season?
A: Yeah, I'd like to do at least one sport this season probably because I still want to be active and partake in Stevenson's sports this year as I don't do any fall sports. 
Q: Are your coaches giving you any sort of updates? 
A: So far, I personally haven't gotten any emails about when the season is starting or if there are zoom meetings about the season. I'm guessing they're still discussing what is going to happen in the season. 
Q: Do you know anything about what's going on?
A: I honestly have no clue what's going on as my coaches haven't really given us, or at least me, any guidance on what the future of the season is going to look like. I'm hoping it will happen in some way shape or form. 
Q: What COVID-19 protocols do they have in place?
A: My season for lacrosse is supposed to start this spring, but like I mentioned earlier, there's still no solid plan for how everything will play out. But I think they'll ask us to wear masks under our helmets and socially distance when we aren't playing the game.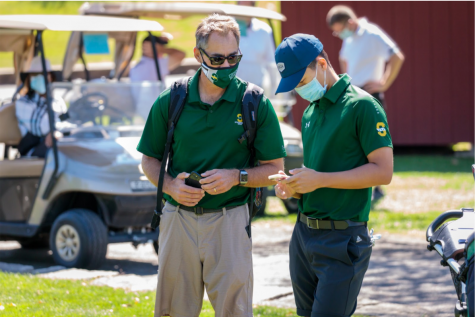 Side Bar: 
Important Information to Note: 
At the beginning of the 2020-2021 school year, IHSA classified all sports into three tiers; low-risk, medium-risk and high-risk sports. In recent months, low-risk sports have been able to begin, including golf and tennis in the fall season. 

Sports are constantly moving up and down tiers in accordance with the number of cases of COVID-19 cases in the area.   
On January 14, Illinois high school's athletic department's gathered to see where each school stood in what decisions should be made in terms of sports. 

The vote, which was more of a straw poll to gauge interest among athletic departments, was taken to see how athletic directors across the state want to proceed. Their support is a factor the IHSA took into consideration when making a final decision. 

The votes had no actual standing and can't ultimately make a concrete decision in terms of sports, it is simply to see where their support lies 

The turnout of the poll: Half of the directors voted for an abbreviated season allowing for some sports seasons to overlap, the other half voted for elongated seasons which entailed that there won't be an overlap in sports; thus pushing sports further back.

Who gets the final say/decision: Illinois Department of Public Health (IDPH) and Pritzker get the final say in if a sport can happen or not based on rules set by COVID regulations.