To Be or Not to Be (at Home): That is The Question
Students and parents voice their thoughts on the new hybrid model
Allison Gould '23 wakes up to her alarm blaring at eight in the morning. She presses snooze for ten more minutes, falling back into her bed with a sigh. Class doesn't start for 35 more minutes, and with the all-nighter she just pulled, she needs all the sleep she can get. After all, the commute to school is less than an arm length away: her desk.  
For the past semester, Stevenson students adapted to this virtual mode of learning, but the school has developed a hybrid model. This new model assigns students to groups based on where they live and designates which half-days the students can attend in-person. The Stevenson administration has worked to provide ample precautions for students to go to school safely.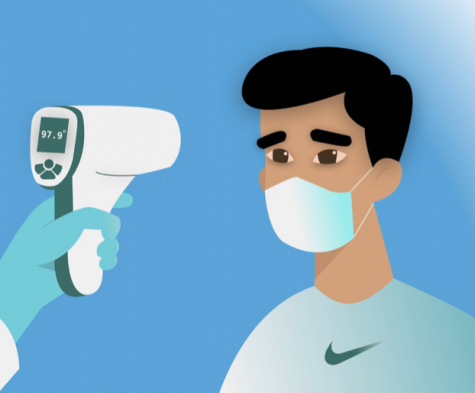 Some students, like Allison Gould '23, are ready for the opportunity to return to campus. After learning online for the last semester, Gould is excited for variation and a different learning environment.
"Just getting out of the house and going to school for half a day is what I need," Gould said. "It's so much harder to learn on Zoom, so being in-person will be easier for me."
While online learning has been difficult for Gould, she believes it will offer opportunities to socialize and learn with her peers on a more immersive level. Since March, Gould hasn't seen nearly any of her classmates and looks forward to being in classes with them again. 
"I miss seeing everyone," Gould said. "Even though we won't be able to socialize a lot because we need to social distance and most of my friends probably won't be in the same group as me, it's worth it." 
One of the many things missing this school year is the ability to meet and bond with teachers. Gould considers hybrid learning to be an opportunity to finally connect with them. 
"This year I have really good teachers and I like them and I want to finally meet them," Gould said. "My teachers already say 'I can't wait to meet you guys' so I'm really excited to actually meet and interact with them at school."
With all of the precautions that Stevenson is taking, Gould feels comfortable returning to school. Since Stevenson has applied nine mitigation strategies, specifically population testing, Gould believes that the district invested plenty of time and effort to keep her and those she comes in contact with safe.  
"I think it's great that they are testing everyone to make sure that we are as safe as we can be," Gould said.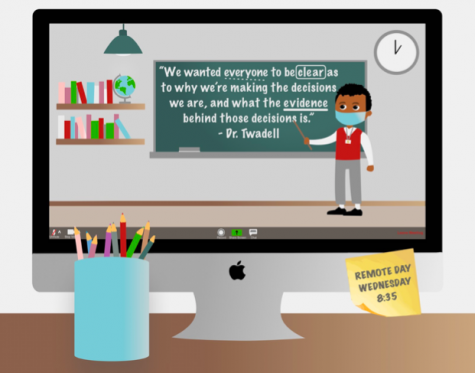 Online learning has enabled students, like Hani Cho '22, to wake up minutes before class starts, sit in comfortable chairs, listen to music and more. Going in-person would mean giving up these comforts, which is the main reason that Cho does not want to go back to school. 
"I want to stay at home because it's more convenient to wake up and just turn on my iPad to start class," Cho said. 
Students are also making their decisions based on their specific family situation; for students who live with high-risk family members or essential workers, the health risks associated with going back to school make some uncomfortable in going back.
"My parents are dentists, so I can't risk going out and giving them COVID," Cho said. 
Many other students are hesitant to return to in-person learning.. Because of the precautions and mitigation strategies that will be in place, they don't believe hybrid learning will be as effective as e-learning. 
"If I were to attend school, the interaction between my peers would be limited as we won't be able to congregate due to CDC guidelines," an anonymous student said. 
With social distancing, shields, assigned days and more mitigation strategies, some students, fear that the school experience won't be as engaging or socially fulfilling as it used to be. Parents have also expressed their reservations against sending their children back to school. 
Some parents feel that with cases rising across the country, it's irresponsible to be opening up the school. With over 23 million cases and nearly 400,000 deaths, transmission rates have shown no signs of decreasing, with new high records occurring almost every day. Some parents worry that hybrid learning will make the Stevenson community more susceptible to risk. 
"It's interesting that for months the schools justified their action to close down the school because they couldn't keep everyone 'safe', and now we are full steam ahead on a hybrid model," an anonymous Patriot Parent Association (PPA) member said. " What changed? We still have a virus out there." 
While the administration has provided several safety measures in accordance with the hybrid model, some parents feel that the measures are simply unnecessary. With a lot of the school's savings being diverted to measures such as temperature checking and ventilation, there is worry that too much money is going into a plan for students that come to school for only half a day. 
"It's a shame that money couldn't go to helping kids who are struggling with grades and depression and anxiety or learning disorders," another anonymous PPA parent said. "I would rather the students stay home and have that money used for education. How much money was spent mailing saliva tubes and plastic bags to our kids? How much money will be spent processing tests?" 
The time lost in lockdown cannot be regained, so some parents and students are looking forward to going back to some semblance of normal.  Many feel that the Stevenson hybrid plan is a step towards normalcy.  
"I think this is long overdue," another anonymous PPA member said. "The truth is, we can't stay in lockdown forever." 
Even students who weren't keen on going back agree that going back in-person will be inevitable. While for the time being, they're keeping their distance, they still note that eventually, things will return to somewhat normal. 
"It's been [almost] a year since the quarantine started," Cho said. "I'm taking precautions, but eventually, I look forward to going back. It feels odd missing so much."