The SMARTDesk Remains Smart
SMARTDesk Team remains open, maintaining safety protocols
On March 13, 2020, while every Stevenson student and faculty member was heading home to attend school remotely, the SMARTdesk team was making plans to operate even during the pandemic, with numerous safety protocols in place. 
Since March, as the remote learning schedule has been extended further and further, this team— consisting of Nancy Hudson, Lisa Jensen, Sandra Lee, Christine Marr and Veronica Lozano — has still been fully functional at the school. 
"The SMARTdesk team has physically been in the building at the SMARTdesk with in-person service hours every school day since [March 12]," SMARTdesk manager Nancy Hudson said.
In order to make the SMARTdesk as safe as it can be for students and for themselves, the team has been keeping up with many safety protocols. Namely, the main few protocols include social distancing, regular station cleaning, and limiting the number of people in the area. 
"We have followed and continue to follow CDC, State, County and District 125 safety protocols as they have developed," Hudson said. "We were socially distancing in March and wearing masks when working with people 'in person,' long before the state mandate in May. We have also been answering the Health Screening survey since July, and we began Population Testing [the week of December 11]."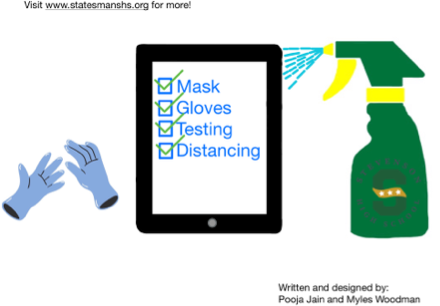 With these rules in place, this small team has been accommodating students' needs regarding iPad replacements, internet issues, and more. Whether that is by students coming into the building to drop off their device or through detailed emails that Hudson sends with steps for students to follow to fix iPad issues by themselves, the SMARTdesk has tried to be by students' sides even in a remote setting. 
For issues that may not require in-person visits, the team has also created [email protected], which is an email that goes to all five desk team members. 
"Once we get in touch with the student, we will use any resources to communicate with the student," Hudson said. "Often, email is the best way because there are multiple steps involved in the solution."
These emails usually include hyperlinks to other websites that have clear directions for students' specific iPad issues. One example of an issue is not having enough storage on the iPad. Problems like these can be taken care of through emails that contain a table of contents where students can identify their issue and scroll down to find the solution where a clear set of directions on how to fix their iPad is laid out for them. 
Even against the challenges that face them, the SMARTdesk employees have remained devoted to maintaining a helpful, efficient, and welcoming environment for the Stevenson students who need it.
Students like Mahum Sheikh '21 experienced going to the SMARTdesk for an iPad exchange and the safety that came with that errand at Stevenson.
"My experience was really safe," Sheikh said. "When I went inside the school, I had to do the health screener. And then there was a security guard in the front who asked for it as well before I could enter."
Along with new social distancing stickers that line the entirety of the link by the SMARTdesk, hand sanitizer dispensers, and plexiglass separating the desk and the student, the desk has evolved to keep students six feet apart, safe, and at the desk for as little time as possible, so they can quickly get in and out. 
Especially since seniors have had their iPads for four years now, issues are bound to come up whether that's with storage or the iPad's functionality and a visit to the SMARTdesk may be inevitable. 
Even amid a pandemic when students can only attend school a few half days a week, Sheikh sees the necessity of the SMARTdesk.  "It's just important for students to know to take advantage of the SMARTdesk, especially seniors, because we're graduating soon and get to keep our iPads," Sheikh said.
The SMARTdesk has remained committed to serving its students needs and to keeping the Stevenson community safe as a whole. 
"It is a true team that makes the SMARTdesk function," Hudson said.