Q & A with the Community
Stevenson community weighs in about COVID-19 quarantine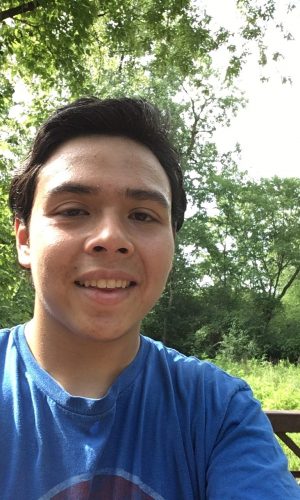 Quentin Kagan is a senior at Buffalo Grove High School, residing in Cook County. He takes part in the math team, Model United Nations, Science Olympiad, and National Honor Society in school. In his free time, he likes to ride his bike, play with his dog, and hang out with friends.
What is your school doing to keep families safe from the Coronavirus?
"We're doing online classes but it's not officially e-learning. So far, we've been just meeting two classes per day for two hours but the teacher can decide how long we want to talk. Most of them are under half an hour. I'm disappointed that we can't finish off the rest of the school year but it is nice to feel relaxed about the classes. I would like to get back to normal though."
How has this pandemic affected you and your family?
"Since we're staying inside, we've been doing more family stuff together like trivia, board games, baking together, stuff like that since we're not going outside or hanging out with other people as much, which I enjoy to an extent."
What is your reaction to everything occurring in our world right now?
"It's certainly a new experience for a lot of us but I think we can manage it. Although, as a senior, it definitely sucks to have a lot of things canceled. For a lot of people, this could be really hard for them, especially if they lose their job. Everybody's going through a lot of the same things right now but I think we can all make it through."
Do you think the virus could have been handled differently or should it be handled differently in the upcoming months?
"There was a lot of [the Chinese government] not releasing information as soon as they could have or they diminished anything that was coming out of the country, and it could be helpful if, in the future, countries worked better together and didn't hide things. I hope our government is doing the best they can but I know not everyone is going to agree with every action they take."
What do you think our country or world is going to look like after the pandemic is over?
"Immediately after the virus, people are going to want to go out and do all the stuff they couldn't do before. But I think people might be more hesitant to go out and interact with people later on because of the fear of infection."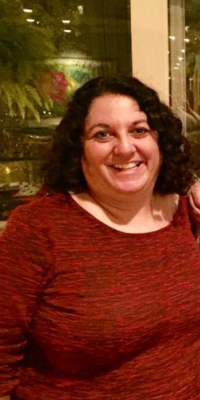 Laurie Levinson is a mother of three girls, including Erica Levinson '20, and resides in Lake County. She is a managing broker at Kurman Realty Group. She enjoys reading, nature, and trying new recipes.
What is your work doing to keep you safe from the Coronavirus?
"I go into work like once a week for a couple of hours to get mail that's delivered and go to the bank, things like that, but most of everything I can do from home. I feel safe because I just wash my hands and I'm not worried. Plus nobody's in the building so nobody's breathing on me."
How has this pandemic affected you and your family?
"Three of my kids are graduating, two from colleges, so it's kind of weird because the oldest actually lived in another city and she decided to come home to work from home instead of staying alone in Milwaukee—that's interesting because she doesn't really live here anymore so it's been fun to have her. I think we're doing a lot of group activities just as a family which is really cool. It's a little weird because senior year of college was a really fun last semester and there's a bucket list of the things you want to do, so that's sad that seniors can't do that stuff."
What is your reaction to everything occurring in our world right now?
"It's a shame to see that people at grocery stores have to work, like they're getting breathed on, that's really unfortunate. I think people are exceptionally friendly now too because they're wanting to talk to people and saying thank you to people working at Target or whatever since we know this is a hardship for them to have to work and get exposed. The thing that I worry about is how people are going to get so used to being isolated and I think that with social media, I worry about what's going to happen to your generation in the future. Are people going to get used to this isolation and isolate themselves more? I'm not sure."
What do you think our country or world is going to look like in the future after the pandemic is over?
"I think it's nice that there's a lot of people that couldn't work from home or companies wouldn't let them but now companies have had to come up with ways for people to work from home. I think that that's really nice because that'll help like if someone has a daycare problem. All of a sudden, they can work instead of having to take the day off and lose the pay. The infrastructure should get better and this is enabling some lower-wage workers to work from home. It's going to be interesting to see what changes happen in the next couple of years because of this."
What do you think are some ways to help people in need during this crisis?
"Some neighborhoods shop for the elderly so that's really nice. I've noticed that prices have gone up so it's nice to do more food pantry-related stuff for people that can't afford food. It's been nice in the city for families to get free meals. Also, just helping older neighbors and seeing what you can do for people."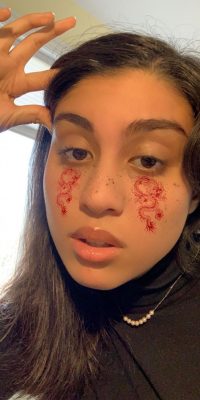 Judith Levy is a sophomore at SHS living in Buffalo Grove. She is very involved in Stevenson's art program. In her free time she enjoys playing Animal Crossing: New Horizons on her Nintendo Switch and playing with her dog Tofu.
How has this pandemic affected you and your family?
"Kind of poorly, cause while we're okay we have a lot of extended family, like in Israel and Thailand, just places where it's really dangerous right now. It sucks because we can't go visit them over the summer anymore, and it sucks to be in quarantine cause we're all just stuck at home. My parents will go to work, but because they have a business, their employees don't even go because of corona. It just sucks, cause I like going out."
How has the quarantine affected your social life?
"I don't talk to as many people, cause like, I just haven't talked to as many people. Usually, when I'm at school I'll see a lot of people and I'll be like woah, this is cool, and stuff like that. I get to interact with people and see them in person, it's really nice. But when I'm not at school, it's suffocating because I'm so used to socializing every day with everyone. I miss it, since I really liked all the interaction."
Are the e-learning protocols SHS has used been effective?
"E-learning makes my schedule very flexible but it's not good for art programs. I'm taking painting and it's so much more difficult to paint at home than at school. I don't have all the resources I need, and photography is super messy because the art show got canceled but we still have to do the work. They're doing their best and I understand that but school's just difficult because I'm a visual learner and staring at a screen is draining. But it's the best that they can do, and I understand that but it's just harder to learn."
Have canceled events affected you significantly?
"Yes! The art show was such a disappointment. All of our work has been going into the art show, we've been preparing since January, and we were supposed to have it. But now we can't because of corona and it really really sucks because we're not able to use any of our hard work. I got so many things ready and now I can't even use it for anything. I was so excited because I had so much family that was planning to go, like my family, my uncle, friends from school, they all planned to go. We can't do much about it now that we're doing assignments from school but it's really sucky cause we won't get the exposure that we need for it. For example, certain projects require a lot of people but we had to cancel them because of the lack of contact."
What do you think are some ways to help people in need during this crisis?
"Be supportive. The best thing you can do is follow the rules, and encourage others to do the same. Wash your hands, it's not hard! Water and soap you guys. I understand some people's homes aren't the safest place to be, and it's not great for their mental health but to try and make the best of the situation. Reach out to your social worker because they are still available to you. Use your resources, and do what's right for you. Stay safe and support your friends. It's not the easiest thing to do, but they need it. Personally, my friends and I schedule a time to talk on the phone to each other every night, we know that if we don't we will go insane. Everyone needs to support each other, that's how people stay sane these days."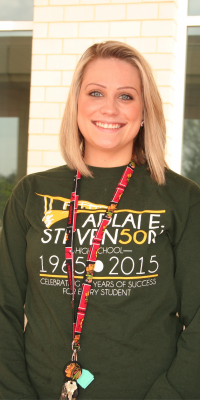 Patricia Fiore is one of the school nurses at SHS. She started her career as a nurse in NICU and labor & delivery almost 8 years ago. She has worked as a nurse at Stevenson for 4 years and has loved getting to know all the staff and students.
How has this pandemic affected you and your family?
"I've been home with my three kids since about Friday, March 13, when we got off of school. I definitely miss seeing all the kids at school and seeing all of my coworkers. I have a second-grader and she really misses her friends and her teachers and going to school. It's been actually really hard for her to figure out e-learning, so we've been trying to do some family walks and craft time and science experiments. My little preschooler, she's in Little Pats and she is missing her friends. She's actually done Facetime with some of her best friends from school and she's been taking out her class book to show me all of her teachers and friends so that we don't forget who they are. I have a one-year-old who thinks this is a blast since we're all home all the time. My husband, he's an electrician, he works in the city, so he actually still goes to work. So we've been trying to do a lot of Facetime with family, Zoom calls with friends. Trying to stay connected but trying to stay home."
How has the virus affected your job as a Stevenson nurse?
"Usually we have the walk-in capacity, where we have kids come in, you know, "check my temperature, I don't feel well". We're not able to do that portion of it, but all four nurses are actually on their emails every day so that we can still stay connected with parents and students if they have concerns or questions. I'm still entering physicals, immunizations, and any medical updates. We've been doing 504 meetings with the social workers and psychologists, so that's still been going on. We've been trying to keep track of any communicable diseases and we've been on the phone with the Lake County Health Department just to communicate the things that are going on with them."
How are you coping with the quarantine?
"Honestly, it's given us a chance to spend quality time together. I think every day usually we're in a rush, you know, we go to work, we go to school, we're doing so many things and this has kind of put a stop and slow down for everybody. It's a reset period. Usually, we don't have time to play board games, or go on walks, or work on crafts together. Now, we've got a chance to do all of that. We've been trying to focus on being together and taking a step back from those busy lifestyles that we've had. I'm sure as a Stevenson student, you guys are doing ten million things at once, so this must be nice. I think we all need that, this little break. Kinda just freshen up. I know there are some things with the quarantine you can't do, but it'll come back."
In your opinion, what are the best ways that the Stevenson community can stay safe during the virus?
"The best way to stay safe is to follow the governor's directives. Stay home as much as possible, maintain social distance if you need to go out, and use good hand-washing skills. You know, the twenty seconds hand-washing technique. That's the best way I'd say to stay safe."
Do you think the virus could have been handled differently or should be handled differently in the future as it continues to evolve?
"This virus is really new, obviously we've never gone through anything like this in our lifetime. I think that everything we've been doing is spot on, I think Stevenson has been doing an amazing job of being one of the first schools to close down, start e-learning, and limit socialization at that point. That was pretty great. Illinois is doing the best it can by pushing the social distancing and being sheltered at home. The biggest issue I've seen is the lack of medical supplies. I don't see any reason for anyone who's not a healthcare worker or a first responder to be wearing the mask and the gloves. Just limit going out and when you do go out do some good hand washing when you get home. That's the best thing we can do, and save the masks and the gloves for people who need it. On a positive note, Stevenson science labs and nurses were able to donate 120 boxes of gloves and two giant bags of the N95 masks to local fire departments and hospitals. Masks are now going to be required as of May 1st."