COVID-19 News: From Chicago to the Entire Country
Updates on the most recent COVID-19 news
Part 1
Chicago Enters Long Awaited Phase 4, CPS Push Back Opening
Chicago is slowly making progress with its COVID-19 phases, after remaining in Phase 5 for much of the past year. NBC Chicago reports that Phase 4 which normally entails lightened restrictions in the use of recreational areas, however the city is taking more precautions and putting more restrictions than the Phase 4 guidelines indicate. Even amongst more restrictions, Chicago still plans to reopen recreational areas such as bowling and skating rinks. 
In the beginning of Illinois's plan, many surrounding suburban areas entered Phase 1 on January 31, 2021. Although Illinois has fluctuated between all five phases, Lincolnshire in particular reported that they have entered Phase 1. Phase 1 allows for eating inside restaurants while also opening recreational areas to the public. In addition, it allows for schools to slowly reopen, and many schools, including Stevenson, have opted for a hybrid model.
The uncertainty surrounding Illinois' mitigation plan has left a lot of unanswered questions pertaining to how schools will reopen. While restaurants and recreation areas are becoming more and more lenient, they will not be exposed to hundreds of thousands of people going in and out throughout the entire day as schools are. 
Since Illinois has been inconsistent with staying in certain phases, the Chicago Public Schools district (CPS) decided to delay the opening of schools regardless of the fact that the state continued pushing through into both Phases 4 and 5. 
Schools are scheduled to reopen for more than 60,000 kindergarten through eight grade students, joining the current 6,500 preschool and special education students who returned back to in-person school on January 11. Unlike students, teachers were obligated to come back due to the consequence of being locked out of their district accounts. 
Other regions of the state are on track to move into Phase 4 mitigation, which includes more leniency in regards to restrictions. However, plans may change rapidly, as 2,387 patients in Illinois were reported to be in the hospital with COVID-19. Nonetheless, Illinois continues to push through unprecedented times and is beginning to see a decline in cases. 
Biden Administration Ships Vaccines to Pharmacies, New Strain of Virus Found in US
As more vaccines roll out and giant companies like Pfizer and Moderna continue to supply, the Biden Administration plans to take full advantage and aims to ship vaccines out to local pharmacies all across America.
The U.S Centers for Disease Control and Prevention (CDC) is working closely with pharmacies from select states to supply vaccines. However, White House Covid-19 Response Coordinator, Jeff Zients, stated in a briefing that, "In the early phase, many pharmacies across the country will not have vaccines, or may have very limited supply."
And as the scarcity of vaccines begins to spread across our nation, Biden acknowledges that millions of Americans will be racing to local pharmacies to get their hands on vaccines while they still can. 
The administration is also trying to push out more vaccines due to the discovery of new strands of the virus. According to AP News, the new mutations of the virus are much more deadly. New strands have been found in South Africa, Brazil and the UK, and they are said to have fatal side effects, including coughing, body soreness and fatigue. The UK strain is most worrisome because it is somewhat resistant to both of the vaccines that have been created, as well as being more contagious.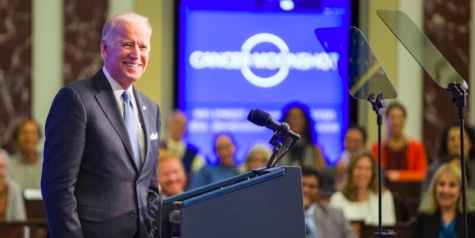 The strains from all three countries have been found in the United States, which is why the vaccine shipments to pharmacies is so crucial. Doctors and scientists are especially concerned because hospital numbers are decreasing, and are worried that these new strains will interrupt the country's progress of lowering hospital spaces as well as slowing the spread. The Biden administration is hopeful that all the vaccine shipments will help combat the old strains of the virus, as well as slowing the spread of the new strain.
Studies Show Young Adults to Blame for Virus Spread
With schools opening back up in many states alongside restaurants and public facilities, scientists have been conducting studies to see which age group spreads COVID-19 the most. According to ABC News, 72.2 percent of infection was spread by young adults aged 20-49 years. Only 7.1 percent of the spread was from those whose ages range from 10-19. 
Studies also proved that this age group of young adults is one of the main causes of the virus's spread. ABC News concluded through the studies they conducted that not only is this age group to blame for the spread, but they are also to blame for the deaths the country has witnessed throughout the past year. Furthermore, the study showed that the deaths were in the 50+ age range.
Both scientists and doctors are strongly advising this group to stay home and listen to warnings about the virus. The study showed researchers that this sudden resurgence in COVID-19 cases comes particularly in the range of 35-49. While researchers had thought that it was best to send vaccines out to those in older age categories, they are now realizing that it may be crucial to send them to those who age 35-49. Since many of them have failed to follow the COVID-19 guidelines, the spread of the virus heightened. 
However, despite countless warnings from the CDC, a large chunk of the population fails to heed the warnings and continue to fuel the virus. 40.7 percent-41.4 percent of those spreading the virus are within the age group of 20-49 years. 
Deadly UK Strain of Virus Found in Lake County 
Chicago and its surrounding areas have entered Phase 4 or lower, making progress with halting the spread of the virus. However, the first strain of the COVID-19 variant from the United Kingdom was found in Lake County on February 6, 2021. 
The individual diagnosed with the new variant travelled to Europe and the Middle East back in December 2020, and came in contact with a virus carrier. The person reported that they did not experience any symptoms, and believed they felt good enough to return home. 
Mark Pfister, Director of the Lake County Health Department, emphasizes how important it is for those who live nearby to social distance, wear masks and go out only when necessary. While he does expect there to be variants of the virus, he believes that their spread can be halted if everyone does their part and takes the pandemic seriously.
Doctor Anthony S. Fauci, American physician, scientist and immunologist, warns America of the new strain's deadliness. Not only is it more easily transmissible, it is said to hold a higher death rate. The main symptoms of this strain are a cough, fatigue, sore throat and muscle aches. Both the CDC and Dr. Fauci advised citizens of the United States to stay home to lessen the chances of increasing transmission rates. 
Part 2
Vaccine Race Gap Found in Communities of Color
Companies like Pfizer and Moderna have successfully rolled out vaccines to many states and counties, and people are finally beginning to get their doses. However, researchers have noticed that the majority of those receiving vaccinations are white. According to VOA News, 5.4% of African Americans have been vaccinated, compared to 60% of white men and women. Officials are emphasizing how important it is for those at vaccination sites to document the amount of people going, as well as their race so any racial imbalance can be halted. 
Vaccination officials are doing all they can to make sure there are no racial disparities. In certain states, there are vaccination sites being set up at Black churches and in other community centers in primarily African American neighborhoods. The officials are doing this in hopes that more African Americans will be able to receive their dose. Studies have shown that African Americans have a death rate of three times more than any other race in the United States.  According to Politico, this disparity is largely because of the healthcare systems and the failures to equally expend the vaccine. 
However, Tennessee is working to close the race gap between those who get the vaccine and those who don't. Tennessee typically vaccinated those who were working in the hospital, but recently state leaders have sent doses from hospitals to local clinics and rural pharmacies. They did this in order to allow more people to become vaccinated.
Winter Storm Halted Vaccinations, New List of Eligibility for Vaccine
The heavy snow and frigid temperatures have slowed the vaccination progress of those who live in Chicago and its surrounding areas. Chicago has closed all of their vaccination sites due to the bad driving conditions and below freezing temperatures. Some sites also did not receive their vaccination shipments, which has also slowed down the ability for citizens to get their dosage. However, according to the Chicago Times, the city is allowing people to get their appointments rescheduled.
Illinois Governor J.B. Pritzker released a list for those who are currently eligible to receive their dose of the vaccine, starting February 25. Those who have a high-risk medical condition such as sickle cell disease, cancer, and diabetes are able to schedule their appointment. Pregnant women are also included in this list as are residents who are over the age of 65. Pritzker plans on rolling out vaccines to these groups of people, then extending the doses on to other members of the community. 
Pushing out vaccines is crucial because as of February 16, the amount of deaths in the state reached 20,00. It took the state 9 months to hit 10,000 deaths, while it took less than 3 to hit 20,000. However, there is some positivity within this dire situation – Illinois had its lowest number of new cases since September. February also has had half of the deaths January faced, with about 50 deaths per day compared to 104. 
Although Illinois has made progress with slowing down the spread of the virus and lessening deaths, it does not diminish the death toll the state has endured. Pritzker used Twitter to write his condolences and encouraged citizens to keep a positive mindset.