A New Normal
Stevenson High School administration leads transition to hybrid model following implementation of COVID mitigation strategies.
After completing the entirety of first semester in remote learning, Stevenson High School transitioned to the hybrid learning model on January 19, two weeks after the start of the second semester. The decision, which had been announced in November, allows for a partial return to in-person learning
In close accordance with officials at the Lake County Department of Public Health (LCPDH), the administration has worked to make evidence-based decisions regarding the return. The LDPDH only requires schools to use five mitigation and surveillance tactics before they are allowed to re-open, but Stevenson has implemented nine.
District 125 Superintendent Eric Twadell is one of the district's executive decision makers regarding this year's learning model. He holds the responsibility to convey accurate information from health officials to help the school to make an informed decision.
"I see my role as a facilitator, bringing information from our medical experts, the Lake County and Illinois Department of Public Health and the CDC, to the Board of Education, the administrative team, our faculty union and support staff union," Twadell said. "We wanted everyone to be clear as to why we're making the decisions that we are, and what the evidence behind those decisions is."
Despite efforts to provide as much clarity to the community as possible, and as the pandemic became politicized, the school faced pressures from both sides of the spectrum in regards to reopening. In October, parents and students held a rally to voice their support for reopening the school, but a counter-petition soon followed by those who wished that Stevenson remained remote. Despite the community pressures from both sides, Principal Troy Gobble maintains that the administration's focus was solely on health and academic guidelines rather than public pressure.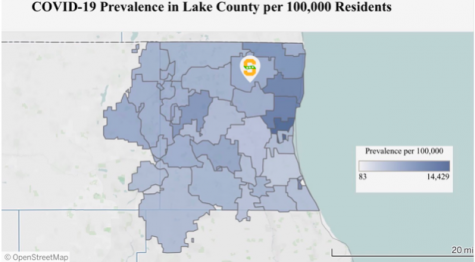 "The community pressure that we felt was not a part of the decision making process," Gobble said. "We listened to the science, and we feel with the number of kids being greatly reduced, masks worn at all times and the highway model in the hallways, that we will be able to keep people really safe."
Additionally, the comfort level of staff members was assessed as a factor in preparing for this semester. Staff members that are immunocompromised, have other medical conditions or didn't feel comfortable being back on campus were given the option to stay home. For faculty that chose to return to campus, personal protective equipment (PPE) and training were provided. 
For math teacher Steven Soszko, the safety preparations made by the administration have increased his confidence in the hybrid return. 
"They [the administration] have been flexible with our comfort levels and needs," Soszko said. "We've been provided with masks, as well as lab coats, gloves and face shields for those who want them. It feels really safe." 
Additional protocols implemented by the school include requiring all students to complete a daily health check-in, scan their IDs and have their temperature taken at the entrance to the school. Moreover, students returning to campus will have to participate in population testing via saliva tests once a week—a step optional for students opting to remain remote— to allow the administration to better understand incidence rates in the community.
Once permitted into the building, students will be expected to social distance and stay within their side of the hallway, which has been clearly marked with yellow tape. Within each classroom, students will be asked to wipe down their desks and chairs with antibacterial wipes provided by the teacher as they enter and leave their classes each period. 
Although schools across the nation, including local high schools New Trier and Libertyville, opened for limited in-person experiences in the fall, Gobble and the administration had made the definitive decision back in July for Stevenson students to complete their first semester through remote learning.
"Early on, there was so much unknown about the virus and whether or not schools would be places of high transmission," Gobble said. " By staying remote [during the first semester], we've been able to observe other schools moving forward so we could learn from them and make the best choices coming back now."
Through the examination of data from schools that had previously transitioned to hybrid learning, the administration was able to implement further safety measures in an effort to prevent the transmission of COVID-19 on campus. For example, upon discovering meal times posed the highest risk of transmission, the administration got to work redesigning a schedule that would eliminate such a risk.
"One thing that we've learned from schools that have been open is that breakfast and lunch time are an absolute disaster," Twadell said. "But by eliminating those times by moving around a few periods and slightly altering the schedule, we could greatly lower the transmission risk."
In the hybrid model, students are split up into three groups—Gold, Green and Blue— based on where they live to allow for more efficient busing. For alternating half-days at a time, each group will have multiple chances throughout the week to return back to campus. The newly revised hybrid schedule includes a break in the middle of the school day to allow for busing to and from school, as well as providing students adequate time to have lunch at home.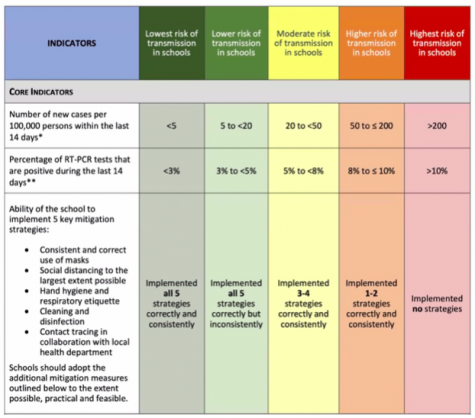 After managing health concerns, the administration's focus was also on recreating some of the social experiences found in a regular school year. Although students are socially distanced and masked, the new hybrid model allows for students to experience some semblance of normalcy in a classroom setting with a handful of their peers. 
Furthermore, despite the majority of class material still being taught through Zoom, Gobble points out that students who choose to go to in-person classes will be able to interact with their teachers face-to-face as well.
"At times, teachers are going to teach into their computer on Zoom, while also having a studio audience in-person," Gobble said. "If you're in the room, you don't have to be on Zoom, you can just look at [the teacher] and interact with them."
Despite the preparation conduced by the administration, members of the administration do recognize that some problems may still exist in preparing for both virtual and in-person students this semester. While most teachers are going to be teaching from their classrooms, they'll be tasked with managing students in both settings. Soszko has already planned out his teaching methods in a hybrid setting. 
"I have it set up so that the screen is going to show exactly what I'm showing on Zoom," Soszko said. "Students get an equitable experience whether they're at home or at school."
Ultimately, through their design of the hybrid model, Gobble and Twadell hope that the main takeaway for students is that they hold the power to choose the best course of action for themselves and their families. 
"You should do what feels right for you. I'd encourage you not to feel pressured by other students," Twadell said. "This is a once in a century event; we should be providing everyone with as much flexibility and understanding and grace as we can."