Patriots Passing Petitions
Student Congress works to pass petitions that create change to life at Stevenson
As a bell signals the start of an Activity Period, Student Congress President Olivia Defalco '22 sets up a presentation in the West Faculty Dining Hall. Throughout the period, Defalco works closely with the other members of Student Congress in order to create petitions intended to change various aspects of life at Stevenson.
Student Congress is a section of Student Council with the goal of bringing students together to discuss the change they want to see at Stevenson. They have made a wide range of changes to life at Stevenson, including changing the lunch menu options and adding new bus routes. In order to hear from many different student voices, each second-period class has the opportunity to send two representatives to every meeting.
"Students come to Congress when there's an activity period and we go through a presentation of how to write a bill or a petition, share ideas about what people want to change and share previous petitions that have been passed," Defalco said.
Student Council Secretary Ian Harman '22 is another member on the Student Congress Executive Board. Harman supplements Defalco with facilitating meetings while also overseeing petition quality and voting procedures. He said he is excited that he can perform his role in person this year. 
"Now that we are back in person and have the activity period, our numbers have been growing," Harman said. "I think it's because students are a lot more inclined to get involved when they don't have anything to do during the activity period."
While executive board members ensure that meetings are organized, general members play an equally important part in Student Congress. Participating volunteers communicate any improvements they believe can benefit the Stevenson community, potentially realizing them through petitions. 
"I go to the meetings and submit petitions on anything that I think could be important to the school," Brayden Libman '22 said. "For example, I did one on American Sign Language (ASL) previously this year. I know other schools around here offer it as a class so I thought it would be really cool at Stevenson as well."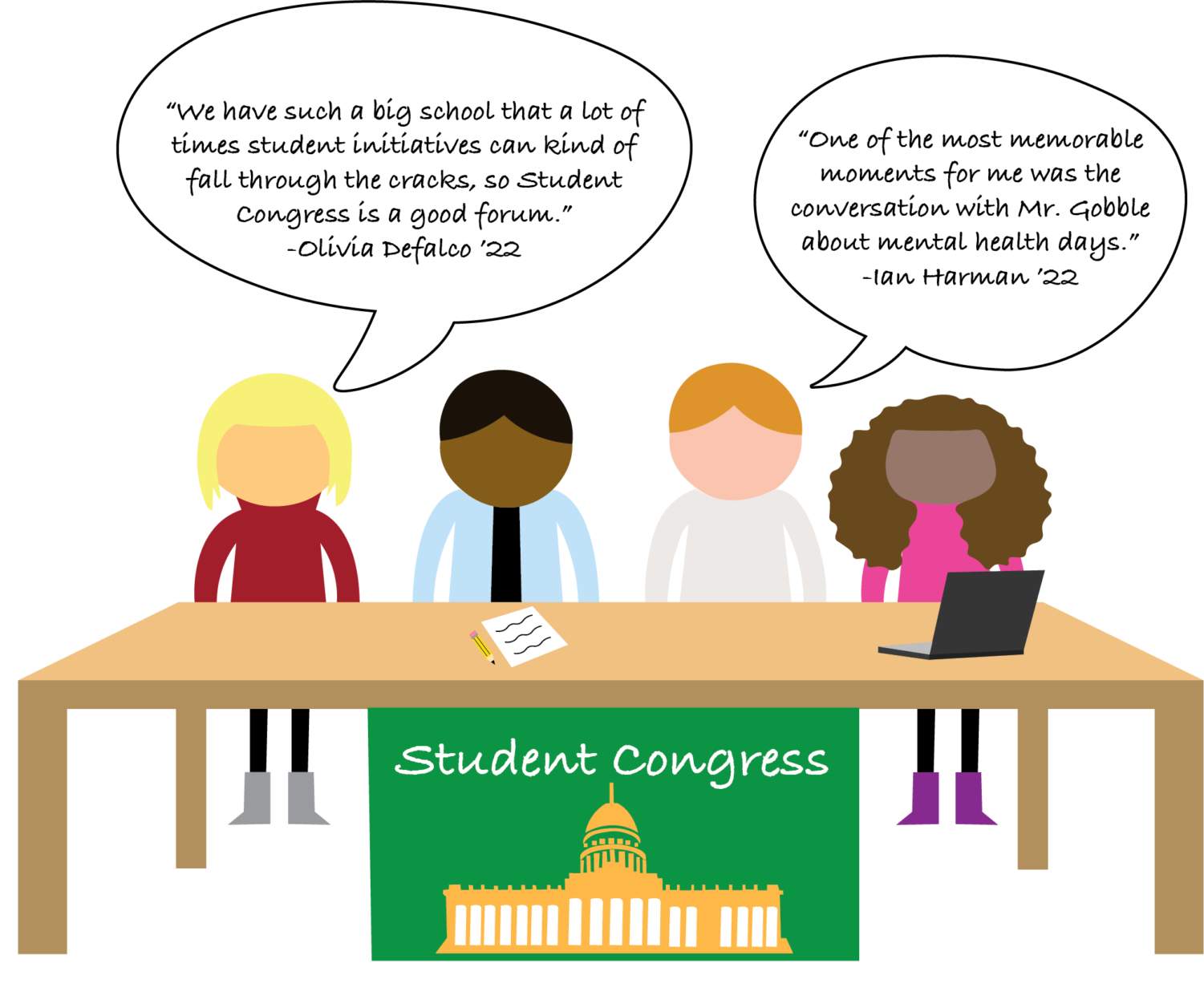 To create her petition, Libman followed the process of filling out a Google Form where she named her bill, described her proposed idea and then stated why her change is important. Her proposal is currently going through multiple stages of voting before a decision is made, including review from general Student Council members, Student Council executives and the Student Leadership Advisory Committee.
Introducing ASL into Stevenson's world language program is one of the many examples of petitions that have been written during Student Congress. While some are rejected, many appeals deemed promising by the executive board are passed, putting new policies into effect at Stevenson. 
"Two years ago Stevenson introduced ramen week for school lunches," Libman said. "One of the petitions that was eventually passed was getting rid of that week at school because most students disliked it."
Along with the student leaders, Student Congress Sponsor Beth Brilowski works to help participants get petitions passed. With the help of the four sponsors, 169 petitions have been created and 33 have been passed through the first round of voting throughout this school year.
"I think it's nice that anybody can attend Student Congress if they have an idea," Brilowksi said. "Members can have their questions answered by Mr. Gobble or other administrative speakers and get direct answers about their petitions."
Harman is a member of the student congress who often takes advantage of this chance to speak with school administrators. Mental health was one of the most common topics brought up at the meetings, so he used the visit from the administration to ask questions addressing student concerns about academic stress.
"One of the most memorable moments for me was the conversation with Mr. Gobble about mental health days," Harman said. "Hearing more commentary on the actions that the school was taking towards bettering students' mental health was really impactful." 
The members of Student Congress hope to expand the membership of their organization in order to expand the range of changes proposed to the school framework. Leaders of the club, like Harman, want more students to create petitions on the issues that are important to them.
"We'd like to get Student Congress more known because it's a really impactful club for our school," Harman said. "It's probably the best action Student Council Officers can take to help these students get their voices heard by the administration to make change in our community at Stevenson."