Dawn of a New Era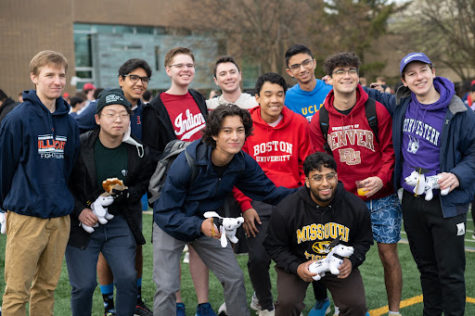 Seniors decked out in college merch, the early morning dew still on the grass of the football field, and friends and classmates taking pictures to commemorate the moment; Senior Sunrise proved to be a heartfelt start to the day for many. As seniors reflect on their time in high school, what most will remember is their time spent after school in a sport or club. 
Whether you're Sarah Zhang '23 giving her last speech ever for debate, Lance Locker '23 handing out his last ever Statesman issue in the hallway, or Kate Arne '23 lacing up for her last ever basketball game, your time with your favorite after school activity ends when  you graduate. However for many, the lessons, memories, and moments will last them a lifetime. 
This year, seniors find leaving especially painful given the year lost to COVID. Many seniors had their activities shut down from March of their freshman year through their sophomore year, missing almost a full year with their beloved activity. 
Despite these challenges, students from a variety of different clubs and sports can find common ground in the passionate work they've invested during high school. For the girls' basketball team, winning state has been an unforgettable experience. Despite the praise that came with the trophy, in the eyes of varsity Patriot Lekha Kothapalli '23, what she remembers is the comradery with the team. 
"A lot of people are going to [remember] state," Lekha Kothapalli said. "But what you don't know about state is the memories and bonds I've created with my teammates, and it brings me a lot of joy that I have these girls in my life."
The battle for the state championship proved to be an uphill one, but the bonds Kothapalli discussed translated into a successful subsequent season. With seniors on the team graduating and head coach Ashley Graham retiring, the program is turning over a new leaf. However this team's state championship will forever be commemorated with a banner in the Sports Center.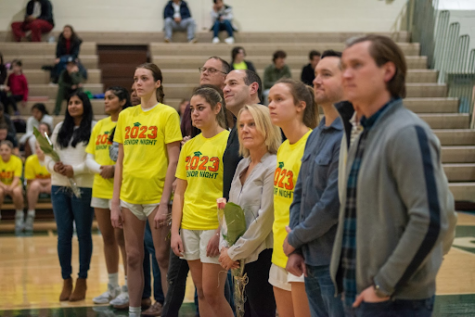 Swaraj Mohapatra '23 has played varsity basketball the past two seasons and contributed to a regional championship for boys basketball. Mohapatra feels that basketball has helped him improve in aspects off the court. 
"Being a part of the program has made me a better basketball player, but I've also become a better person," Mohapatra said.  
Through hard work and dedication, Mohapatra and other senior athletes have earned the privilege of being honored in a senior night ceremony towards the end of their seasons. Walking center court with family at their side, the event is emotional for the athlete and family alike. 
"Being on center court and hearing my friends cheer for me was surreal," Mohapatra said. "It was just a great moment for me and it meant a lot for all my friends to come watch me play."
Expressing support for their friends being honored, classmates and family alike attended to celebrate Mohapatra and other athletes' successful high school career. Although academic oriented clubs don't have a senior night of their own, clubs like Debate hold a senior banquet at the end of every season where the senior members give speeches reflecting on their past years with the club. 
Sarah Zhang '23 is captain of the congressional debate team and just like every season, Debate ended after the state tournament in late March. However, after this year's tournament, her high school debate career would be over.
"[After the tournament], I thought that I had a lot more I could do, a lot more that I could say, a lot more that I could improve on," Zhang said. "But then I realized that this was the end." 
Zhang has been to several tournaments with the team, where she and the team have also placed at several local level tournaments. Despite the hardware, like Kothapalli, Zhang values the memories made over the trophies won.
"Debate is the best of times and the worst of times," Zhang said. "The external validation and awards say nothing about you. What's most important is focusing on the work I put in rather than the awards."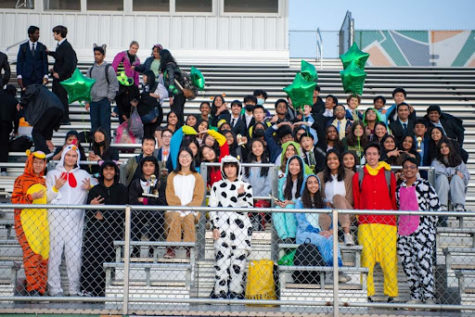 Many seniors in debate agree with their captain. Even with all the trophies, when seniors gave their speeches during banquets, they reflected on how unimportant awards were compared to how much they've grown in character. 
This perspective translates to different clubs, one example being the Statesman. Lance Locker '23 has served his last year at Stevenson as a Managing Editor of Web and believes he'll find it difficult to say goodbye to a team he's close with. 
"Statesman is a community and leaving it is going to feel like leaving a family," Locker said. "It's going to be challenging to leave it behind because I've made so many friendships."
Seniors like Locker in Statesman get to end their high school career on a high note after winning their first state championship in club history. Seniors like Locker won several distinguished awards at state.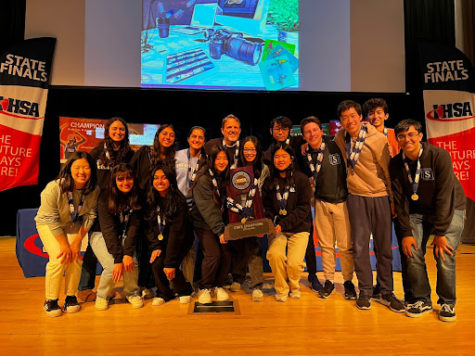 Another club that has experienced much success this year is the National Honors Society. Natalie Garayeva '23, executive board member, feels that the NHS has also achieved success through events such as Kilometers for Kenya, Give-A-Thon, Streetfest, and more. The executive board has grown close after a year of hard work and Garayeva believes that her work with NHS will translate beyond her time in high school.
"[Leaving] is bittersweet because I've done a lot with [NHS executive board]." Garayeva said. "I've also learned a lot about myself and how I can grow as a community service member, which I can take to college." 
While all these clubs have experienced much success, what the seniors cherish the most is the people they met, the memories, and the lessons. All the hard work seniors put in during high school won't just disappear, it will stay with them. 
Although it may be the end, it's not goodbye…