The Beginnings of a Hopeful Hybrid Experience
As Stevenson enters its second month of hybrid learning, students weigh the benefits, limitations of the model
As Hadi Andrabi '22 walked into Stevenson High School for the first time since last March, staff members asked to see his passed Daily Health Check on his phone in order to determine if he could attend his hybrid classes. After being cleared with a temperature check, he walked to his first period class with a mask covering his face, hopeful of seeing a friend in the hallway so he could wave to them six feet away.
On January 19, Stevenson implemented a new hybrid schedule, which gives students a choice between staying at home — where they will continue to learn remotely — or going into school for two to three half-days each week, participating in a class environment with their teachers and a handful of other classmates practicing COVID-19 safety protocols.
For students who did choose to go into school, like Andrabi, their experience consisted of Zoom calls with the class while being in physical classrooms Each classroom is allowed to have up to eight students. However, with a large number of students remaining at home and continuing with Remote Learning, classrooms are mostly empty.
"I feel like people are able to learn better if they go to in-person school, but the only issue is that the social aspect of school is completely stripped," Andrabi said. "Pretty much a ghost town of in-person school."
Caption: A small number of socially distant students travel from class to class. This amount is less than before the COVID-19 pandemic, when hallways would be full of students.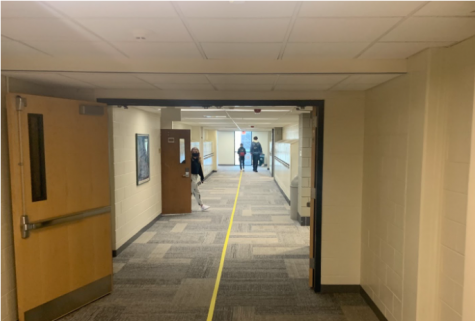 Liana McGhee '21, who has attended school for classes and after-school activities, echoes Andrabi's sentiments that there is still much less social interaction than before the COVID-19 pandemic. Still, she appreciates the opportunity to meet her teachers in person for the first time and found herself nostalgic after coming back on campus.
"Even having just five people in my Spanish class has been an incredibly enjoyable experience," McGhee said. 
While McGhee personally wishes that students come back if they're able, some are not comfortable returning to school even with the safety precautions in place. Rachel Lok '22 plans to remain home for the rest of the school year, just as she has been since last March.
"It's just human nature to go with whatever choice that makes you feel the safest," Lok said. "If you read the news and just look around you to see what's going on, then you can make an assumption based on what the best choice is to go with." 
For Lok, the clear choice was to continue remote learning. She was initially surprised that Stevenson was planning to allow students to return when she received an email from principal Troy Gobble on October 9. The proposed plan, called Patriot Pods, allowed groups of up to eight students to sign up and come to campus together. During October, Illinois had 117,026 COVID-19 cases, a peak that was eventually surpassed in November; consequently, Stevenson scrapped the Patriot Pods plan.
However, Stevenson announced it was going to reopen under a hybrid learning plan starting early January as the rate of COVID-19 transmission decreased. The number of COVID-19 cases has been declining since the beginning of 2021, and on February 7, there were 1,995 new cases identified. The CDC still says schools must follow COVID-19 guidelines to ensure safety.
Out of curiosity, Lok attended informational webinars and read emails sent by the school administration, but both didn't alter her decision. Lok said she would feel more comfortable to attend after getting the vaccine.
"If there is an extremely low number of cases — for example, if the pandemic is on a very steady declining rate of case spreads — then I would possibly go," Lok said.
English teacher Nicole Smith has been teaching for 18 years but never in a pandemic. The hybrid experience for teachers has been different as they remain in school while the students change versus students intermittently going to school with different teachers.
"I think instruction has improved over Zoom when you look from spring to fall," Smith said. "I don't know if the student experience has improved. In terms of learning how to teach at different places at once, I think change has been gradual because the most students I've had in a room at once is four."
The limited number of people that are in classrooms was established with safety precautions in mind. But as COVID-19 cases decrease in Illinois and more people are vaccinated, some students want to ease restrictions.
"You want to keep the number of people limited, but the number is so limited now that it's hard to be in a back to school environment," Andrabi said. "There shouldn't be separate Gold, Blue and Green Days; they need to make some sort of combination." 
A few days after Andrabi made the suggestion in an interview with Statesman, principal Troy Gobble sent information to the Stevenson community that the Gold group (which, on average, has the least amount of attendance) will be split in half and reassigned to either the Blue or Green Groups starting March 1. The updated plan has an average of 330 students coming to every day of the week.
"I think that Stevenson being more inclusive is a great idea because it's still very safe while promoting a sense of normality," Andrabi said.