Rewiring the Current
Teachers tie current events, including January 6 Insurrection, into class curriculums
On January 7, silence and focus plagued English teacher Dean Bradshaw's second period AP Literature classroom. Students weren't panicked taking a test, frantically writing notes, nor were they preoccupied by common culprits of distraction.
Instead, the class was focused on something a bit more serious: the Capitol insurrection that had occurred the day before. As a mob of violent protesters broke into the government building due to claims of a stolen presidential election, history had unfolded in front of the nation — and, in the aftermath, teachers and students alike grappled with how to properly respond.
Some teachers, like English and journalism teacher Dean Bradshaw, dedicated class periods towards providing students with a chance to react, discuss and question what happened at the Capitol. Bradshaw and the rest of the English department have long been pondering how to best incorporate current events — including this past summer's Black Lives Matter (BLM) protests — into class curriculums.
"After the insurrection of January 6, and the many BLM type protests, [it's important to] be aware that those types of protests come from real emotion or real need," Bradshaw said. "So, we've made a lot of changes to the books we're teaching, and [I've also changed] components of how I teach them [by] finding new ways to insert relevance."
In social studies classes, current events also play a large role in the course material. AP Government and AP Comparative Government teacher Andrew Conneen has weaved current events into concepts his class traditionally covers. For instance, Conneen used the Insurrection to explain the function and portray the significance of the electoral college.
"A lot of how we pick events can be [based on] the concepts that we're teaching about that particular day and that learning objective, and how that relates to the major headlines of the time," Conneen said. "It can [also] be students initiating curiosities asking about current events and how they relate."
Not only does Conneen wish to supplement his curriculum with current events, but he also wants to teach students that class lessons are pertinent and relevant outside of school. Conneen intends to help students develop civic engagement and responsibility in his courses, and he does so in part by teaching about current events.
"One of our goals in civics class at Stevenson is for our students to appreciate that the concepts and the learning objectives that they're being assessed about go beyond the bricks and mortar of our school building," Conneen said.
Specifically, considering how easily misinformation is spread amid the age of social media, Conneen also intends to provide students with an objective, broad view of current events. For Conneen, these conversations give students the opportunity to sharpen their media literacy and engagement in political and social issues — crucial skills which span far past high school.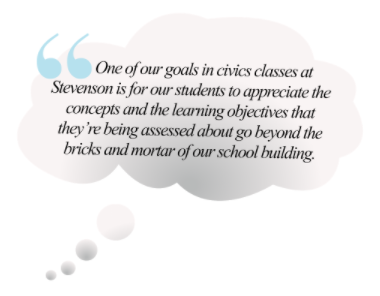 "One of those skills that we certainly want students to understand is that when a really big news story [is] capturing the national attention like January 6, it's so important to go to different sources of information to get a broader perspective of what's happening," Conneen said. 
In providing these spaces where students can discuss and learn about current events, teachers said they feel the need to tread carefully. In the midst of government infighting and political extremes, Bradshaw said he believes that it's crucial to be mindful of students' unique backgrounds and identities, and to make every student feel seen, heard and comfortable.
"There is so much diversity — racial diversity, background diversity, socioeconomic diversity — that students bring into the classroom," Bradshaw said. "My goal is for all of them to feel safe. This can be challenging, especially when we have some pretty strong emotions that may be invalidating to how students identify."
Many recent events and their extreme political implications deeply concern individual students' identities — one of which being white supremacist ideologies expressed by protestors at the attack. Mars Pattabiraman '21 said they believe that teachers have a duty to address the impact of such viewpoints in the classroom.
"Not many of my teachers actually addressed that there were KKK members, Proud Boys members and anti-Semitic t-shirts at this insurrection," Pattabiraman said. "I think it's important that every teacher brings it up, because otherwise it's being complacent to that type of behavior occurring. They should say that 'This is what happened. We don't tolerate this type of behavior at our school from faculty or students.'"
Though Pattabiraman sees inconsistencies in the ways different teachers address current events, many teachers have faith in the future of civic education as curriculums continue to adapt to society's ever-changing political climate. 
For instance, several instructors have expressed their optimism for the current generation of students, many citing 23 year-old National Youth Poet Laureate Amanda Gorman and her reading of her moving piece "The Hill We Climb" at the Inauguration as a source of hope. Conneen, a sponsor of Political Action Club (PAC), has created a poem-writing competition with the club to encourage Stevenson students to follow in Gorman's footsteps.
Regarding coverage of current events in class, Bradshaw shares similar sentiments to Conneen's positive thinking, but also understands Pattabiraman's opinion that the current system has flaws. In class, Bradshaw often encourages his students to be engaged in current events. Following his own advice, Bradshaw acknowledges the present system's flaws and advocates for steps moving forward to continue improving class discussion of recent incidents and headlines.
"We have to keep adapting to what's going on in the world," Bradshaw said. "It might mean a change to the voices that we use to teach. Where we can make strides is emphasizing different parts of world history and interacting with students in a way that is safe and respectful to all."