A scheme to stream
Stevenson High School television and radio club join together to form Stevenson Broadcast Network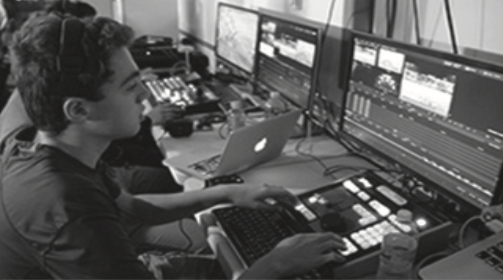 Bright lights, the roar of the crowd and booming music. These are all things captured by Stevenson's basketball players and fans alike on a Friday night. They are also captured by Stevenson's television (SHSTV) and radio club who broadcast the game to people around the world.
You might have seen them on the other side of the camera at sporting events and fine arts performances. They are known as the Stevenson Broadcast Network (SBN), a combination of SHSTV and radio club.
Stevenson's push to stream its athletic events was brought on by Joe Pine, manager of data and analytics. Pine, who previously worked at Comcast, brings with him a background in broadcasting.
"He was the push the technology needed to do this––especially to do it at such a high level," James Carlson, radio club sponsor, said.
Though Stevenson's radio station has been off the air in the past few years due to technical issues, radio club plays a big role in streaming events, specifically large sporting events. Those involved in radio club act as the face of SBN. They are the broadcasters who talk on air.
Now SBN is experimenting with YouTube and Facebook as streaming platforms in order to make their live streams easy to find and widely accessible. Nowadays, spectators can stream Stevenson events through various social media apps such as Snapchat, Facebook and Twitter.
"It really comes down to teaching students how to do more than just shooting with their phones," Pine said. "We teach them how to actually make a good production that's cohesive and has a good angle."
SBN will be covering Mr. SHS on Saturday, Feb. 10th, as well as the varsity basketball game on Wednesday, Feb 22nd. However, one of their goals for the year is to include a diversity of events.
"We weren't able to live stream the plays because of copyright issues, but there are other things that we can still do, for example the upcoming fashion show," Marcus Shapiro '17, president of SHSTV, said.
SHSTV and radio club have a collective purpose to make Stevenson's events accessible to the community. Their live streaming initiative, which started six years ago, has already made a big impact.
"When we started doing this we were getting emails from grandmas and alumni all over the country" Carlson said. "The radio station could only go up to four or five miles around the school, but this can go around the world."