For decades, the lack of diversity in the media industry has been a major issue, sparking online protests and discourse. It is common for people to base their own identity off of the media they consume, so when certain minority groups are underrepresented in the media, their self esteem and confidence can decrease drastically, leading to them feel like an insignificant part of society. 
Recently, directors have come to realize the consequences that a lack of diversity can have in the film industry and have begun to cast more actors to bring greater representation to certain minorities. But is this the right choice? Rather than replacing already existing characters, developing new diverse characters would be more empowering.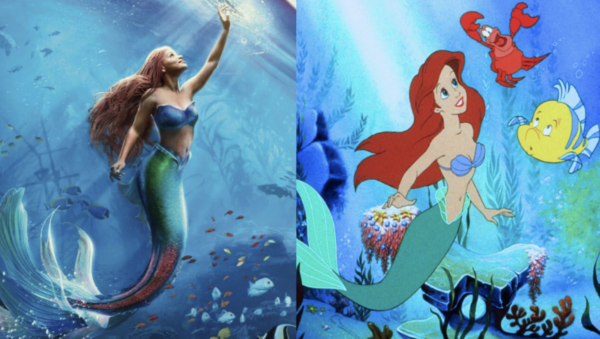 For example, Disney is being criticized for altering characters' race and gender in remakes. The Little Mermaid is one of the most prominent examples of diverse casting in recent years. In the 2023 live-action remake, Halle Bailey, a black actress, plays the main character Ariel. The movie was a box office hit, grossing around 570 million dollars, but also sparked controversies. 
It was unexpected to many to cast a person of color as Ariel for the live-action. Some loved it, as it was an inclusive take on a Disney classic, while others weren't fans. Some of the criticism was driven by racism, but a significant portion of the backlash stemmed from the fact that Bailey did not conform to the familiar image of the character.
In the 1989 animated film "The Little Mermaid," Ariel had pale skin and bright red hair. Until the trailer for the live-action released in 2023 almost 35 years later, that was the only image of Ariel people had in their minds. So when Ariel was suddenly black with copper locs, some people were surprised. 
Although racial diversity is often what first comes to mind when discussing the topic of diversity, it can also apply to other aspects. Another example of diverse casting is when actors are hired to play a character with a different sexuality than their own. 
James Corden acted as a flamboyant gay character in "The Prom," something that was not well received by the LGBTQ+ community for good reason. Many found his character to be an example of 'gayface' and a negative depiction of the community. It is more fitting to leave characters in marginalized groups like the LGBTQ+ group to actors who properly suit the traits. 
In addition to race and sexuality, directors have also tried to implement gender swaps to create a more diverse cast and on-screen presence. Although some changes take away from the overall experience, when directors take the time to properly create a story with diverse characters, the public response can be very different. 
Ocean's 8, part of the Ocean's 11 franchise, features an all-female cast compared to the traditional all-male cast in the other movies. Unlike the previous movies, Ocean's 8 is a spin-off and not a direct adaptation, which means screenwriters made a new plot using references from the other Ocean's 11 movies. 
The movie was a box office success and was praised by critics, largely due to the casting of females. The movie included specific details to provide reasoning for an all-female cast, so fans wouldn't feel like the movie was made to just seem representative of women. The diverse casting has a positive impact on the viewing experience and the representation shines through.
It is entirely possible to properly execute diversity in movies, but unfortunately, the trend of lazily swapping out characters in remakes is showing no sign of slowing down. Directors must work to justify changes in characters, as altering an already existing character for seemingly no reason detracts from the authenticity of the movie. 
​​The current success and praise found in movies with diverse casting in new plots show the untapped potential in casting diverse actors in movies. Creating new diverse stories has the potential to speak to the masses who are currently underrepresented in media; but directors must ensure that they execute such stories properly.