Outward bound
Illinois named largest net exporter of incoming college freshman to other states' public schools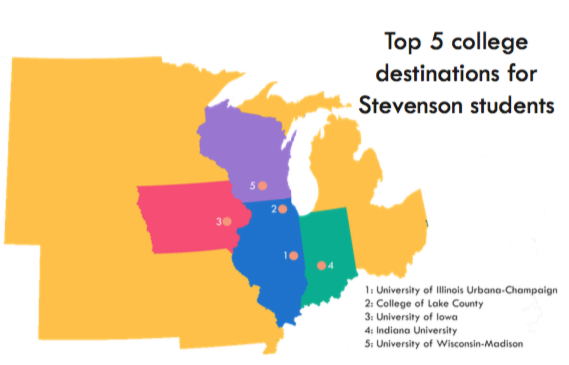 As the school year comes to a close, many seniors across the country must ask themselves: "What comes next for me?" For the majority of high school students in Illinois, attending college out-of-state seems to be the new trend. According to Chicago Magazine, Illinois is now the nation's largest net exporter of incoming college freshmen to other states' public schools.
Due to the tendency for students to leave Illinois, several in-state public colleges have raised their tuition fees. The University of Illinois at Urbana-Champaign (UIUC) rose their tuition fee 1.7 times faster than out-of-state colleges within the last decade. Additionally, the freshmen class at Eastern Illinois University (EIU) experienced a 25 percent decrease in enrollment over the last year.
College counselor Dan Miller recognizes the various factors that contribute to one's college decision making process. However, Miller notes that one of the most determining factors is related to cost.
"College is very expensive and to pay any tuition is a big change in comparison to paying regular taxes to a public high school," Miller said. "Cost is often one of the biggest final factors that leads a student to one school, and when I'm working with seniors in the spring, [cost] is almost always in that conversation."
While one is likely to pay less expenses by staying in-state for college, schools like the University of Iowa (UI) have recently offered tuition up to 20 percent cheaper than UIUC, thus attracting more students out-of-state.
Emmie Hanna '17 plans to attend the Miami University at Ohio (MU) in the fall. For Hanna, cost was not that big of a concern. Instead, she was drawn to several other aspects of MU.
"[Attending Miami] was more for connections and majors," Hanna said. "I am going into marketing and Miami's business school is well-recognized."
After considering colleges from all over the country, Hanna was drawn to MU for its overall education. While several other schools had its own business programs, she decided that MU's would benefit her the most.
While increasingly more students are leaving Illinois for college, there are still some that stay. Jacob Singer '17 plans to stay in-state for college to attend UIUC. Similarly to Hanna, Singer committed due to UIUC's focus on specific majors, such as its engineering school.
Yet, Singer feels that there are still a wide range of benefits to staying in-state aside from his educational pursuits. This includes closer proximity to home and the added perk of seeing familiar faces on campus.
"Although a lot of students go to UIUC from Stevenson, I don't think it changes the experience that you can get from the college," Singer said. "Just because a lot of people that you know go to the same school as you, it doesn't mean that you have to stay with them."
Regardless of the sudden spike in Illinois students attending other states' colleges, it all comes down to the priorities and expectations each student establishes for his or her prospected college.
"I think it depends for each student," Miller said. "Every student has a different set of priorities, and it also has to be balanced with the family as well. Whether it be cost related or distance."