AP prep course attendance declines
Lack of student enrollment in AP bridge classes results in cancellations of summer courses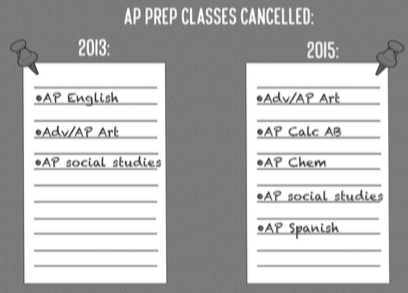 For the past eight years, Stevenson has offered AP preparatory classes that students can take over the summer. These classes serve as bridges to year-long AP courses and were implemented to give students the opportunity to either challenge themselves in a particular course, prepare themselves if they had never taken an AP course, or give them a boost to put themselves in a better position for the upcoming year.
"[The division directors] want kids to be successful in those classes and for some kids who are wanting to stretch themselves a little bit, wanting to make sure they have all the tools and that background that will prepare them just that much more," Gwendolyn Zimmermann, summer school coordinator, said.
The reasons to take such classes vary among each individual student. According to Justin Fisk, director of world languages, one student who enrolled in the AP Spanish prep class did so to improve her grammar. Another student wanted to test out what the year-long AP Spanish class was like. The rest of the class joined because they wanted to cultivate their passion for the language itself, Fisk said.
Each type of bridge class has its own curriculum. Spanish, for example, is based heavily on what information the students themselves want to cover.
"Because it is 4 hours a day, [the AP Spanish prep course] is structured in a few ways," Fisk said. "Everyday there would be a focus on a different structural component like grammar or vocab. Or you might look at literature in a different context than you might see in class."
The AP Chemistry prep course, on the other hand, is focused more heavily on a single concept that is likely to be important for the year-long course. According to Steven Wood, director of science, the AP Chemistry prep class focuses mostly on lab skills, with students completing labs, analyzing results and discussing their findings.
Although many of the classes received positive feedback in the past, due to low enrollment, the majority have either not run or have not been offered.
For summer 2017, only the Bridge to AP English, Prep for AP Spanish and the Bridge to AP Chinese are being offered. The prep classes for AP Chemistry, AP Calculus AB, AP Photography, AP social studies and more have been cancelled due to a repeated lack of enrollment over the past few summers.
Part of these cancellations could be due to a lack of knowledge or interest. Although all students who were previously enrolled for the year-long AP Chemistry course were sent a letter promoting the prep class, there was still not enough interest in the summer course for it to run, Wood said.
According to the 2015 Summer School Report, this trend seems to follow the concept that students who enroll in summer school classes usually sign up for classes that fulfill graduation requirements rather than enrichment courses.
However, Fisk is looking to change the way that the AP language prep classes are advertised. He wants to put more of an emphasis on students learning about the language and culture at the same time that they become more comfortable with the AP class itself. Students learning Chinese at school have one less year to prepare for AP Chinese Language & Culture because Stevenson's feeder schools do not provide a Chinese 1 class.
"The Bridge to AP Chinese is a new [class]," Fisk said. "We added the bridge course in case kids still wanted to get to that AP experience. That course hasn't run yet, but we still want to make that commitment if kids want to take that advantage."