In the Zone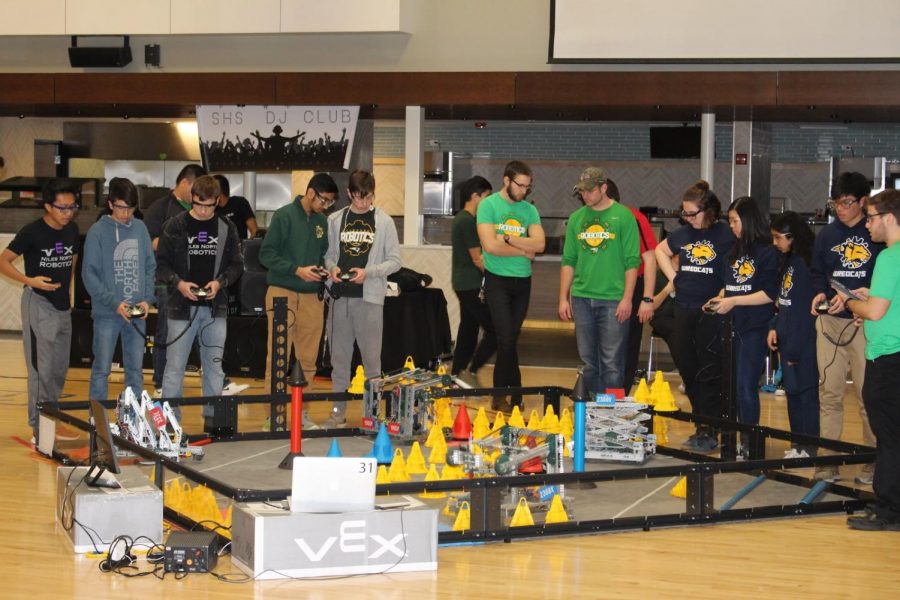 Stevenson's VEX Robotics teams battled it out on Saturday, Jan. 27 at the State Championship Qualifier tournament. Teams have been preparing since the end of last April when this year's challenge was released.
"Some teams were even working on their bots during the summer," VEX Robotics sponsor Frank Radostits said. "We're looking to qualify for State."
As a club, VEX Robotics meets twice a week from 3:30-6:00 to work on their robots. The objective of the competition is to create a robot that best aligns with the mission of the challenge.
The 2017-2018 competition is called "In the Zone" where the object of the game is to score more points than opposing teams. According to VEX Robotics, "the object of the game is to attain a higher score than the opposing Alliance by Stacking Cones on Goals, by Scoring Mobile Goals in Goal Zones, by having the Highest Stacks, and by Parking Robots."
With 36 teams competing, Stevenson's five teams didn't have the odds in their favor. There was a qualifier round that chose eight teams to move onto the finals. The top six robots at the end of the tournament will be chosen to advance to the State competition at Niles North High School. The top six teams at the State competition will then advance to Worlds in Louisville, Kentucky to compete internationally.
With one team looking for an automatic qualification to Worlds, two of five teams have qualified for the State competition.
The freshmen team "Fresher Than Subway" was eliminated in the quarterfinals along with the sophomore team "The Warm Refrigerators". The junior team "Chimera" and the senior team "Tater Bots" were eliminated in the semifinals. Junior/senior team "PID PID Moose" won the tournament, getting 1st place.
"I would say this was one of our most successful tournaments in the past three or four years," VEX Robotics participant Husain Badri '20 said.
"Chimera" and "PID PID Moose" will advance to the State competition on Feb. 24.