Successful season turns heads, young team leads on the court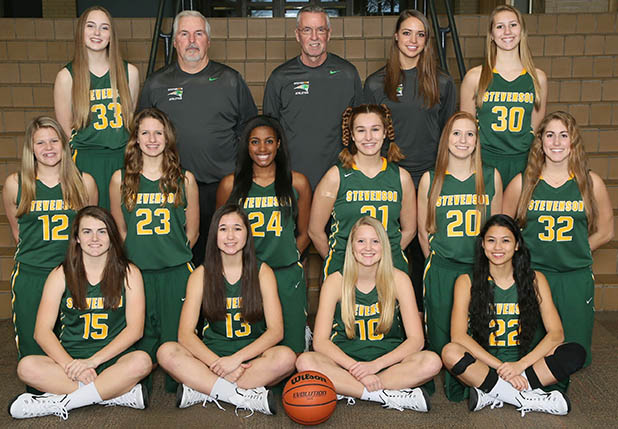 Fathma Rahman, Managing Editor of Production
February 27, 2015
Comprised of three seniors, two juniors, two sophomores and a record-breaking five freshmen, this year's varsity girls basketball team may be one of the best in the program's history.
The team, led by co-captains Taylor Buford '15 and Sophia Way '15, ranked first in the North Suburban Lake division, which includes Zion-Benton, Lake Zurich, Lake Forest, Gurnee Warren, Mundelein and Libertyville. The girls rank as the 14th best team in the state with a 12-0 conference record in the North Suburban Lakes division, according to maxpreps.com.
The coaching staff on the girls level is very stable, and there are a lot of coaches that have been in the program for a while, Athletic Director Trish Betthauser said. Head varsity coach Tom Dineen is in his 6th season at Stevenson and his 35th season overall as a coach. He recently surpassed the 800-win mark as a coach, becoming one of the few coaches that have done so in the state of Illinois. Varsity assistant coach Mike Fitzgerald has been part of the program since the 1994 season, which was the team's first state championship in school history. Varsity assistant coach Allison Mocchi, a Buffalo Grove High School alumna who played at Northwestern University, is now in her 3rd season with the program.
The consistency helps the program because faces become familiar and become involved in junior programs, so people know who they are, which helps people relate to the program, Betthauser said. In addition to the strong coaching staff, Betthauser feels that this season's success is a reflection of the experience and depth that this team has to offer.
"We have some girls who have been on the team since their freshman year and major contributors since their sophomore year—Sophia Way being one of them," Betthauser said. "We also have some juniors and sophomores who have been on the team for a few years, and they have played an integral role, not to mention a very talented freshman class that contributes in many ways as well."
With such a young team, the season has been more of a learning experience in showing them the ropes and getting them comfortable in the spotlight, Way explained. Overall, she feels that the team has performed well throughout the season.
"We've matured a lot as a team since our first game, which is really important," Way said.  "I think that has reflected in how we've been playing."
After four years on the varsity team, Way has had exposure to a variety of team dynamics. In comparing this year's experience to her freshman year, Way focused heavily on the atmosphere that she and Buford created for the team.
"The way they welcomed us in our first season was remarkable because they made us feel like we were really part of something bigger at Stevenson—that we had a family," Way said. "I've been trying to do the same with these kids to make sure that they know that no matter what's going on, I'm in their corner."
With their rise in success, their student section has also seen some new faces. Varsity football leaders JP Petricca '15 and Jimmy Marchese '15 brought together a student section for the girls' recent game.
"We talked the new leaders—the juniors who will lead the football team next year—and we told them to bring all their players to the girls game," Petricca said.
In comparison to varsity boys basketball and varsity football, the amount of student support is significantly different. However, Betthauser explains that the support from the athletics department is equal for all sports.
"As with all of our sports, we keep everything updated on the website, schedules, the little marquee down in the sports center headlining our updates, and you'll see around the school the monitors with upcoming events too," Betthauser said. "This year, we have pushed to get more businesses involved and interested in coming out and partnering with us and our programs, and we have a few of those on the girls' side in addition to the team posters hung around school that have a schedule on it. We also have groups, like Relay for Life and the 50th Anniversary club, that come forward to do some activities—so we always partner with those groups to get more awareness out."
Nonetheless, other athletes can relate well to the power that comes with a student section. Petricca attributes the energy from a strong student body to the great feeling he gets while he's playing the game.
Betthauser recognizes that students come out and support their friends and those that they have relationships with, so making connections with others is important to sustain a strong student section—and Marchese agrees.
"We thought this would be a good opportunity to support the girls for once, and they were doing really well too, so they definitely deserve it," Marchese said. "We know that other schools support their girls just as much as their boys, which doesn't really happen here, so we just wanted to give them that support."
Betthauser, Marchese, Petricca and Way strongly encourage the student body to show more support for school teams.
"I think school spirit at this school isn't as good as it should be, considering all the success that we have in so many sports," Marchese said. "I would just say come out and even if you don't like the sport, it's a fun time to hang out and get rowdy."
The team finished the 2014-2015 season with a record of 25-4.