Nervous, we carefully walked into the restaurant, unsure about the cuisine that awaited us behind the two doors. Not knowing what to expect, we were immediately greeted by the multitude of disco-ball balloons hanging from the ceiling, natural light fixtures, greenery, and modern style. After a few more cautious steps in, any and all potential worries fizzled as we were immediately met with the warm smiles of the two owners of Drop the Bop. 
Having opened mid-August, Drop the Bop is the newest restaurant in the Lincolnshire area, catering to both families and wandering students who're looking for a munch to satisfy their cravings. Less than five minutes away from Stevenson, the restaurant masterfully caters to the wide variety of taste pallets through its specialized Korean-American fusion menu. All the flavors are tastefully accompanied by the perfect, kind atmosphere needed to lighten the day's load.
After giving us ample time to ponder over the enticing menu, the staff quickly made our order as soon as we were ready. Being set up in a Chipotle-like manner, all of the various meat, vegetable, and homemade sauce options were organized for quick access to create easily customizable orders. This also made the ordering process safe and easy for people with dietary restrictions as all ingredients were separated and served with separate utensils to guarantee there was no cross contamination.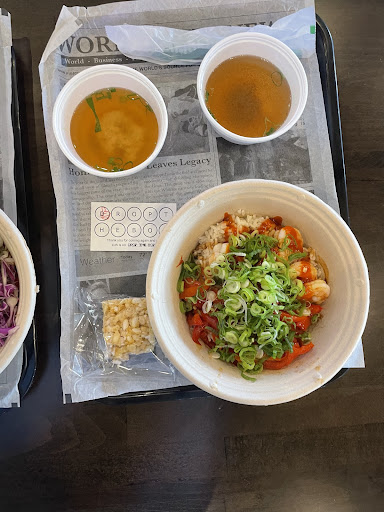 This ability to build-your-own bibimbap, a traditional Korean rice bowl, ensured that you got an order you're sure to enjoy. But in case you were unsure of how to customize your bowl, the menu also provided a variety of different premade bowl options.
While the ordering process was simple enough, the customer service was what took this experience over the top. It didn't take long to recognize the dedication that the staff had for their job and the food they were serving, making the experience all the more delightful. Their passion definitely contributed to their overall hospitality as we were overwhelmed by their kindness. 
For example, when we asked which soup was better they, with no hesitation, offered both soups free of charge in order to fully experience the culture. And when we asked for no soup, the response was almost parent-like in that they wanted us to step out of our comfort zone in hopes of sharing their love for their food with us. 
With such a positive reception thus far, our expectations were raised as we hoped the quality of food would meet that of the customer service. After we shook our bowls—a staple Drop the Bop experience—and began to eat, our high standards were effortlessly met. The flavors and textures came together seamlessly and satisfied our taste buds. There was sufficient flavoring and enough meat (or any other choice topping) per bite, which made the entire experience worth it.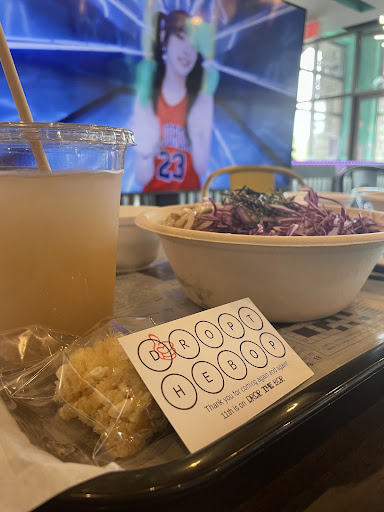 Not to mention, the prices were very reasonable. A single-serving mini bowl—which came with the add-ons of one protein option, two toppings, and two sauces—cost only $8, along with a free soup. The price for a larger portion depends on the options chosen, but it wouldn't exceed $14, which is a good deal considering the amount of food. 
When it came to the ambiance of the restaurant, it was nothing but green flags. They have a heavy emphasis on being environmentally friendly which can be seen by the compostable utensils and sturdy paper straws that don't deteriorate in your drink, unlike the typical, flimsy ones.
To top that, its location is only a couple of miles away from Stevenson and easily driveable for students either during their lunch periods or after school. The aesthetic, spacious, yet cozy environment makes it a pleasant spot to meet with friends while getting work done. Additionally, catering is also an option for those who desire a Korean bowl at any, or possibly every, function.
The restaurant as a whole was very clean, and we felt welcome from the second we stepped in to when we walked out. Even the bathroom carried a sweet aroma and had the option to dim the lights for those with sensitive visions, yet again reflecting on the staff's and businesses thoughtfulness towards their customers.
This was overall a ten out of ten experience, ranging from customer interactions, food, and general spacing. If you're looking to try a new cuisine, or simply a place to hangout after school, Drop the Bop is the place to go.