Dreams versus Stereotypes
As foreign athletes integrate into professional sports based in America, many find it difficult to deal with stereotypes.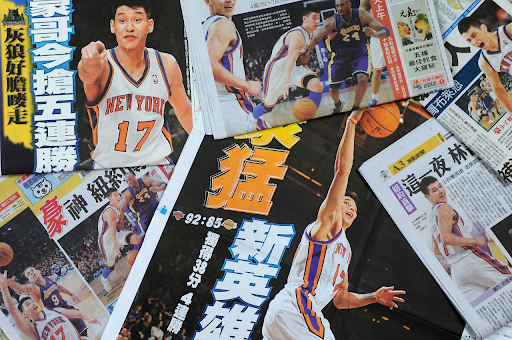 February 14th, 2012. In an away game against the Toronto Raptors, the New York Knicks found themselves neck-and-neck with the home team. The whole night, Knicks coach Mike Woodson relied on his rising star Jeremy Lin. Down 3 points with a little over a minute left, Lin drove left to the rim, and made a tough basket while drawing a foul. Making the free throw to complete the And One opportunity, the game was tied at 87. After a successful defensive possession, the Knicks had a chance to win it, so of course the ball found its way to Lin at half court near the logo. Dribbling the clock out to the 6 second mark with the fans on their feet,  the 'Jeremy Lin Show' was reaching its dramatic conclusion. Lin pulled up over the defender and sunk the game winning shot with half a second left on the clock. 
The headline on ESPN after that iconic performance? Amasian. Rather than his spectacular performance being the headline, it was his race. This was not the last time American media would make comments on Lin's race rather than discussing his extraordinary talent.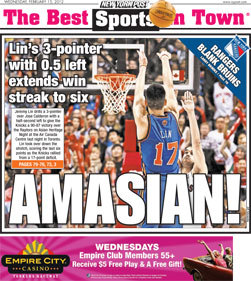 These tendencies tend to be rooted in xenophobia, the dislike or prejudice of those from other countries. In the world of sports, immigrants and descendents of immigrants often find themselves marginalized. After a historic 13 game streak coined 'Linsanity,' he feels that his race was the headline instead of his skill as a player.
"My whole life, I tried to run from being Asian," Lin said. "When I was on the basketball court and the ball was tipped off, race did not matter. It was my safe space to be myself without having to be the token Asian. By the time that Linsanity came around and I got worldwide recognition, the only thing people really wanted to talk about was my ethnicity and my race and oftentimes in very demeaning and condescending and just racist ways." 
Lin plans to make his return to the NBA, but is unsure given the way he was treated. Jeremy Lin has not retired from basketball yet, playing for the Steelers in the P+ League, a professional Taiwanese basketball association. 
Like Jeremy Lin, superstar Giannis Antetokounmpo is another example of how American media marginalizes the accomplishments of foreign athletes. Averaging 35 points per game throughout the finals against the Phoenix Suns, he and the Bucks overcame a 2-0 deficit to win the 2021 NBA Championship. After a historic game 6, Antetokounmpo held the Naismith Finals trophy for the home crowd to see. Fulfilling a promise to the city of Milwaukee, Antetokounmpo solidified himself as an all time great. 
Sports Analyst Emmanuel Acho, however, disgreed. Despite being a top jersey seller loved by many, with trophies to attest to his greatness, Acho believes Antetokounmpo couldn't be the face of the NBA because "no one can say his last name."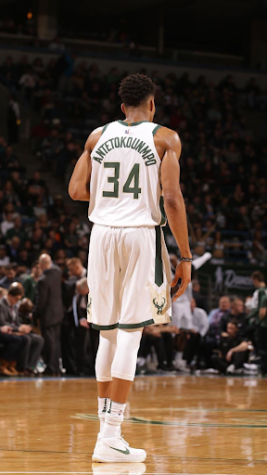 Many find issue with Acho's statement as they feel it implies those with hard to pronounce names don't belong in the spotlight. Antetokounmpo and Lin are just one of many examples of immigrants being discredited by American media due to their heritage.  
Although Lin and other professional athletes are in a different environment, high school athletes are equally affected. Varsity Patriot Gyeongwu Kim '23 has played football since sixth grade. Starting on the football team for two seasons, Kim now plans to play collegiate football for the Massachusetts Institute of Technology. Kim believes that one reason Asian Americans make up a small percentage of professional athletes is cultural differences. 
"Sports aren't encouraged by Asian parents traditionally," Kim said. "There's an emphasis on education and school coming first"
Regardless of why Asian Americans make up such a small percentage of athletes, Kim feels that they are poorly represented by sports media. Media personality Stephen A. Smith has recently come under fire due to his comments about players of asian descent. In 2021, Smith claimed that star Major League Baseball player Shohei Ohtani couldn't be the face of the MLB because he doesn't understand english. Like Emmanuel Acho's statement on Antetokounmpo, many feel that these comments from Stephen A imply that those of foreign descent can't be superstars. 
"I feel disappointed at the American media," Kim said. "Asian athletes have been a part of sports for a while so to see them treated [poorly] by media personalities is discouraging."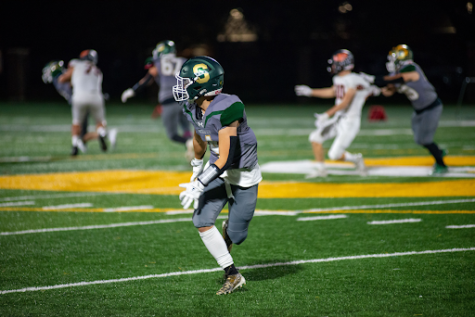 Athletes like Jeremy Lin gave hope and inspiration to the Asian community, yet after getting injured late in 2012 with a meniscus tear, Lin was promptly cut from the team. Many feel that his treatment in the NBA after this injury was unfair, as he was not given a chance after his injury. 
Many fans of Lin, Zayd Khan '23 included, drew inspiration from him, as he was one of few basketball stars of Asian descent. Khan has been playing basketball since he was four, spent two years with the basketball program at Stevenson but then took his talents to the Amature Athletic Union. Khan looks up to Lin and feels his treatment by the NBA can be discouraging for Asian athletes
"When I look at that as a young asian basketball player who just loves basketball, is there really a chance of succeeding in the basketball world?" Khan said.
The media's lack of sensitivity regarding xenophobia can instill fans with the belief that because immigrants make up a small portion of athletes, they're simply not as good. The media must take a harsh look at their own bias, as this misconception can cause xenophobic tendencies displayed by sports programs at the professional, collegiate, and high school level. 
"I was fortunate enough to play without experiencing discrimination [in football]," Kim said. "However I know that other areas in the nation suffer from discrimination and Asian athletes get discouraged by the negative environments around them."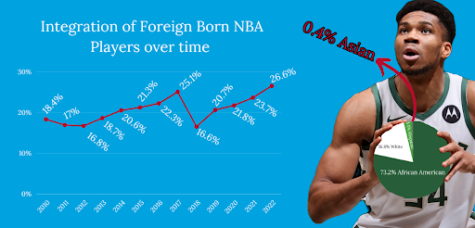 For some, factors other than their skill end up being factored into their value as a player as a result of the influence sports media can have. From high school varsity sport to ESPN First Take, xenophobic stereotypes can discourage those of foreign descent from participating in sports. Despite facing hardship in their path with sports, immigrants rely on their love for their game as a crutch. 
"I'm not playing for other people," Lin said. "I play basketball because that's what I love to do."