Stevenson Shows No Mercy In the Fourth
The Patriots pulled away in a tight game against the Waukegan Bulldogs with star players shining in big moments.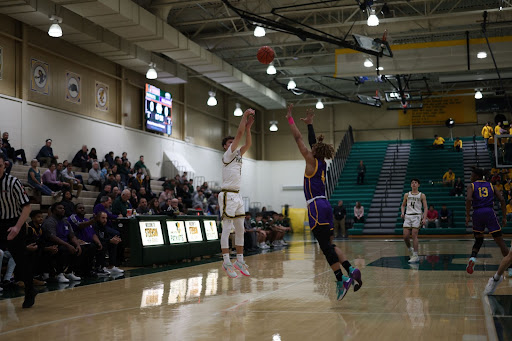 In a matchup against the Waukegan Bulldogs (8-9) on Jan. 10, the Stevenson Patriots (13-2) won 73-64 with standout performances from David Sulnius '23 (15 points) and Jack Dabbs '24 (16 points, 9 rebounds, 4 assists). The game was neck and neck from tip-off to the final basket, yet Stevenson was able to prevail in the fourth quarter despite strong performances from Nehemiah Dunn '24 and Simereon Carter '26 for Waukegan.
In contrast to how quickly Sulnius scored after the tip-off, Waukegan's offense started out slow with back-to-back turnovers. However, Dunn gave Waukegan the lead halfway in the first by going coast-to-coast, absorbing contact and rolling the ball smoothly into the rim. Dabbs stole the lead back with a go-ahead corner three to put Stevenson up 10-8 with four minutes to go in the first quarter. Dabbs established himself in the post and received the ball at the high block, spun off the defender's shoulder and made the layup. Dabbs established himself as an inside threat throughout the game, forcing Waukegan to double him whenever he had the ball inside, which in turn left several players open.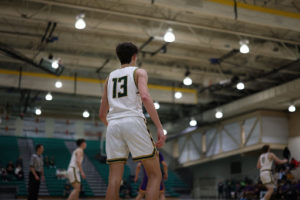 Throughout the first quarter, Stevenson played a quick and efficient offense. Whether it was miscommunication from Waukegan defense or simply a great find by Stevenson players, most shots were open.
"We just played our game [early on]," Sulnius said. "Once we had open shots, we didn't hesitate to shoot them."
This trend continued in the next quarter but now to Waukegan's advantage. To start the quarter off, Dunn hit a deep catch-and-shoot three to make it 19-18. Then he drove right, blew by his defender and switched hands mid-air to avoid help defense. Running in transition, Aidan Bardic '25 found himself open and hit a go-ahead corner three to give Stevenson some momentum. Make after make, both teams could not stop the other. Stevenson gained an edge when Dabbs hit a top of the key three with three minutes left in the second quarter to make it 27-20.
Waukegan refused to give in with Carter driving head-first into several defenders in the paint and connecting on a circus-type layup. Converting the ridiculous and-one play, he followed it up with an even tougher layup, scooping the ball and flipping it away from the defender's hand. Carter was then found in the left corner where he drained a three to continue his scoring streak. He had himself a 'heat-check' moment when he pulled up for a deep three, which hit nothing but net to make it 32-30, leaving the game somehow still in Stevenson's favor. Stevenson's defense was not prepared for the scoring outburst Carter and Dunn had as their scouting team didn't have much information on them.
"That was [Carter]'s first game today, so we didn't know much about him," Sulnius said. "We just had to adjust quick and we won't let that happen next time."
However, Carter's efforts were to no avail as Christian Uremovich '24 was able to give Stevenson momentum with a difficult layup through contact along with a foul to put them up 35-30. Followed by Bardic making a quick inside finger roll layup in transition, Waukegan found themselves down 37-30. A made hail mary fade-away shot by Dabbs made the score 39-33 to end the half.
Saving what would've been an empty possession in the new half, Dunn confidently hit a deep three. Dabbs went with what had worked for him the whole game and hit a quick spin in the post and gently put it into the basket. Brandon Phillips bullied his way through defenders and found himself unchallenged at the rim, making the layup to put the score at 43-38. Throughout the entire third quarter, both teams were in the zone, not missing a shot regardless of defensive efforts. The quarter ended with Sulnius grabbing a rebound, going coast to coast and making an uncontested layup to put the game at 56-53.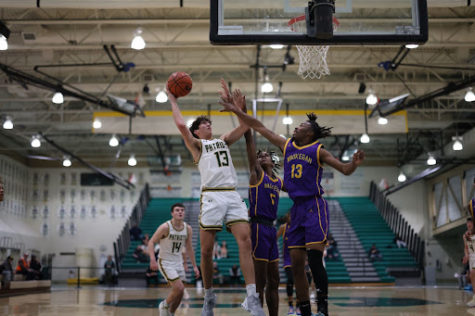 Stevenson started the final quarter the same way they started the first, with Sulnius wasting no time making a deep three to make it 59-53. Several baskets later, Stevenson found themselves up 10 points with only three minutes remaining. In an attempt to get Waukegan back into the game, Dunn hit a deep three and then hit a tough inside hand layup. However, Sulnius matched every one of Dunn's shots in the fourth with a shot of his own. To put the game in the win column, Dabbs hit a dagger hook shot to put the score at 73-64.
Despite being stuck at .500 for the season, Waukegan played exceptionally well against a much stronger Stevenson team. Sulnius attributes this to Stevenson's lack of execution on defense.
"We need to talk more [on defense]," Sulnius said. "In transition, we need to say who [guards] the [ball handler] to stop the score that way."
Waukegan was able to get easy points in transition and get themselves back into the game when they found themselves down big. On top of that, they earned several second-chance shot opportunities through offensive rebounds Stevenson defense couldn't grab.
"We had a hard time rebounding because they shot long shots which led to long rebounds," Sulnius said. "Finding a man and putting a body on him is something we have to work on."
From start to finish Waukegan played physical defense. However, Stevenson was able to match Waukegan's points with many points in transition.
"We always just look up to see the open guy running," Sulnius said. "We're an unselfish team so we'll [pass] the ball up."
Stevenson has been playing their best basketball as of late, continuing their recent win streak. Stevenson hopes to replicate their success in future games by continuing to utilize their strong inside scoring and physical defense.
"We'll just focus on the next team and what we need to improve on," Sulnius said.