Patriots Scout a Win against Lake Forest
Stevenson proved too much for Lake Forest, winning easily in conference matchup.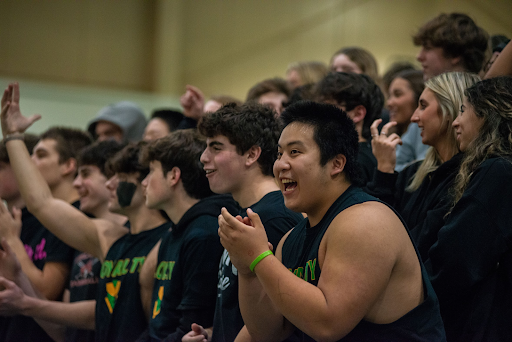 On Dec. 15 the Stevenson boys basketball team (7-1) took down the Lake Forest Scouts (3-4), winning 48-33 in a game at home.
Lake Forest started out strong, with Asa Thomas getting separation with a quick spin move and connecting on a contested three, making the score 7-2 halfway through the first quarter.
However Stevenson bounced back, with Rocco Pagliocca '26 driving to the rim, absorbing the contact and making the layup with the foul. Converting on the three point play, the score was 7-5 with under three minutes to play in the first quarter. Stevenson and Lake Forest went back and forth for the remainder of the quarter with the score tied at 9 at the end.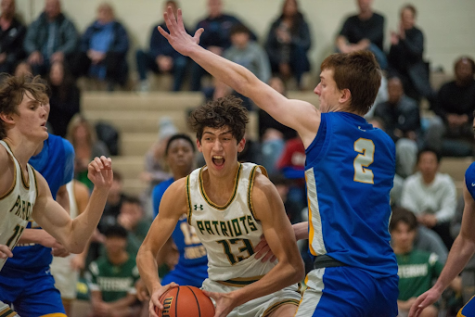 Stevenson started the second quarter off with Christian Uremovich '24 fighting his way into the paint and drawing the foul, converting both free throws at the line to make the score 11-9. Stevenson and Lake Forest were neck and neck throughout the second quarter. Stevenson pulled away towards the end of the quarter, with a made layup off a missed free throw and a barrage of made threes putting Stevenson in the lead with the score at 29-18 to end the half.
In the new half Stevenson built on their lead, with Aidan Bardic '25 making a contested pullup jump shot to make it 33-20. Stevenson kept destroying Lake Forest in the paint, with players like Michael Maloney '23 and Uremovich getting easy looks in the paint to put the game out of reach.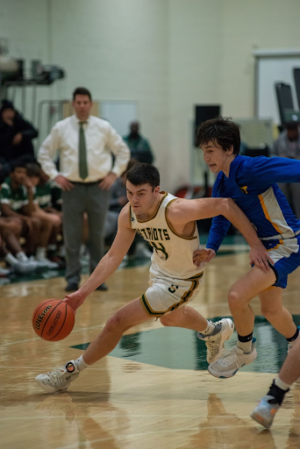 With not much drama in the fourth, Stevenson played hot potato, passing the ball back and forth near half court to kill time on the clock to secure a Patriot win.
Heading into this game, Stevenson looked to stop D1 commit Asa Thomas from scoring at the efficient rate he usually does. Stevenson did a great job of that, holding him to 9 for the night.
"Our game plan was to shut down [Asa Thomas]" Maloney said. "We wanted to make shooting and getting in the paint tough for them."
Maloney and Sulnius both were tasked with guardian Thomas for the game and stepped up in the shine of the moment. Stevenson played good basketball, impressing Jalen Brunson and Connor Cashaw in the stands.
Brunson talked with the boys basketball team after a big win. Jalen Brunson played for Stevenson from 2013-15 and now plays with the New York Knicks. Despite his fame and success, he always loves to come back home and support the school.
"He told us he was very proud of the win we got tonight," David Sulnius '23 said. "He was really happy to be there, spreading love and support to the team he played for as a high schooler."