Stevenson Falls Short in the Fourth
On Dec. 6, Stevenson Girls' Basketball Team (4-3) lost 37-34 to the Lake Zurich Bears (6-2) in a conference game at home.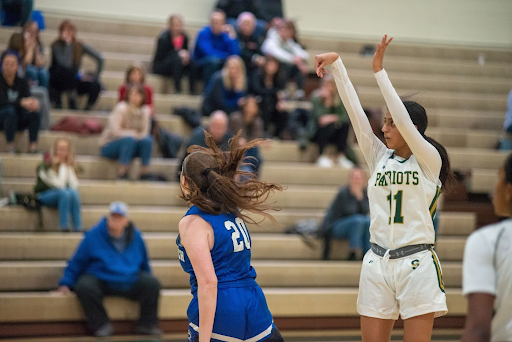 Stevenson found themselves down big early in the game, but a strong defensive showing in the third quarter, followed by a huge run to start the fourth, put them within reach of eliminating Lake Zurich's lead. However, when it mattered most, Stevenson could not get a good look from three to force overtime.
Lake Zurich and Stevenson started off aggressive on defense, going back and forth with no team gaining any leverage. After a 3-pointer from Emory Klatt '24, Stevenson was up 3-2. The two teams proceeded trading bucket after bucket until it was 8-6 to end the first quarter.
"We were prepared to play that slow game," Kendall Williams '24 said. "The zone [defense] we played prepared us and we weren't rushing anything."
Lake Zurich took control of the game to start the second quarter. A made contested corner three from Bailie Parks extended Lake Zurich's lead to 11-7. Klatt followed up with a made shot in the paint despite heavy pressure from the defense. Lake Zurich guard Sydney Lappin returned the favor with an elbow jumper to put the score at 13-9. Nisha Musunuri '25 went on to hit back-to-back threes to give Stevenson a fighting chance. Although Lake Zurich built a sizable lead during this quarter, Stevenson stayed in it with the score at 22-15 to end the half.
Throughout the first half, Stevenson tried to get the ball down to Klatt, but Lake Zurich's size advantage prevented them from getting the shots they wanted. Stevenson often converts at a high rate in the paint but could not replicate that success against a more physical Lake Zurich.
"We have to discover ourselves [on offense] outside of Emory," said Musunuri.
Stevenson came out with a new focus and energy on defense in the third quarter, with the first points of the second half coming only at the two minute mark. It was a block party with Williams, Kate Arne '23 and Klatt all getting impressive blocks on defense. However, Lake Zurich matched this energy on defense and prevented Stevenson from scoring until there were just two minutes left in the quarter.
From open layups and jumpshots, Stevenson struggled on offense throughout the third quarter.
"We got the shots we needed," Nisha Musunuri '24 said. "We just didn't execute properly."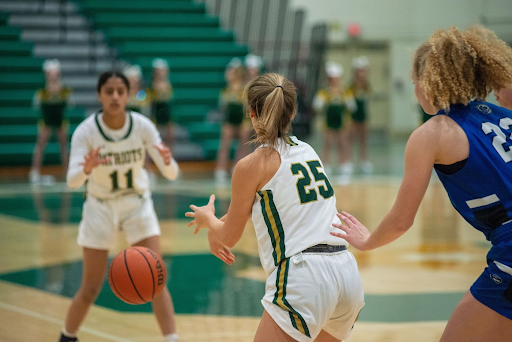 A made Musunuri three followed by a subsequent second chance layup by Lake Zurich forward Anna Gilbertson put the game at 27-18 heading into the fourth quarter.
The lack of execution on offense was not seen in the fourth quarter with Williams hitting a three to put Stevenson within six points of tying the game. Lake Zurich then began to pick the pace up, with a pass from Brooke Wahlund to a cutting Avery Cooper for the easy layup. Stevenson's Emma Brooks '24 then hit a clutch three to make the score 30-24 with a little over two minutes left.
Off a full court press, Parks got an open layup off a defensive miscommunication. Stevenson followed that up with another clutch three from Williams to put the score at 33-30 with one minute left. After two made free throws from Cooper, Musunuri made a layup through traffic to cut the lead to 35-32 with 30 seconds left on the clock. Stevenson then forced a 5-second violation on Lake Zurich and Musunuri drew a foul on the other end. She made both of the free throws to cut the lead to 35-34 with 10 seconds left.
Stevenson was once again forced to foul to stop the clock, and Cooper made both free throws to put Lake Zurich up 37-34. The play Stevenson drew up to get a three did not get an open look, and Stevenson missed the game tying opportunity.
"They played great defense on [the last play]," Williams said. "We obviously didn't get the shot we wanted and there wasn't much we could do after that."
Despite the missed game winner, Stevenson played exceptional throughout the fourth quarter. However, the Stevenson offense failed to make shots they usually do in the previous three quarters.
"I think, especially in this game, pressure acted in a positive way," Musunuri said. "If we played the entire game the way we played the last three minutes, where the pressure was really applied, we would've easily won that game."
Although Stevenson has players who can play well when the pressure is amplified, they look to avoid close games down the stretch.
"We can't let the last 11 seconds determine if we're going to win or lose the game," Williams said. "It should be everything else before that."
Even in a tough loss where Stevenson had the opportunity to win, they've found positive takeaways from this game. When Lake Zurich wouldn't allow shots inside the paint, Stevenson was forced to rely on the three.
"Right now we're at the drawing board trying to figure out what's going to work," Williams said. "We're a new team [this season] and we're still figuring out our identity [as a team]."