Catalyzing Reform
Students explore Catalyst's triumphs, conflicts in passing new Vernon Township mental health referendum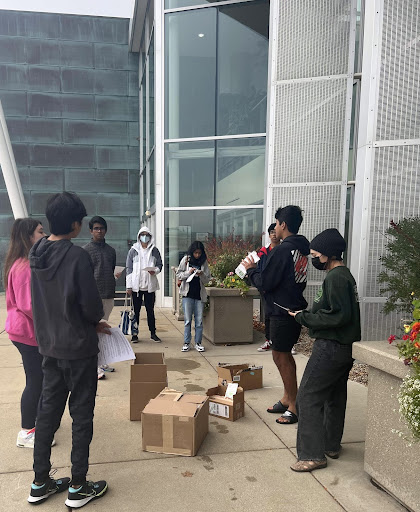 The Vernon Area Township recently inducted a tax referendum for mental health resources after receiving a majority of votes in the Nov. 8, 2022 general elections. Stevenson's Catalyst Club, a club focused on orchestrating committees in order to provide mental health and substance abuse resources to Stevenson, was at the forefront of passing this referendum via an ad hoc committee composed of club members.
The tax referendum intends to collect additional annual taxes from Vernon Township residents at an increase of 0.037 percent. The money collected from the referendum will be utilized to support members of the community in need of mental health resources.
"[The referendum] should [generate] around $1.43 million per year in funding that would go to mental health, substance use prevention or disabilities," Cristina Cortesi, Catalyst's substance abuse coordinator, said. "The group of people that is now appointed to the board will get to determine how that money is distributed within Vernon Township."
Members of Catalyst, as well as members of the Vernon Township area, have formed a 708 mental health resources committee on behalf of the community to argue for the referendum. Over the past few months, both 708 board and Catalyst committee members have been consistently attending organizational meetings as well as advertising the referendum to voters via social media and in-person endorsements. For many members, this was the first time they were part of an initiative of this size.
"The process of passing the referendum was one of the most valuable experiences I gained," Head of Committee Kashyap Rajesh '24 said. "Along the way, I learned the most effective change-making strategies and how to be the most successful in the community."
Members of this committee—one out of Catalyst's 14—worked over the course of the last few months to make sure the program will run smoothly and to catch voters' attention. For instance, students participated in volunteering, electioneering and yard sale installations to promote the referendum.
"We would help whether it was getting information out, volunteering, electioneering, or yard sale installations," Catalyst member Thomas Edat, '24 said.
However, Catalyst's efforts did not come without backlash from some community members, who believed the marginal increase in taxes was not worth the benefits. In protest of the tax increase from the referendum, some Vernon Township residents projected their disapproval onto the students.
"At one of the polling locations, there was someone yelling at them in opposition of what they were supporting, and the kids handled it well," Cortesi said.
In order to make future referendums more efficient and to prepare Catalyst for challenges, the committee created a series of internal documents outlining the methods they used to promote the legislation and safety. Step-by step action plans and detailed information regarding committee activities were written to aid prospective committee members.
"The committee of experts will evaluate needs, allocate funds, and coordinate a comprehensive system of mental health, intellectual and developmental disabilities and substance abuse services to benefit the citizens of a township," Catalyst member Thomas Edat '24 said.
Overall, Cortesi feels the Catalyst referendum served as one of the most effective governmental ventures performed by Catalyst in recent years.
"Even though we might be 16 years old and teenagers in high school, we got the attention of media publications, we got the attention of local officials and stakeholders, we talked to elected officials, and we really made our voices heard." Rajesh said.