Wildcats give Stevenson a "claw"-ful
The Stevenson girls' basketball team plummets at home in a conference game against the Libertyville Wildcats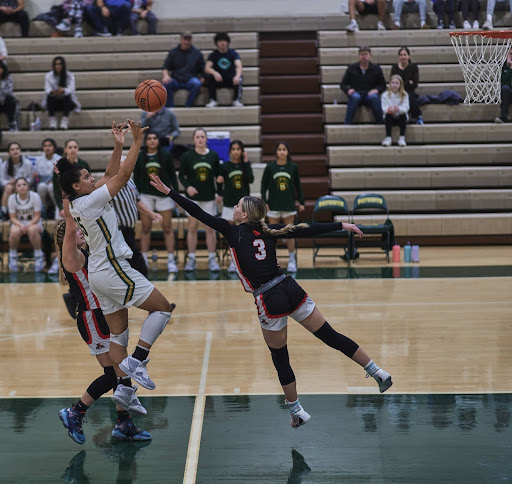 Stevenson fell short in a home game on Dec. 2, losing 50-30 against Libertyville. Stevenson was unprepared for Libertyville's offense and could not stop a barrage of threes from the Wildcats. Libertyville is now 6-2 however Stevenson falls to 4-2 for the season.
Stevenson started the game off with possession, and guard Kendall Williams '24 made a floater to make the game 2-0. Solid back-to-back defensive possession from Stevenson, followed by a made shot by Emory Klatt '24 from the post, upped the score to 4-0. On their next possession, Libertyville guard Emily Fisher got into the lane and made a tough layup to give Libertyville their first points of the night. Stevenson and Libertyville went on to go back and forth with the game tied at 15 to end the first quarter.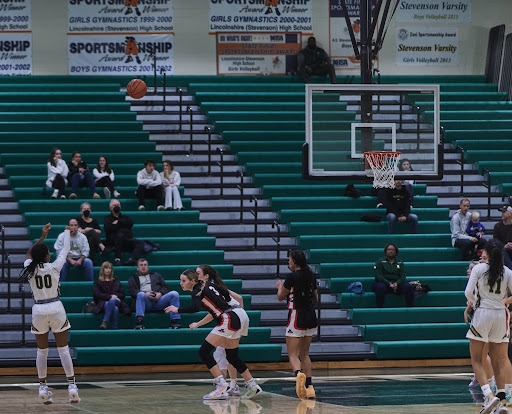 However, in the second quarter, Stevenson struggled and was unable to stop Libertyville from getting open looks on offense. Stevenson gave up easy looks on defense while missing shots they usually make on offense.
"We were prepared for [Libertyville's offense]," Williams said. "However, we had a slow start which threw our defense off."
The quarter started off with a careless turnover and Libertyville capitalized on offense with a made three from Rachel Rule. Libertyville followed that offensive possession with a gritty defensive possession, forcing a Stevenson turnover which led to an easy transition score. Libertyville went on a run, scoring eight consecutive points while holding Stevenson to only two points. Klatt drew a foul in the post and went one-for-two from the free throw line to cut the lead down to eight with the score at 18-26 to end the half.
To start the third quarter, Stevenson came out with more focus and energy, with a Williams floater off the feed from Klatt. Then on defense Williams picked off a bad pass and dished it out to Klatt for a layup through contact. Stevenson went on a run early on in the third with defensive contributions from Williams, making it 26-27 Libertyville near the end of the third.
However, Libertyville guard Fisher took over, scoring several easy buckets throughout the third. Making use of off- and on-ball screens, Libertyville was able to feed Fisher shot after shot. Libertyville pulled away by the end of the third, making it 35-26.
Although Libertyville had great offensive assets, they didn't typically shoot well from the three-point line. This threw Stevenson's defense off, which was unprepared for a great shooting night from the Wildcats.
Starting the fourth off strong, Libertyville continued to dominate the court. Fisher drove down the baseline for an easy reverse layup. Then, Maddy Kopala got an open look from three to put Libertyville up 43-27. Libertyville went on to get easy shots on offense, and Stevenson's defense had no answer.
"We pride ourselves on our defense, and I think urgency and how much we want [the win] play a big factor," Williams said. "Tonight we didn't have it as much as [Libertyville] did."
Stevenson got into foul trouble late in the fourth, putting Libertyville in the bonus. Williams stresses that Stevenson needs to do a better job of being more disciplined on defense.
"We have to grow up a little bit and find out who we are," Williams said. "We have to be more comfortable; we're not the team we were last year."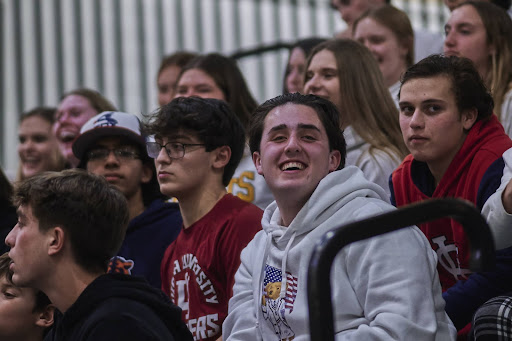 Despite the setbacks, Stevenson is optimistic to improve for future games. As they look forward to the upcoming games, they hope to work on their chemistry and connection as a team.
Regardless of their difficulties on Friday, Stevenson looks to their next game against Lake Zurich on Dec. 6. Stevenson hopes to end their slump of poor performances with a strong showing in the North Suburban Conference.
"We're a hungry team, we want to win and [our] work translates into our game," Williams said.