Debate Tournament Comes Home
Volunteers, coaches organize annual congressional debate tournament
Photo credit: Ansh Aggarwal
On Oct. 29, the Stevenson Debate Team hosted this season's second Illinois Congressional Debate Association (ICDA 2) tournament. Over 500 students from 23 different high schools in Illinois traveled to Lincolnshire to attend.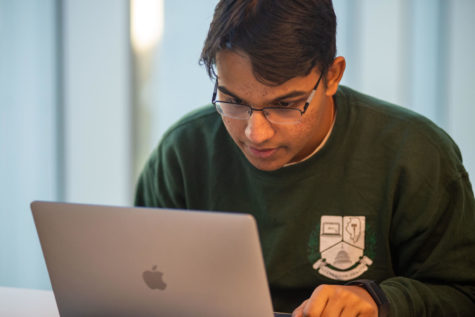 Annually, Stevenson hosts ICDA 2 on its own campus. Volunteers from the debate team run concessions, help direct students and judges to their designated classrooms and manage the awards ceremony. 
During the weeks before the tournament, the Debate Team Executive Board encouraged members from both its Public Forum and Congress branches to volunteer and provide food donations for concessions. Dozens of debaters created signs and taped arrows in the hallways after school the day before the tournament. For Debate Board Member and volunteer Haniya Khan '24, the busiest time for her was during the tournament. 
"As a member of the Debate Board, I was part of the concessions team, and I also helped teams find places to sit and made sure everybody knew where to go," Khan said. "During lunch, we had to bring in almost 100 pizzas from the truck. In the beginning, it was just a few of us with a couple of carts, and it was like pizza Jenga."
Due to the size of the tournament, many volunteers were required to help run the event. Stevenson Debate Coach Elisa Galvan Alba describes the logistical challenges behind organizing a tournament of over 500 students. 
"There are two things that I think about: the administrative work—requesting spaces that we're able to use, putting in orders for foods—and schematics, schedules for the day, and all of the information that goes out to make sure that other schools are aware of the tournament," Galvan said.
In addition to her responsibilities in preparing rooms and communicating with other schools, Galvan also helped guide the student leaders to involve more members of the team. After recruiting volunteers, the Executive Board held a training session to inform members of their tasks. 
Volunteers' responsibilities were divided into three sessions from 6 AM to 5 PM. During the first session, volunteers set up classrooms and checked in students as they arrived. After session two, volunteers delivered pizzas for lunch, and throughout the rest of the tournament they remained busy providing seating charts and other papers to chambers throughout the East Building. As a result of volunteering, Public Forum Captain Alex Pollock '23 said he developed a greater appreciation for those running behind the scenes of the tournament.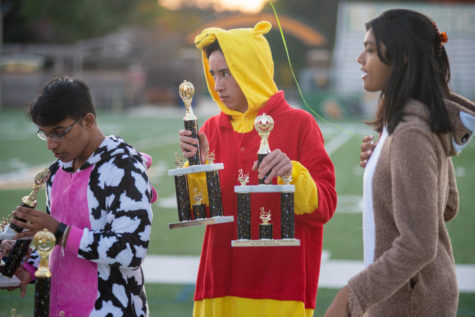 "You become a lot more patient when you understand the immense amount of logistical work that goes into running a tournament," Pollock said. "Helping run this tournament has made me realize that I don't need to be competing in order to be contributing to the team. I find it just as rewarding as competing." 
Pollock and the Public Forum team led the effort to sell concessions and set up classrooms for the competition. Due to the differing styles and competition schedule of Congress and Public Forum, the two branches usually meet separately during meetings and prepare for tournaments independently. ICDA 2 was one of the only opportunities for both parts of the team to collaborate. 
"Even though it was a Congress tournament, it really helped with team unity because usually our activities are separate, so it's really great to be able to work together and help each other out," Congressional Debate competitor Edward Han '24 said. 
Through directing volunteers, managing orders and selling concessions, Khan reflects on this tournament and remembers key takeaways for next year. 
"I'd definitely have a ticket system for volunteers to check in and know where they're going, but overall it definitely was a learning experience, not just in terms of leadership but working as a team," Khan said. "I feel like it was just a fun experience and taking it as that and not holding it to be something that's too serious."