Haunting Halloween Horrors
Staffers review Halloween movies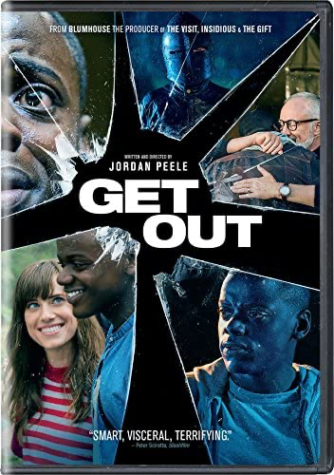 Anyone who knows me knows that I am obsessed with horror movies. In fact, it has become my entire personality. When my friend recommended that I watch Get Out, I immediately went home to watch this masterpiece but did not expect the horror movie to touch on societal issues like racism through its enticing yet eerie scenes.
After dating for five months, Chris Washington (Daniel Kaluuya) decides to visit Rose Armitage (Allison Williams)'s parents Missy Armitage (Catherine Keener) and Dean Armitage (Bradley Whitford). Chris thinks that their strange behavior comes from trying to tear apart his interracial relationship with Rose as he is a Black man dating a white woman, but he eventually finds out that their motives are much more sinister.
In terms of cinematography, director Jordan Peele drew inspiration for Get Out from Stanley Kubrick's The Shining. However, Get Out doesn't rely on overdone jumpscares. Instead, the film makes the audience feel anxious and intimidated through the slow panning and sweeping shots, such as the hypnotizing scenes, which is different from the camerawork Kubrick used in The Shining.
While Get Out is definitely frightening, it also includes comedic relief: Rod Williams (Lil Rel Howery) is a humorous character, Chris' best friend and a TSA officer. Whenever Chris calls Rod, he often makes satirical jokes about Chris' situation being in a house full of white people, which is ironic because he is foreshadowing how dangerous Rose's family may be.
Get Out has also cemented its place in horror film history not only for its story and cinematography but also because Peele pushed the boundaries beyond traditional horror movie tropes. The director brought the topic of racism to his audience through its social commentary, which allows the audience to feel the uneasiness minorities have to go through when asked uncomfortable questions or given insensitive comments. For example, when Missy and Dean's friends visit their house, some of the white guests tell Chris that he "has a good build,"and the audience can see that Chris is clearly uncomfortable when the white guests approach him.
Apart from the camera work, Chris and Rose's intense chemistry makes the audience feel like they are an actual couple, which prompts the audience to feel curious as to what will happen in the end. Whitford and Keener's acting sways the audience to feel agitated and tense even though they are known to be in comedic movies and shows, which shows how broad and impressive their acting is. In a creepy tone, Missy and Dean are constantly telling Chris about how they support his interracial relationship with Rose to the point where he feels disturbed because they keep bringing it up.
Through Get Out's camera work, actors and hypnotizing scenes, the film is a captivating thriller while also serving as a platform for viewers to consider racial discrimination on a much greater and more significant scale. This is the perfect movie for people who want to experience a unique yet thrilling movie with their friends for Halloween. Once you start watching this masterpiece, it will be too late to Get Out!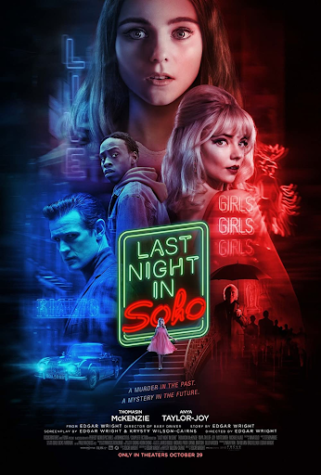 You would think that a movie that ties the sexism of the 60s with the spine-chilling aspects of a horror movie would have a plot that's as interesting as it sounds. Although Last Night in Soho had a production budget of around $43 million—a great deal larger than the average horror movie's budget range of $500,000 to $5 million—the quality and pacing of the film is lackluster. 
Eloise (Ellie)​​ Turner (Thomasin McKenzie) admires the swinging 60s and dreams of becoming a fashion designer. However, as a young child, her mother, played by Aimee Cassettari, committed suicide after struggling with mental illness. Traumatized by the severe loss, Ellie grows up seeing her mom in mirrors. 
When Ellie leaves her rural home to move to the big, metropolitan city of London, she is faced with many problems due to her sheltered upbringing. An old taxi driver flirts with her and her roommates and her other classmates vehemently make fun of her due to her lack of knowledge of the urban city life. 
After moving houses due to being bullied, Ellie starts to have dreams about the past, in which she meets Sandie, a dancer from the 60s. As she follows the ordeals that Sandie has to go through, she is influenced by Sandie's clothes and implements that clothing style into her own designs. Through Sandie, Ellie learns about new mysteries and murders with stomach-wrenching plot twists, ultimately leading Ellie to discover the ghosts from the pasts that she has been seeing in her dreams.
It feels as if Ellie is obsessed over the details of the past and can't focus on the present, which is further reinforced when she repeatedly sees her dead mother in the mirror.
Last Night in Soho is a 2021 British psychological horror film directed by Edgar Wright and co-written by Wright and Krysty Wilson-Cairns. It marks the final film appearances of Rigg and Margaret Nolan, who both died in 2020. The movie is dedicated in their honor, along with Diana Rigg.
The movie premiered in the UK on Oct. 9, 2021, and despite positive reviews from critics, it did poorly in the box office and only made a gross revenue of $23 million, which may seem like a lot, until you realize that the movie's budget was almost twice as large. The COVID-19 pandemic was still suppressing total box office revenues, with theaters in the United States and Canada bringing in 60% less box office revenue in 2021 than in pre-pandemic 2019. 
The film was nominated for two British Academy Film Awards (BAFTA), including Outstanding British Film and Best Sound, but the general populace seemed to have a negative consensus of the movie: ratings from viewers averaged 3.5/5.
The film does a wonderful job of showcasing sexism in the 60s and its correlation to present day society by highlighting how frequently people take advantage of women, and how these trends of misogyny haven't changed despite the elapse of decades. However, the pacing of the film is horrible. Throughout the movie, the story has one of the slowest character arcs and story developments out of all the horror movies I've seen, and the ending resolves in an entirety of 15 minutes, making it feel rushed in comparison to the movie's full 116 minute timeframe. Save your time before watching the movie, because those two hours that you lost will definitely make you regret your life decisions when you're done.