Rising Above the Bottom Line
Exploring funding within Stevenson clubs
Ali Murillo '24 starts her Wednesday morning in the West Auditorium, excited for a Future Business Leaders of America meeting. Later that day, she takes a seat with her trumpet in hand in the Band room, representing Symphonic Band as a member of the executive board. She ends her day at a Student Leadership Advisory Council (SLAC) meeting, where she contributes to the student perspective on allocating funds within the various clubs she represents.
Many students like Murillo participate in a few of the over 200 activities that Stevenson offers, but some club leaders face budget-related hurdles when organizing events. As student leaders allocate resources to support their club mission, they hope for increased transparency in the funding process. 
"When we talk directly to our sponsors, they say 'okay, let me put in a request.' We don't know where these requests are going, so it's really hard for us, as students, to advocate for more money for…clubs," Murillo said. "We don't particularly know where [funding is] coming from."
Many students feel a sense of voicelessness due to the opaqueness of how Student Activities allocates funding. Alongside concerns about funding allocation, some students believe that their budgets are too limited. For Debate Team Captain Alex Pollock '23, inadequate funding, especially caused by the pandemic, has presented obstacles for competitions. 
"As a result of the fact that we're not able to raise enough funds and because of the exorbitantly high prices, we have had to significantly cut down on the amount of traveling tournaments that we do," Pollock said. "It's definitely very stressful when you're in charge of organizing a club and you have to make sure everyone gets equal opportunities…but you're not pulling in enough funding to meet the goals that you're trying to get to."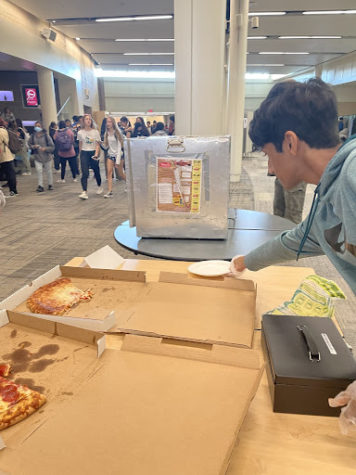 To help address funding concerns, the Debate Team has partnered with local restaurants and organized fundraisers at marathons, seeking ways outside of the school to supplement their budget. Similar to Debate, clubs like Best Buddies, which Murillo is also a part of, look beyond Student Activities for more funding opportunities. 
"Best Buddies is very active in fundraisers," Murillo said. "Along with dues, that's how we're able to fund most of our events."
Like many other smaller clubs, Best Buddies relies on such fundraisers and contributions from its members to follow through with activities, ranging from inclusion weeks to field trips. Although Student Activities limited club budgets over the past couple of years due to COVID and lower attendance, Director of Student Activities Ted Goergen is hopeful for a bounceback.
"Our participation numbers right now are 17% higher than they were pre-COVID," Goergen said. "In terms of funding, that becomes something that we have to think through a little bit more."
As students repopulate extracurricular activities, Goergen and club leaders are adapting to an increase in club participation. Goergen emphasizes the importance of clubs establishing their purpose so Student Activities can allocate funding to best provide support for the clubs that need it the most. Through ongoing conversations between clubs and the administration, different guidelines are set based on each club's unique mission.
"We work one-on-one with the club advisors and the student leaders to determine their needs and if funds support their purpose and align to the mission," Goergen said. "There's no cookie cutter model for funding."
Goergen highlights differences in how clubs manage their funds. For example, Student Council's aims to organize school-wide events and provide keepsakes to enhance the student body's connection to the campus. As a result, it runs on a self-funding model with revenue from school dance tickets. While Murillo acknowledges clubs' differing needs, she also points out the disparities that seem to exist between events that clubs of different sizes run. 
"Big clubs can do all of the ice rinks and roller rinks and give away anything from a water bottle to Jazzman's gift cards, whereas some, especially culture [clubs], have a hard time even renting a movie," Murillo said. "If you want every student to have the same opportunities, you're going to need to give them an equal opportunity within their extracurriculars." 
While some clubs have worked to mitigate the impacts of limited funding, such as Debate or Student Council, many like Murillo and Pollock still feel that their meeting plans are restricted by low attendance or a tight budget. However, Student Activities hopes that leaders recognize the differing needs of each club and speak out regarding their concerns.
"Each budget request is treated uniquely, and I would invite a conversation with student leaders and club advisors," Goergen said. "In addition to direct conversations with me, all students have the ability to work with Student Council and Student Congress to submit a Petition for Change."  
Aside from petitioning Student Council and Congress for potential improvements to the school community, club leaders can attend monthly SLAC meetings run by Goergen to provide their perspectives on enhancing extracurricular experiences. Although there are many opportunities for student voices to be heard, Murillo still believes there is room for improvement for greater cooperation and transparency within the funding allocation process.
"[SLAC meetings] are a good start to having student opinions, but it doesn't get it down to the individual needs of each club," Murillo said. "I think that continuing meetings between the clubs and the people in the district office is really important."