Spooky Specials Extras
Staffers review Halloween movies for upcoming spooky season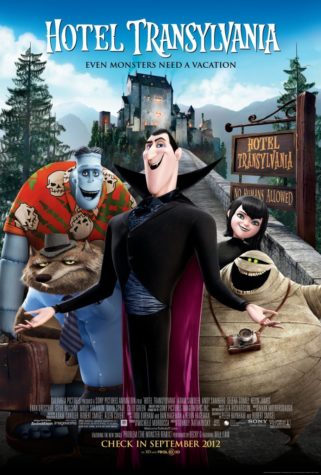 If you're having trouble sleeping, watching Hotel Transylvania might be the perfect remedy, as it will probably leave you out cold within the first three minutes. Released in 2012, the film was overhyped solely because of Adam Sandler's lead role as Dracula. As it turns out, his comedic presence is most likely the only reason the movie series is even worth discussing anymore. The movie contains all the cliches and cheesy pickup lines that will keep you from watching more.
The guests of Hotel Transylvania live in a made-up world of monsters and other infamous storybook creatures. Dracula (Adam Sandler) invites his supernatural friends to Hotel Transylvania on a special weekend getaway to celebrate the birthday of his vampire daughter Mavis (Selena Gomez). However, in an unexpected turn of events, a human named Johnny (Andy Samberg) shows up at the party and complicates Dracula's daddy-daughter plans as he falls in love with Mavis.
An ode to Bram Stoker's iconic character, Hotel Transylvania's beloved protagonist exhibits many similarities to the original Count Dracula. However, even a modernization of the infamous vampire could not prepare Drac and his friends for modern audiences. Following its release, Hotel Transylvania grossed just over $358 million, a rather sad figure for such a highly anticipated movie.
Hotel Transylvania really doesn't have much going for it. Many movies targeted at younger demographics will make an attempt to appeal to more mature audiences, however Hotel Transylvania does not. Anyone directing even half of their attention to the film will be bored out of their mind by a predictable story filled with "twists and turns" that shock only elementary-aged audiences. All of the aspects of the movie are formulaic, from the teen crushes to everlasting love. As previously mentioned, Johnny falls in love with Mavis. Guess how the movie ends! I won't spoil it, but if you're like me it wasn't much of a surprise.
Not only is the storyline overdone and unimaginative, but also the movie has an overall trivial message for the millions of children watching. The main message is to "never judge a book by its cover," which is just one example of the seemingly endless stream of clichés thrown at audiences in a pathetic attempt to make the film meaningful. With that said, the movie isn't entirely bad. Adam Sandler is funny on occasion, although it isn't intended for older audiences , it might be a decent option if you enjoy being bored or wasting your time. However, if you're looking for any degree of engagement or real enjoyment, this is not the one. While "Hotel Transylvania" isn't completely devoid of merits, overall it was, as Dracula says, "blah blah blah."