Cultural Collaboration
Stevenson Clubs come together to educate their peers on the importance of cultural diversity through an event filled week
The second annual Anti-Racism and Inclusivity Week at Stevenson kick-started the beginning of April with a lineup of diverse events. From speaking on the Holocaust to sharing cultural dishes, the program has changed from its previous virtual format to an on-campus experience.
Events were designed around the theme of "Allyship in Action" to encapsulate Stevenson's goal of diversity and equity among the student body. Organizers hoped participants would become empowered and educated in standing up against racism after participating in some or all of the events.  
With the return to in-person learning, LeViis Haney, Director of Diversity, Equity, and Inclusivity, and students from the Fostering Inter-cultural Respect and Empowerment club (FIRE) began preparations in December on scheduling speakers, creating advertisements and reaching out to clubs in order to reimagine the events for a live audience. Aminah Syed '23 believes that their hard work paid off, as the live experience allowed students to walk away with a more impactful experience. 
"One benefit of being in person is the fact that we get to see the speakers in person and ask questions in person, so there's more of a connection," Syed said. "This also gives [students] more exposure because on Zoom you had to take the initiative to click the button and talk about heavy topics."
By creating a sociable environment, Syed saw active engagement from students during lunch and after school events. For example, the Asian American Student Association's (AASA) interactive art board on Monday invited students to complete sentences like "The part of my identity that I feel proud of is…" to encourage reflection and interconnectedness within the student body.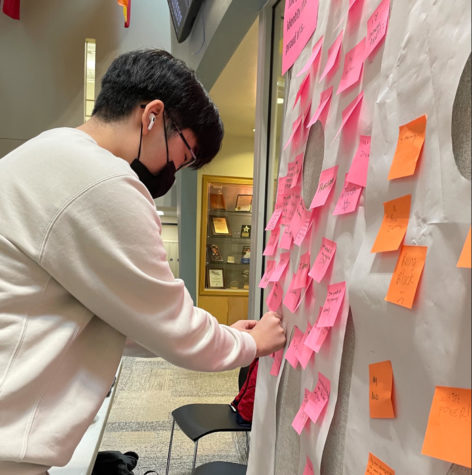 "It's really important for people to write down their thoughts and feelings no matter the subject,"' Ryan Yi '24 said. "My hope is for people to walk away from this experience [with] open-mindedness about different cultures and appreciating those different cultures. I think events like this bring the community a little bit closer together."
One of the main goals of Anti-Racism and Inclusivity Week was to foster a sense of cultural unity. This year, Haney believes that many students learned this lesson during the week's activities, in part because of the leadership team's new focus on bringing in perspectives from various world culture clubs. 
"What we wanted to encourage was cross-club collaboration, and that's what clubs did," Haney said. "I've found that when people are working together on stuff that they all care about, it brings people together in very special ways and it also helps to eliminate stereotypes."
The work put in by these clubs brought about various opportunities at Stevenson to hear important perspectives on how to be a proper ally. Madu Krishnamurthy, Diversity Editor of the Daily Herald, shared her approach to standing up against racism and showing allyship in the newsroom. 
"You don't necessarily berate them for it, you call them out on it and educate them on it," Krishnamurthy said. "You speak up when something is wrong and don't be afraid to speak up." 
Like Krishnamurthy, many speakers noted action as an integral part of allyship. On the last day, students participated in an "Allyship Pledge" to reflect on how they have supported marginalized communities. Although the week has ended, Haney hopes that its messages continue to inspire others toward inclusive action.
"Everyone can be an ally," Haney said. "We need everyone's allyship."