CODA Review
Oscar-winning film promotes inclusivity of deaf community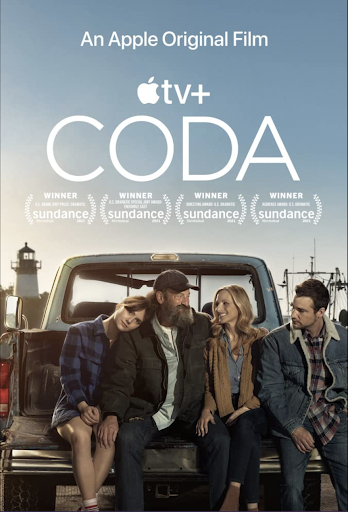 Summary
CODA is a funny, feel-good coming-of-age story that promotes inclusivity of the deaf community. The movie follows Ruby Rossi as she follows her dream to sing at the Berklee College of Music. This seems like quite the feat for our main character because of a plethora of problems: Ruby isn't very good at school, her parents are tight on money and she's self conscious about singing around others. However, the biggest factor holding Ruby back from going to college is feeling a responsibility toward her deaf family. 
As a child of deaf adults (CODA), Ruby assists her family by being their sole interpreter, leaving much of the weight of their fledgling fish business in Gloucester, Massachusetts to her. Ruby also helps her parents and older brother with ordering food, doctor visits and other social interactions. The movie adds humor into some of Ruby's awkward or inconvenient translator situations.
Praises
While being inclusive, CODA also explored the importance of family and other positive underlying messages, leaving the viewer feeling inspired. The Rossi family sticks together and helps one another through tough times. Ruby was encouraged to follow her dreams and pursue what she loved—singing. The pinnacle of the storyline came as her family helped Ruby follow her dreams and audition for Berklee College of Music, instead of staying home and working.
CODA is successful for having deaf actors casted for deaf roles. Although not entirely perfect at portraying the deaf and CODA community, this representation encourages Hollywood to have more deaf inclusivity. Troy Kotsur, who played Ruby's father in the movie, won an Oscar for Best Performance by an Actor in a Supporting Role, becoming the first deaf actor to do so. Kotsur dedicated his Oscar acceptance speech to "the deaf community, the 'CODA' community and the disabled community."  "This is our moment,"Kotsur said. 
Critiques
Despite CODA encouraging inclusivity with a more accurate and representative deaf cast, there was still problematic representation of the CODA and deaf community's lifestyle. CODA focuses on Ruby's struggle with having to be the sole interpreter for her family and the burden placed on her life and future. However, under the Americans with Disabilities Act of 1990, the Rossis would have access to an interpreter. While this advanced the plot, the movie exaggerated the burden that CODAs take on the burden of their parent's disability, despite the fact that most deaf individuals are high-functioning in society. 
While the majority of the movie realistically used American Sign Language (ASL), the final scene was problematic. As Ruby is about to leave and set off on her adventure in college, she runs and embraces her family, clearly struggling with saying goodbye. Her father, whom she communicated with throughout the movie in ASL, then uttered one syllable: "Go." This is supposed to be an incredibly emotional moment at the end of the movie, but is lackluster and would have been more effectively communicated through ASL, which the family regularly communicates through. That "Go," suggests that spoken language is more important or valid than ASL or signed language. 
Final Thoughts
CODA has ushered in a wave  of inclusivity and hopefully more deaf representation in Hollywood. With three well deserved Oscar wins, this movie has gained popularity and recognition, and hopefully will educate people on what it means to be a CODA. 
Final Rating: 8/10