No Magic vs Mundy
Patriots emerge as second place in NSC after hard-fought, controversial 6-2 loss
Everyone knows the classic rule: "three strikes and you're out." Yet for three Stevenson hitters, three strikes meant ending up on first base rather than back in the dugout. Just for reference as to how such a feat is possible, look no further than the dropped third strike rule.* While the Patriots may have taken advantage of this baseball oddity, they were unable to best their archrival in a tilt between the NSC Conference's top two teams. In an afternoon game on April 11 at Patriot Park in Lincolnshire, Stevenson lost 6-2 against Mundelein, falling to 9-2 in the season, 2-1 in conference play. 
Stevenson's Daniel Cabrales '22 got the starting nod on the pitcher's mound but got into trouble early. With runners on second and third and nobody out in the top of the first inning, Cabrales coaxed a pop out to shortstop, a ground ball to first base and then another pop out, giving up only one run on the ground ball. In the bottom half of the inning, Stevenson wasted no time, tying the ball game with leadoff batter Joe Richardson '23's double to right-center field on the first pitch he saw. After advancing to third base on a passed ball, Richardson scored on team captain Owen Housinger '22's groundout to shortstop. 
Tied at one run apiece in the bottom of the second inning, a controversial call occurred when a Stevenson player was ejected from the game for appearing to push Mundelein's shortstop after a pickoff attempt to second base. After the umpires deliberated, the call stood. 
After Colin Schmitke '23 hit a single to right-center and Ryan Tumpowsky '22 advanced on a dropped third strike, Richardson again contributed with a single to right field to give Stevenson a one-run lead.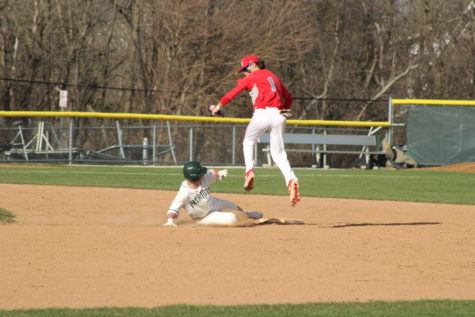 In the top of the third inning, Mundelein jumped to a 4-2 lead after scoring three runs on a double, single and groundout. Stevenson had an opportunity to bounce back in the bottom half after a Housinger leadoff triple but failed to drive the shortstop home. However, Cabrales held his poise, not giving up a run in the fourth and fifth inning before concluding his outing, yielding just five hits while striking out two batters.
After going scoreless in the bottom of the fifth, Stevenson looked ready for a comeback rally after Dylan Katz '22 worked a leadoff walk. Two batters later, the Patriots looked like they had a single between shortstop and third base, but Mundelein shortstop and former Patriot Michael Farina '23 made a backhanded stop at the edge of the infield dirt. While Farina made a low, bouncing throw, his attempt was caught and handled by the Mustangs' first baseman for the final out of the inning. 
The Mustangs broke the game open with a Jacob Buysse '22 home run to left center in the sixth, and then a sacrifice fly to center in the seventh. 
In a game that featured a crowd of Stevenson students packed between the home dugout and pressbox, the Patriots mustered six hits and three stolen bases but just could not produce much offense with runners in scoring position. Stevenson will have a chance at redemption on April 12 at Mundelein. 
*A dropped third strike occurs when, with less than two outs and no runner on first base, the batter strikes out on a pitch that the catcher does not catch on the fly