Varsity Girls' Basketball: Season Recap
A look back at the highs and lows of the team's historic season
As the final minute of the girls' basketball 4A State Championship game ticked away, Stevenson Coach Ashley Graham was flooded with emotion. Glancing up at the Red Bird Arena scoreboard, Graham read the score: 55-43 Patriots. Reflected in this final score were not only the hard work and effort displayed by her team that night, but also the final destination of a months-long journey for state glory. 
The success of the season was a culmination of a series of not just high-scoring victories, but also trials and tribulations that tested the team's resolve and chemistry. At the outset of the season, such a finish was definitely possible in the eyes of the team. 
"The truth is that expectations were pretty high [since] we returned four starters," Graham said. Graham emphasized the leadership in the team. She explained that many players play travel AAU basketball, and it was good for the team to have two leaders like Simone Sawyer and Ava Bardic. Players like them, having played over four years, knew what was being asked of them. 
In spite of having a good roster turnover from the prior season, the Patriots still lost several seniors. According to Sawyer, stepping in for those seniors improved both her leadership and basketball skills.
"We had two seniors who had left, and they were very good shooters," Sawyer said. "I knew that was something that Ava and I had to work on, just being the shooters on the team. [We] worked on shooting a lot during and before the season because we knew that was something we were going to miss and we needed somebody to step up in that lead role."
Better shooting was evident throughout the team's start to the season as they averaged just over 58 points in their first three games. However, it did not take long for the Patriots to receive their first loss of the year against Loyola in the fourth game of the season. 
"Loyola was a great loss for us," Graham said. "We took [the] film and chopped up that game, and watched the spirit and togetherness that Loyola played with. Just what great teammates they were on the court. And then what we looked like, and it was two very different teams." 
Not only did reviewing that game put into perspective what the Stevenson team was like at the time, it gave them an improved and clearer idea of who they wanted to be as a team to be going forward. 
"We wanted to be more like them, in how they treated one another, how they acted on the court and their unselfishness, their togetherness and camaraderie, it was so evident what they had, so we really worked on building that culture and chemistry throughout the year, and Loyola was the film that started that," Graham added.  
This improved chemistry allowed a smooth transition after the season-ending ACL tear to Elli Pease '22 early in the season, as younger players stepped up and contributed crucial minutes—like Nisha Musunuri '25, who hit a buzzer-beater to win the Dundee Crown Tournament against Barrington. 
"One of our starters had fouled out, and she was the first one off the bench," Sawyer said. "She just has so much confidence. Especially at that age, I would never have that much confidence." 
The Patriots rolled through the rest of the season, picking up wins against traditional powerhouses such as Kenwood and Whitney Young. However, in their regular season finale, Stevenson suffered another loss against 3A Nazareth Academy. According to Graham, this loss was another meaningful experience that prepared them for the playoffs.  
"What helped us with Nazareth is they played an extended 2-3 zone defense, and they forced us to get back in the gym to talk about how we attack a 2-3 zone," Graham said. "Lo and behold, Barrington plays an extended 2-3 zone, so that really helped our game planning and being comfortable in those positions within a zone offense." 
In the first three rounds of the playoffs, Stevenson played some familiar foes (Zion-Benton, Lake Zurich and Libertyville) and defeated each of them for the third time. Graham said that she finds reassurance in the familiarity of playing the same team repeatedly, mainly due to increased confidence levels. 
After cruising their way through the opening rounds, Stevenson had a rematch with Loyola in the Hersey Super Sectional game at Robert Morris Academy. By far the closest game that Stevenson played all postseason, this bout was won under the basket. Emory Klatt '24 grabbed 20 rebounds in the game and was dubbed by her coach "the best rebounder in the state of Illinois." 
"Those possessions add up, [especially] in games where we play a team that has a slow pace," Sawyer said. "Emory getting defensive rebounds so we [could] go quickly on offense and offensive rebounds for extra possessions and shots was so crucial for our team."
After completing the two-and-a-half-hour trek to Bloomington-Normal for the state final, Stevenson was left with two more challenges to conquer: Benet Academy and Barrington. Leading by just 3 points at halftime in a low-scoring match against Benet, two of Stevenson's starters got their fourth fouls during the second half. Even though Graham had to play some reserves such as Musunuri and Bri Welter '23, her confidence never wavered. 
"Those are situations that those kids have prepared for," Graham said. "[After] all the countless practices, hours, and preparation that went into it, they [were] ready. I was so proud of them for stepping up."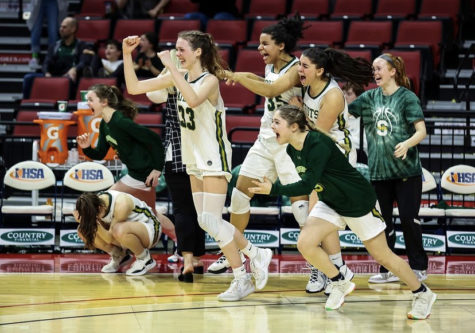 Compared to the two previous games, the championship game was a runaway for the Patriots. After Barrington scored the first points of the game, Stevenson responded and never looked back. In a dominating 12 point win, several Patriots had crucial contributions. 
Such a commanding win would not have been possible without an MVP-level performance from Sawyer. The Lake County girls basketball Player of the Year erupted for 26 points, more than twice her output against Benet. 
"The thing about basketball is that it's going to be up and down, and you're not going to play all the time," Sawyer said. "I thought about it [my performance in the semifinal game] for a good hour, and after that it was over. We were on to the next game. I didn't sulk over it [or] carry it into the next day."
Other notable contributions from that game include Kate Arne '23, who Graham cited as the most improved player on the team; going from a possible substitute to full-time starter. In addition to Arne's points in the paint was Kendall Williams '24's stifling defense on Barrington's Purdue-commit Sophie Swanson. Not to go unnoticed was Bardic's near-perfect free-throw shooting in the closing minutes. 
The team's Instagram account, @shsgirlsbball has been active recently, thanking fans and revealing MVP and All-State picks. "Shoutout to Patriot Nation for showing up and showing out," the account posted after the final win. Since, the account has revealed various team-based and IBCA awards.
Voted by teammates, Bardic and Sawyer were given MVP. Williams was given the title of 'Defensive Player of the Year' and Bardic the title of 'Miss Hustle.' Finally, Kate Arne was voted most improved player. Sawyer was selected for 1st Team All-State, Bardic for 3rd Team All-State, and Klatt for All-State Special Mention. 
When one glances at the Stevenson girls' basketball 2021-2022 season, they will find a team that traversed through the season with confidence and success but was never afraid to make a change and adapt when necessary. For Sawyer, who will continue playing basketball at the University of Pennsylvania, the state run taught her to stay on course through both triumph and struggle.
"You are not going to play well every single game, and I think that is something I learned from this year," Sawyer said. "I had some bad games; I had some good games. That is how basketball works, and that's how life works. That's definitely something I will carry down to Penn; it's going to be a roller coaster, but as long as you stick with it, you'll be fine."