Back On Guard
Lifeguarding, Water Safety program hit hard by COVID-19, students experience choppy return to the pool
When Ramsey Engel '23 first heard about the lockdown in 2020, he started to lose hope in achieving his goal of becoming a lifeguard. A freshman at the time, Engel had been swimming for many years and his older brother was part of the Stevenson's Lifeguarding program. Although lifeguarding at Stevenson requires several  prerequisite courses, they were ultimately not the hardest part of his journey.
"Through my experience, I had tons of mixed feelings," Engel said. "Mainly thoughts of giving up, because I was facing so many barriers."
Stevenson first started offering lifeguarding certification courses and later expanded to include the Water Safety Instruction certification course. Students who pass the program become certified Water Safety Instructors who help lead classes for freshmen that did not pass their swim tests. Lifeguards, on the other hand, guard the pool during these lessons as well as other classes like Adventure Education.
When Stevenson went remote because of the pandemic and classes were forced to go online, the instructor for these two hands-on courses, Michael Farina, was forced to adapt his teaching styles.
"I had to become very creative in the way I taught the students," Farina said. "I was always a very hands-on learner and to know that people like me were there made me try harder."
Even though the course material could be taught online, there was still a Red Cross mandated number of hands-on hours that had to be completed in order to receive certification. Though this was not possible during the end of 2020, 2021 provided some good news for those looking to be certified.
"As we weren't allowed into the water until the very end of second semester, we had the choice to go into summer to continue our training," Engel said. "It was a no-brainer."
At the start of this school year, the program seemed to be returning to normal as students could fully participate in both the classroom and water components of their respective classes, though Engel didn't have quite the experience he expected. 
Those who received their Water Safety Instruction certificates during first semester were prepared to start teaching the students who underwent the swim test and did not pass this semester. However, with the arrival of the Omicron variant, the administration decided to keep the freshmen out of the water for the time being. Farina says that this not only hurt these instructors and their ability to utilize their certifications but also negatively impacted the freshman students.
"I understand their reasons, but my passion makes me want to teach everyone how to be safe in and around water," Farina said. "It makes me feel disappointed that kids will graduate without that knowledge."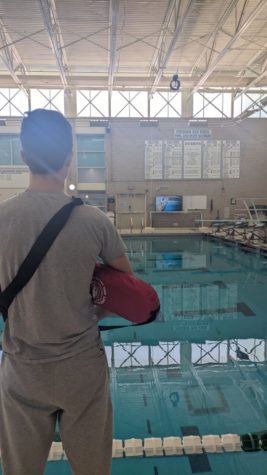 Director of Physical Welfare Eric Ramos was disappointed in the lifeguarding students' inability to practice in the water last year, particularly since it led to a dip in lifeguard certification enrollment numbers at Stevenson. Nevertheless, he is proud of the administration and students' abilities to adapt under pandemic conditions now that they started training in person once again this year.
"The best thing is teaching students how to stay safe before and after the pandemic," Ramos said. "I have had students come back and thank me for teaching them how to help others."
Katie Borgerding '24, originally enrolled in Stevenson's lifeguarding course this semester to earn her certification, an honor that she has continued to pursue this semester. Beyond technical water safety skills, the course has taught her about professionalism, collaboration and even how to have a good laugh when fumbling with new skills for the first time. 
"I wanted to get a certification because of my love for water-related activities and because of my love for helping others," Borgerding said. "It is a fun course that teaches useful life skills that could one day save a life."
The Lifeguarding and Water Safety Instruction courses have been put on hold for two years, and they are filling up again with students like Borgerding who aspire to gain those necessary skills. Leaders like Engel can also start working with in-training lifeguards as well as students from other classes using the pool.
"Every kid has that thought of a heroic moment where they save the day," Engel said. "I really wanted that wish to become a reality."