Shut Out to Win Out
Stevenson Boys' Hockey (#3 seed) blanks Viator (#5 seed) to win first state title
While Stevenson's final three opponents (St Ignatius, Viator and St. Viator) were all private Catholic schools, they had one more thing in common: red. All three featured red in their school colors. Yet after 51 minutes of hard fought hockey on Sunday at The Edge Ice Arena in Bensenville, it was the green and gold Patriots who raised the red state championship flag and donned red championship hats. In a 5-0 shutout of St. Viator, the Patriots claimed the Amateur Hockey Association Illinois first place trophy: their first ever for the program.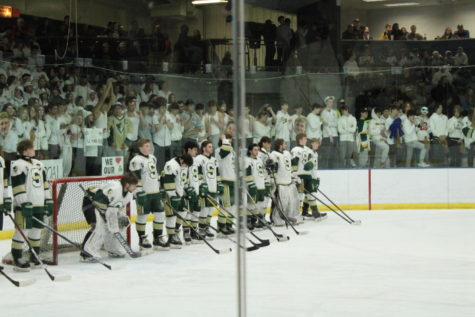 In a game that opened with plenty of pomp and circumstance, including a passionate performance of the National Anthem by Jim Corneilson, it was St. Viator who got early scoring opportunities. After getting some quick shots on goal, Viator received their first power play after an interference penalty. Yet this man-up advantage was thwarted by multiple saves from Stevenson goalie Jonathan Adler '22 and a great defensive play from Stevenson defensemen Will Harlow '23.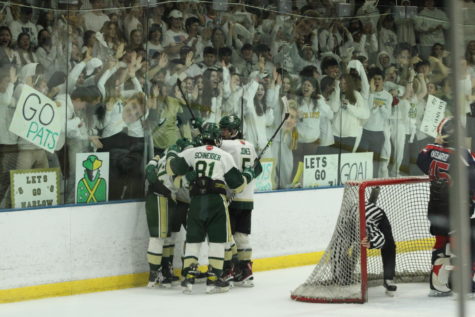 Stevenson opened the scoring 6 minutes into the period with forward Dylan Jette '23's top shelf goal from the left faceoff circle. Viator received another power play after a holding penalty, but again failed to score. After a period that featured plenty of big hits along the boards, Stevenson retained a 1-0 lead. 
The script flipped in the second period when Stevenson was awarded two early power plays on interference and tripping calls against Viator but could not find the back of the net on either. After another penalty kill from Stevenson, forward Cam Schneider '22 fired a shot that hit off the crossbar. Yet it was Schneider's next shot that rebounded off Viator goalie Michael Massaro that Jette powered in for his second goal of the game.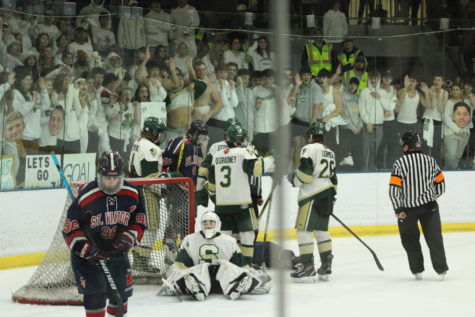 Stevenson wasted no time extending their two goal lead with forward Brandon Schultz '24's goal in the opening minutes of the third period. After the two teams traded power plays, Jette completed the hat trick with a rebound goal from the left side. After a diving blocked shot from Schultz and even more Adler saves, Schneider broke the game open with an empty net goal with five minutes remaining. 
Even with a five goal cushion Adler continued to be a wall in front of the net, stopping 3 close range chances from Viator on yet another power play. Owning a save percentage just above 90 during the regular season, Adler had a perfect night. Combined with Stevenson's stellar penalty kill, Jette's offensive explosion and the gold trophy at center ice, it was an overall ideal evening.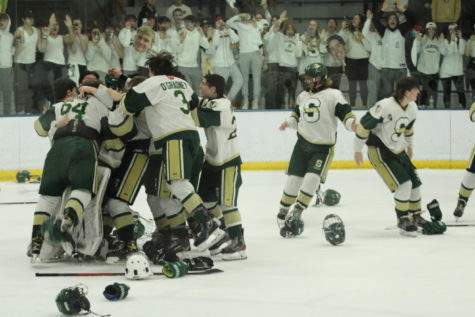 "All we talked about from the start of the year was state and how we have a really great chance (to win)," Schneider said post game. "This win means everything in the world for our whole team, especially the seniors." 
Jette's hat trick earned him the Most Valuable player award in the game. His hat trick wasn't the only one of the night, with this state win giving Stevenson athletics their third state title in the season (boys' swimming, girls' basketball); a hat trick for all patriots.