Unmasking the Protest
Students, parents protest for freedom of choice in mask-wearing
A protest against mandatory masking broke out on the morning of Friday, Feb. 11. Students left class to join a crowd of parents moving from Route 22 and Stevenson Drive to the Point. The protesters carried signs, blasted music and flew a small plane across campus to express a singular demand: "Unmask Our Kids." 
Some of the protestors were shuttled to Half Day Road from Mariano's starting at 8 a.m. Within minutes of the first-period bell, the protestors congregated around the Point, causing the administration and the Lincolnshire Police Department to tighten security around school entrances. 
Hundreds of students filmed the protesters through windows and as they traveled outside between classes, capturing photos of posters that displayed messages such as "No Mandates" and "My Child, My Choice." As the situation escalated, a line of deans and security guards formed around the Point, separating students from the protestors outside. 
At 12:49 p.m., Principal Troy Gobble and Superintendent Eric Twadell sent an email outlining the morning's events, stating that roughly 40 parents and 50 students participated in the protest. According to the email, parents and students were "witnessed banging on windows," protesters were seen chanting "let us in" and numerous students reported being "verbally assaulted" by protesters. 
"They [weren't] being very cooperative with anything we [were] trying to say to them, and they [were] getting kind of violent," Joseph Zaucha '23, a non-protesting student, said. "I tried to speak to them, [but] I think [they were] getting out of control."
The protest occurred in response to a lawsuit against Governor J.B. Pritzker's executive order last August, which mandated masks within all Illinois schools among other COVID-19 mitigation strategies. On Feb. 4, one week before the protest, Sangamon County Circuit Judge Raylene Grischow ruled that Pritzker had overstepped his authority. Although Grischow's ruling was appealed, over 170 schools temporarily gained the ability to go mask-optional. Since Stevenson was not allowed under the lawsuit's decision to end masking requirements because they were not named as a defendant, protesters took it upon themselves to declare that it was time to "take off the filthy masks."
"You tell me who's the most affected age group of the virus as a whole," parent Brad Hales said. "It's not the kids. It's not those eighteen and below. I think the way to combat that is to make sure the vulnerable are protected, and then let everyone else have their choice."
Gobble and Twadell maintained that masks would still be mandated in Stevenson's building in an email on Feb. 6. The administration also affirmed that it would continue to follow local and state guidelines.
"When the state and local health community give us guidance, we follow what they tell us to do," Gobble said. "If Governor Pritzker says we get to the point where the people he's working with say that we should go mask-optional, we would do that." 
Many protesters view the administration's compliance with state regulations as a violation of their civil rights. In addition, they see masks as restrictive and ineffective.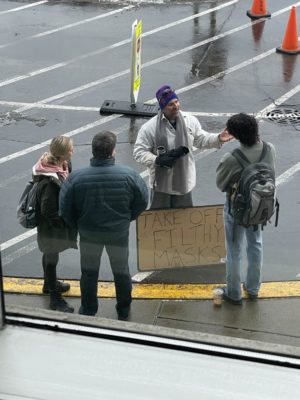 "We don't think it's fair for the kids to have to be wearing masks," Lake County board member Catherine Sbarra said. "We think there should be a choice. It's very well known that [masks] don't stop COVID."
Protestors dispute recent data published by the Center for Disease Control and Prevention (CDC) that suggests wearing a mask lowers transmission rates, as a 10 percent increase in self-reported mask-wearing tripled the likelihood of stopping community transmission. Since greater levels of masking have led to a lower transmission rate, many students and staff believe that masking should not be seen as a civil rights issue, but rather as an act of mutual respect and compassion.
"It's important to remember that the mask is an inconvenience, nothing more," English teacher Richard Tompson said. "It's not government control. It's not infringing on anyone's freedoms. Ideally, it should be seen as a message to other people that you care about them."