Follow Your Heart
Four popular rom-coms reviewed to commemorate the season of love
Movies: 
She's All That (1999)
13 Going on 30 (2004)
The Kissing Booth (2018)
To All the Boys I've Loved Before (2018)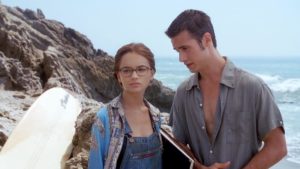 She's All That
: Overall 8/10
Summary:
She's an artsy nerd, he's the most popular guy in school. After hotshot Zack Siler (Freddie Prinzie Jr.) is dumped by his girlfriend, he boasts to his friends that he can make any girl in his school popular, and in turn, Prom Queen. After selecting awkward student Laney Boggs (Rachel Leigh Cook), Zack attempts to win the bet and prove himself to his peers. But will his plans go haywire once he starts to fall in love? 
Movie tropes: 4/10
"Beautiful All Along" 
Of course, right after Laney removes her glasses and changes her outfit, she quickly becomes a supermodel fit for popularity. Suddenly, despite the obviously minimal changes made to her external appearance, she's not a clumsy nerd anymore. 
Chemistry: 9/10
Sparks fly in this movie as Zack Siler and Laney Boggs begin to fall in love. Throughout countless scenes together, their enjoyment and happiness around each other is raw and real, making them the perfect pair. 
Ending: 9/10
A sweet ending following bitter conflict serves as the perfect resolution to any rom com movie, including She's All That. After resolving their fight, Laney Boggs and Zack Siler share a dance—and a kiss—under the stars to the tune of Sixpence None the Richer's "Kiss Me."
Predictability: 7/10
Though the beginning and overall development of the movie are strikingly obvious and predictable- your average popular guy and nerdy girl love story- the conflict takes a shocking turn when Zack's friend (Paul Walker) attempts to take Laney to prom himself. However, the movie concludes, predictably, when Zach gets the girl, despite their falling out just scenes prior.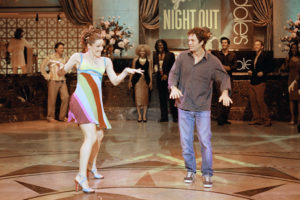 13 Going On 30
: Overall 7/10
Summary: 
Thirteen-year old Jenna Rink (Jennifer Garner) dreams of being popular. After an attempt to get closer with the "Six Chicks"—a relevant clique—goes embarrassingly awry, all she wants to be is "30; an age she deems as the time to be flirty and thriving. Going to bed in 1987 and waking up in 2004, Jenna suddenly finds herself as the editor of "Poise Magazine," living in a luxurious apartment on 5th Avenue. Despite seemingly having everything she wanted, Jenna finds herself missing one thing—childhood best friend Matt (Mark Ruffalo). Can Jenna navigate life as an older woman all while attempting to secure the love of her past?
Movie tropes: 6/10
"Best Friend Becomes Love Interest"
Jenna spends the entire beginning of the movie attempting to get noticed by the most popular guy in her school. Yet, even while it was clear he didn't like her back, she still ignored the obviously present feelings from her best friend Matt. Despite rejecting his attempt at a kiss just scenes prior, as soon as Jenna becomes older, he's the only person she ends up wanting. 
Chemistry: 9/10
Despite many critiques of Ruffalo's lack of charisma in the film, I thought that both actors had great chemistry throughout the entire movie. The raw emotion exhibited by both Ruffalo and Garner made their relationship so realistic, and showcased a less perfect side to falling in love, often a missing part of many romantic comedies. 
Ending: 9/10
In the last scene, Matt and Jenna are seen moving into their new home—a reference to the pink dollhouse Jenna was gifted on her thirteenth birthday. Despite having everything her younger self had wanted when previously "30", she felt lost and alone. At this moment, however, Jenna looks genuinely happy for the first time. 
Predictability: 7/10
From the moment Matt kissed Jenna on the lips back in 1987, I had the impression that they would end up together at the end of the movie despite her clear interest in someone else. Yet, what I did not expect was Mark's romantic relationship with another woman in 2004, which ended up being a major conflict of the film for Jenna. Despite its clear predictability, 13 Going on 30 wasn't any less engaging to watch.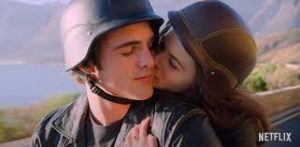 The Kissing Booth:
Overall
6/10
Summary:
When quirky, late bloomer Elle Evans (Joey King) decides to run a kissing booth at her school's carnival, she finds herself sharing a kiss with the ultimate bad boy, and her longtime crush, Noah Flynn (Jacob Elordi). Despite the obvious chemistry between the two, there's just one small problem—Noah just happens to be the brother of Elle's closet friend, Lee Flynn (Joel Courtney). And of course, according to the set of rules Lee and Elle have followed ever since they were kids: Noah is OFF-limits. As romance buds, and mutual feelings develop, Elle must decide which pathway to take—staying true to her friendship with Lee or following her heart with Noah. 
Movie tropes: 5/10
"Forbidden Love" 
Of course, despite Noah's clear feelings for Elle, he's the one person that she isn't supposed to be romantically involved with. Though there are plenty of other boys vying for her attention, he's the only one she wants–which happens to break rule number nine: "relatives of your friends are off-limits."
Chemistry: 8/10
Between a romantic kiss in the rain, to sneaking around the house to avoid being caught by Lee, this couple constantly kept me on my toes. Noah and Elle's romance together both encapsulates both the awkwardness as well as the beauty of young love, hence making their chemistry as a couple that much stronger throughout the film. 
Ending: 9/10
A dreamy montage consisting of motorcycle rides and more kisses in the rain allows the viewer to follow along with Noah and Elle's relationship over the summer, right up until he leaves for Harvard. A touching good-bye in the airport makes for the perfect resolution, leaving me wanting to see more of the couple, and overall making me curious as to whether their relationship will work out as Elle remains in high school and Noah leaves for college.
Predictability: 4/10
As the movie's plot developed, I found both the conflict and the overall ending relatively predictable. Obviously, because Elle chose to be in a relationship with Noah despite the existence of the "rules," it was clear that Lee would be upset when he found out, thus creating the main conflict of the movie. And like a multitude of romantic comedies just like this one, aside from that major conflict, the guy in question ends up getting the girl. This is reflected in The Kissing Booth when Lee finally accepts that Noah and Elle's love is genuine, and gives them his "blessing."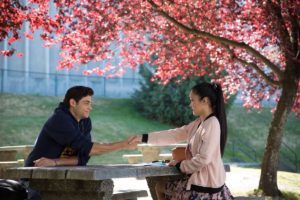 To All the Boys I've Loved Before:
9/10
Summary: 
Lara Jean Covey (Lana Condor) happily spent most of her high school years virtually unknown by her peers; that is, until her secret love letters, meant for her eyes alone, were somehow mailed to each of her five crushes. Things really spice up when Lara Jean grabs the attention of popular jock Peter Kravinksy (Noah Centineo), one of the recipients of her letters. As drama ensues and fake relationships form, Lara Jean must take on the quick transformation from a constant nobody to becoming the hottest topic at school—all while covering up a huge secret. 
Movie tropes: 8/10
"Operation Jealousy"
After Peter breaks up with his girlfriend Gen (Emilija Baranac), he uses Lara Jean to make her jealous, and in turn, want to get back together. While the concept of jealousy is often used in romantic comedies such as "To All the Boys I've Loved Before," creating a fake relationship is something relatively unique to this movie, making it engaging to watch 
Chemistry: 9/10
From slipping notes in each other's pockets to exchanging loving gazes, the chemistry was genuine between Peter and Lara Jean throughout the entirety of the film. The overall bond that the couple had was very believable and never felt awkward or out of place. 
Ending: 9/10
Lara Jean and Peter find themselves on the lacrosse field together, despite fighting just moments prior. After a moment of silence, Lara Jean admits to Peter that, though their relationship began as a ploy driven by jealousy, she had begun to truly develop feelings for him. This sweet and touching moment served as a perfect resolution to a whirlwind of a movie, providing the perfect set up for the sequel. 
Predictability: 6/10
Overall, I would say that this movie was fairly predictable as I had guessed from the very beginning that the "fake" relationship between Lara Jean and Peter would turn into something more. Additionally, the idea of a popular guy falling in love with the shy girl, or vice versa, is a plot line often used in romantic comedies, making the overall resolution THAT much more predictable for the viewer.