Fueling Inclusivity, Reaching Everyone
Dr. LeViis Haney strives to bring forth inclusivity and diversity within the Stevenson community
Headlines flashed across the TV screen. Protests, broadcasted live, enveloped the nation as millions of Americans advocated for justice in the wake of George Floyd's murder. Dr. LeViis Haney, watching the events unfold from his home in the South Side of Chicago, scrolled through his phone as sirens wailed constantly in the background. Weighed down by anger and frustration, Haney searched for an opportunity to transform the divided nation. 
Just as he was about to set his phone aside, a notification caught his attention: a new job posting for the Director of Equity, Diversity, and Inclusion at Stevenson High School. The current principal of Rich Central High School, Haney took only seconds to apply. He knew this opportunity could bring about much-needed change, not only for him but also for the surrounding community.
"As a school leader, I wanted to do more to be a part of the solution,"  Haney said. "I felt that if I could be in a position where I can help others to leverage their abilities to help students in a better way, that would be a worthwhile place for me to be."
Once accepted into the position, Haney got to work alongside other administrators in order to accomplish his goal of fostering a welcoming school environment. As the school's first Director of Equity, Diversity, and Inclusion, he had no template to follow—yet he forged ahead, focusing on areas he believed were overlooked in the Stevenson community.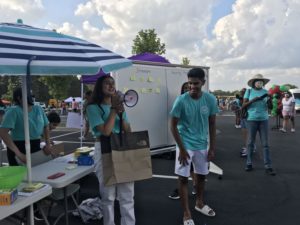 "I spent time investigating racially-motivated bullying and harassment incidents and helping to bring about a sense of resolution for students involved, both victims as well as perpetrators." Haney said. "I worked with different aspects of the school's faculty and staff to help raise awareness about [the] best practices when it comes to relating across lines of difference."
One of his most prominent projects revolved around examining the data of Stevenson's sports tryouts, in which he compared each to the school's overall demographics as a means to reduce any racial imbalances. An athlete himself and a lifelong advocate of inclusion in sports, Haney has encouraged students to step out of their comfort zones, despite preconceived notions of belonging. 
"When it comes to certain sports, you might be good at one that you have never played before," Haney said. "Sports are some of the most collaborative, team-oriented activities. Our coaches are really on the front lines in regards to thinking about how a force can be leveraged to promote inclusivity and create spaces where it doesn't matter who you are, or where you come from––you can contribute to a team in a positive way."
Haney emphasizes students working together as one, not only in sports but also in the classroom. Dr. Marla Israel, Stevenson's Director of Student Learning Programs, is also an ardent supporter of creating classroom communities, with most of her work centering on equipping students with a network of support. 
"I really want to see all students feel comfortable here, like they have an opportunity to be their best person," Israel said. "Unless you feel like you belong, you're not able to learn."
In addition to her work as the coordinator of student-oriented support networks, Israel also serves as one of the sponsors of Stevenson's Fostering Inter-Cultural Respect and Empowerment (FIRE) club alongside Haney. Dedicated to nurturing inclusivity and creating dialogue, FIRE provides a platform for students of all backgrounds to voice their beliefs and create change within the school community. One of the club's upcoming projects, for example, is meeting with the Communication Arts Board to discuss diversity in the school's reading curriculum.
As a member of FIRE, Nawar Masood '24 has a unique understanding of Stevenson's framework for diversity and inclusion-based initiatives. Although she acknowledges the need for an inclusive curriculum––one that is representative of all stakeholders––she applauds the school community for its growth mindset, something Haney has helped nurture.
"I feel like the Stevenson community has grown as a whole in terms of equity, race, and diversity," Masood said. "There's so many students and parents who are involved with FIRE—asking us questions, emailing us, trying to get as involved as possible."
To build more awareness, Haney, Israel, and other members of FIRE are excited to announce Stevenson's second annual Anti-Racism and Inclusivity Week, taking place Apr. 4 through Apr. 7 in person. Last year, guest speakers and student groups led discussions revolving around race, sexuality and a plethora of other topics.
"I'm really optimistic that Anti-Racism and Inclusivity Week will grow as a result of being able to take advantage of opportunities to engage," Haney said. "We want to create opportunities for students to amplify and elevate their voices and to learn from each other and different cultural experiences with the goal of increasing inclusivity here as Stevenson."