Soaring at Senior Night
Stevenson Varsity Girls Gymnastics Welcomed Mundelein to the Field House on Senior Night (January 12, 2022)
The Stevenson girls varsity gymnastics team took on Mundelein at home in a bittersweet event. The team won big, but said their farewells to the three seniors on the team: Maya Fergus, Lauren Jackson and Ally Gitler. The evening began with the seniors being walked out by their families, given flowers and engaging in an activity where they read prepared messages to their teams, and then heard messages prepared by the team for them. Emotional farewells from Coach Judith Harwood and the younger girls finished off Senior Night's opening ceremony. 
From there, the Patriots got straight to business. Stevenson began the meet at the Vault Event. Junior Ashley Schabes convincingly won the event with 9.300 points, with second place also being taken by Stevenson's Gitler (9.100 points). Third place was taken by a Mundelein athlete. Maya Fergus scored 8.600 and finished fourth.
Next up, the girls competed in the Uneven Bar Event. Schabes continued her excellent evening by taking first place in this event with a score of 9.100. Stevenson took all the top four spots, with Gitler finishing second (9.000), and Jackson finishing third (8.900). Junior Emma Fang finished fourth with a score of 8.850.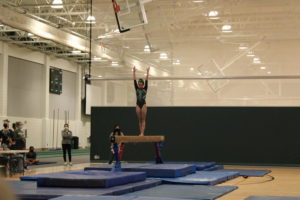 After another dominant event, Stevenson moved onto Beam. Stevenson took all of the top five slots, making this event their most dominant team event of the night. Schabes took another first place spot with a stellar score of 9.300. With other good performances, Fergus and Fang finished second (8.850) and third (8.800) respectively. Jackson and Gitler finished fourth (8.500) and fifth (8.300). 
To finish off the evening, the Patriots moved to the Floor Exercise Event. This time, Gitler finished in first with a score of 9.450. Schabes finished off her terrific evening in second, with a score of 9.250. Fang was tied for fourth with a Mustang, both at scores of 8.500. Jackson finished in 6th after a routine which featured the worm at its finale; she scored 8.250.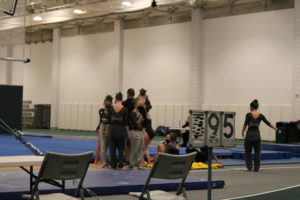 The girls' Senior Night was largely successful. Schabes, the standout performer, won the meet with a score of 36.950. What an incredible night for her! The seniors, Gitler, Fergus, and Jackson finished in second, fifth, sixth place respectively. Fang finished in third. The final team scores ended: Stevenson 141.950, Mundelein 127.500. An excellent night for the Patriots.