Where Are They Now? Former SHS Student Athletes: Chapter 2
Sam Panitch reflects on time as Stevenson athlete, what he's currently working on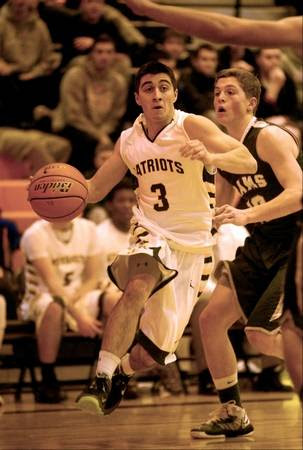 The blaring noise of fans suddenly filled the fieldhouse as the swish of the basket ignited the fans to their feet. Deafening roars echoed from all corners, the clapping of hands and stomping of feet thundering passionately. A 91 by 46 foot hardwood rectangle was the center of the universe. For Sam Panitch '14, the scene itself was nothing new; all that was different was his perspective: a fan in the stands rather than a player on the court. 
Before attending the University of Maryland and landing his job in Washington DC, Panitch played shooting guard for the boys varsity basketball team for two years as an upperclassman at Stevenson. Even during those playing years, he enjoyed experiencing basketball as a fan.  
"One of the coolest experiences I had was going down [to] state twice, that was just absolutely awesome," Panitch said. "Evan [Ambrose] '21, Matthew [Ambrose] '20 and I went around and explored this whole state experience. There was Pop a Shot, dunking and other activities in the convention center, so I took Matthew and Evan and we just hung out, ran around, and did all of the fun basketball things there, and [we] got to be a fan as well as participate in the state tournament." 
After graduating, Panitch took on the full responsibilities of being a fan at Maryland, where he majored in business analytics. Even though he was not playing competitive basketball anymore, the sport never grew distant. 
"Any basketball game that I could attend was a blast," Panitch said. "We have a fun rowdy student section and that allowed me to get close to the game and that was really fun, because I got to see some of my teammates and friends that I played against in high school [such as Jalen Brunson '15, Justin Smith '17 and Joey Lane '15]. I got to stay close to the game although I wasn't playing at any point." 
This sustained connection to the game extends to his coaches as well. Panitch said that he still talks to assistant varsity coaches Paul Swanson and David Hes as well as head varsity coach Patrick Ambrose. These lifelong friendships and mentorships are what Panitch said he really cherished from his Stevenson years. 
After graduating from Maryland, Panitch now constructs apps and websites as a consultant for Ernst and Young. Aside from his full time job, he also runs a company called Elevation Nation, a podcast that helps young adults transition from college to the real world. 
"At Stevenson, they teach you to work hard, join clubs, get involved and get to that next step of getting into a good college," Panitch said. "And then you go to college and you do the same— you do all the clubs, you work hard in class because you want to get a good job or a good internship. So there's always this next step you are working towards and then all of sudden when you graduate, there's no next step; the next 50 years of your life is a job."
Part of Panitch's podcast is interviewing fellow Stevenson athletes about their adult lives, such as Connor Cashaw '15, who played college basketball at Rice University and is now playing professionally in England. Panitch uses his guests as a model for his audience. 
"I want to paint the picture of what other people are doing to try to help them find their passions, and also to make sure that everybody knows that once you graduate from college, you're not alone and that we're all kind of struggling through this thing called adulthood together," Panitch said.
In his podcast, Panitch discusses what he believes is the key to conquering life after college: mental fortitude. According to Panitch, mental fortitude is composed of self awareness, vision and accountability. Another concept that Panitch lives by is the "Ladder Man."
"I'm 5 foot 7 [inches], I'm really short, I didn't play much, I backed up Jalen [Brunson], I barely got minutes, but the whole concept behind it was I was at the bottom rung of the ladder and was constantly trying to climb one more rung and just get a little better," Panitch said. "I'm never the smartest, I'm definitely not the most athletic, but I just try to push the other people around me to get better and by doing that I'm able to add value in whatever situation I'm in."