A Warm Welcome
International transfer students face challenges adapting to new school, receive help from various resources
As Ziji Li '22 walks into Stevenson for the first time as a new transfer student, she sees a mass of students waiting in line for their morning Jazzman's coffee and sitting around tables. Others talk to their friends throughout the Point seating areas. 
At her previous school in Beijing there were about 400 students from Pre-K to 12th grade, most of whom were international students. Compared to that, Stevenson has over 10 times the amount of students. As a result, adapting to such an environment has been challenging.
"It was a bit overwhelming," Li said. "Since my old school was so small, coming here was a pretty big change for me." 
To help cross that bridge, Stevenson offers many resources for transfer students to utilize to get comfortable and feel like they belong. There is a transfer student program, Transfer Buddies, that lasts for the first nine weeks of school where students and their families can participate in an orientation night, parent and guardian night and even have the chance to meet a transfer buddy who is a fellow Stevenson student that guides them through the transition. 
Transfer Buddies currently has between 75 to 100 transfer students from domestic and international areas and is run by Counselor Raymundo Tad-y, who organizes most of the program's activities.
"We have a transfer student resource fair that takes place at the start of the school year," Tad-y said. "There are a variety of different personnel, ranging from the smart desk, to the tutoring center, to the athletics department and many more who attend that transfer students can meet through a scavenger hunt activity."
Most transfer students share a struggle similar to Ziji's of making friends in such a large school. These fun and interactive activities not only give transfer students resources to go to for help but also gives them a chance to make new friends throughout the year.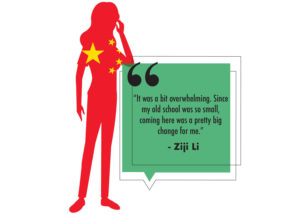 By junior year, most Stevenson students have had more opportunities for extracurriculars, leadership positions in clubs, challenging classes and standardized test preparation. However, transfer students like Tomás Onsurbe '22 don't have that opportunity.
"Even more than the dances and spirit events, it feels much harder not having any standardized test training or significant club experiences," Onsurbe said. "So now, I don't know what to do." 
Despite these struggles, many teachers have been able to help these students cope with their stresses. by being supportive within the classes they teach and acting as an emotional support and source of guidance for them. Both Li and Onsurbe have found teachers to be extremely helpful in their transfer process and finding their way around the school, especially given the size of Stevenson.
For some, Stevenson teachers are more supportive than those in their native country. In many public schools, especially in Europe and Asia, there is not a conversational connection between teachers and students which makes it seem for a majority of students as if the teachers do not care about their students as much, according to Onsurbe.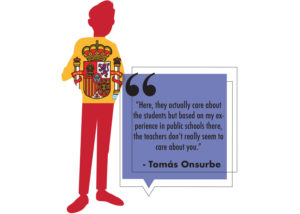 "Here, they actually care about the students and even support you with mental health if you need it," Onsurbe said. "But based on my experience in public schools there, the teachers don't really seem to care about you." 
However, support doesn't end when the students leave the classroom. Counselors like Juan Ibarra Flores are present in both the students' and parents' lives immediately after registration to maintain communication about important events, rules and administration matters. To further aid international transfer students, counselors are also available to meet with the students by appointment.
"Growing up, I was an ELL (English language learner) student born in Mexico so I can relate to a lot of their experiences," Ibarra said. "I try to support the students out as much as I can by providing resources that helps them adjust"
While the experience of transferring to a completely new country can be overwhelming and stressful, Stevenson provides many resources to help incoming students acclimate to the new setting. However, sometimes, the most dynamic resources for transfer students like Li end up being the peers and teachers around them in their classes, clubs and sports.
"My advice to future transfer students would be just try to make friends in your classes and get involved around the school," Li said. "That way you can get around the school a lot easier, get more information about the school and build a better support system for yourself."