Fun in the Sun (and on the Field)
Sport summer camps resume this year with Covid restrictions in place
After their absence during the summer of 2020, summer sports camps at Stevenson have finally returned, although with different restrictions and new hurdles to maneuver. Nevertheless, athletes and coaches return for their somewhat regularly scheduled summer camps.
Even with the growing COVID-19 vaccination rates and expanding vaccine eligibility, Stevenson will continue following restrictions in place from the Illinois Department of Public Health and Illinois High School Association. According to Assistant Athletic Director Aaron Wellington, restrictions still include masks, social distancing and health screeners, though masks will not be required for low risk outdoor sports during competition this summer.
However, most sports whose seasons extended into the summer, such as baseball and softball, will not be having a camp. Other sports, like football, basketball and soccer, whose seasons have already been completed, will have camps that start later than usual. 
"We are starting two weeks later than we usually do," Head Varsity Football Coach Brent Becker said. "In the past, we've always run our camp in the month of June and we're done by the Fourth of July, but we'll start a couple weeks later this year."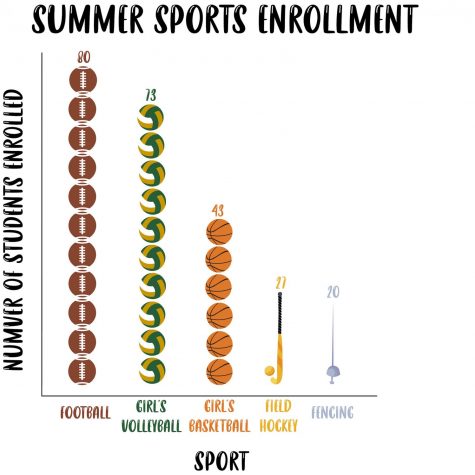 Summer camps will have different starting dates and even new locations due to field house construction (boys basketball camp will be held at Fremont Middle School this summer). Despite all of this, athletes and parents have welcomed back summer camps with open arms.
"Kids are signing up and we're adding camps everyday," Wellington said. "My hope and expectation is that we will see the same amount as we typically see at these camps, especially for the high school kids."
One Stevenson sport that will be holding a summer camp is volleyball, also starting later. Yashwini Kongara '23 is one of many students who will be participating in the girls' volleyball camp this summer. 
"I was very excited to learn that the camps would be happening despite the pandemic," Kongara said. "I could see that [my sister] enjoyed it, which made me want to sign up." 
Kongara believes that, despite the safety precautions that will be present during the summer camp there will still be many positive experiences for the team. Summer camp will offer team bonding and time to improve. 
"Because volleyball is such a team sport, it is important that all the players are in tune with each other, especially while wearing masks," Kongara said. "Being unable to hear each other as clearly and see facial expressions makes it even more necessary that we bond and understand each other as teammates."
Ultimately, Kongara remains firm in her belief that the opportunities outweigh the limitations in terms of the upcoming summer camp experience. She thinks that the camp will reinforce the bonds between teammates.
"Even though it's tough to participate in sports during the pandemic, I wasn't going to let it stop me from experiencing the camaraderie amongst the girls," Kongara said. "I would advise students to have fun because we are fortunate to have the opportunity to continue doing what we love and get as close to our normal lives as possible amidst the pandemic."