Senior Fest Shenanigans
Stevenson seniors participate in one last hurrah with their peers
The football field at Stevenson High School was packed with seniors wearing colorful college decision gear, while sounds of laughter and chatter resonated into the chilly morning air. Tables were lined with various stuffed animals and freshly-baked treats from Jazzman's. Making the most of her Senior Sunrise, Vera Greenspan '21 snagged a bagel from one of them.
Senior Sunrise, along with prom and Senior Sunset, are events that seniors get to participate in during Senior Fest as a celebration of their high school departure. While usually accompanied by a hefty breakfast inside the Sports Center, this year's event took a different approach to follow COVID-19 safety guidelines. Despite mandated masks, social distancing and a different setting, many attendees felt that Senior Sunrise provided an opportunity for students to finally interact with each other face-to-face before Graduation.
"Walking into the football field, we were able to get our graduation caps and gowns, which [felt] kind of surreal," Greenspan said. "You come in and there's a bunch of students [you've] known since kindergarten, or some since eighth grade, or since freshman year."
While a traditional Senior Sunrise usually includes various games and food trucks, the Senior Class Board had to include activities that were COVID-safe. In addition to socially-distanced interactions, there were stuffed animals seniors could take to be signed by teachers and peers and opportunities to take pictures with friends.
Many student organizations, including the Senior Class Board and Student Council, helped plan Senior Fest with the goal of uniting the seniors for a few more events before they say goodbye to their peers and high school career. Caroline Mazur-Sarocka '21, a member of Class Board, said she wanted these events to provide a sense of normalcy.
"There's definitely a lot of interclub coordination," Mazur-Sarocka said. "I know that some of the Student Council Executive Board members have been routinely going to Senior Class Board meetings to streamline the process of planning to make sure that it's collaborative between everyone."
While Senior Sunrise has been a major event for this year, the biggest event hosted by Stevenson and the student organizations for Senior Fest is typically prom, known this year as "Prom-ish". Due to COVID-19 policies this year, Stevenson allowed seniors to rent out a time slot to bring friends in groups of 4 rather than opening up the event for the whole school at once.
Because of such measures, many seniors took initiative and planned their own private proms, many of which included pictures, dinner, rented lake houses and facilities for after-parties. These proms, while similar to Prom-ish, allowed for fewer restrictions in terms of those attending.
Lindsey Grant '21 was one of the many seniors who attended a private prom. While each respective one had different safety measures, Grant's did not require those going to get a COVID-19 test since everyone was fully vaccinated. However, other guidelines were put in place and followed for most of the night; masks were required while dancing, but could be taken off for eating, drinking and pictures.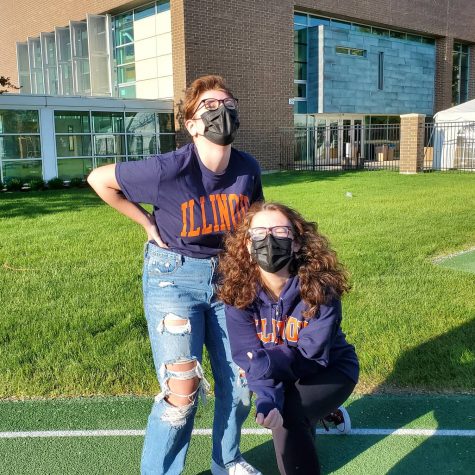 "There was definitely a risk going to something like this, but all in all they did a good job making sure it was COVID-safe," Grant said. "It was pictures that were the highest risk, since masks came off for that, but that was outside and you could separate yourself from the bigger group."
Senior Fest was ultimately created in hopes of seniors being able to see one another and have one last bonding experience before their graduation. While many seniors, like Greenspan, missed out on many traditional senior activities, this year's Senior Fest still allowed for some sense of normalcy and enjoyment.
"People really needed something to get them together and celebrate senior year because it was kind of taken away from us," said Greenspan. "Even though [Senior Fest was] a little thing and not anything crazy, it was so nice to be able to see those people.