Diving Into the Deep End
Student athletes, athletic trainer, coach discuss adopting new sports during high school
As Nora Kowalski '22 approaches the gymnasium doors, heart pounding in her chest, she hears an eruption of cheers from within. Though hidden by a face mask, she smiles and takes a deep breath, easing her first-day jitters. She isn't sure what to expect inside but swings the doors wide open and steps into the gym, officially starting her journey as a Stevenson cheerleader.
Kowalski has never been on a cheerleading team before, nor has she learned how to perform routines for an audience. She does, however, know how to jump, flip and twist and has excelled in these skills as a diver since seventh grade. Encouraged by her friends and counselor, Kowalski is one of many student athletes who have adopted a new sport during their high school career.
"Ever since freshman year I was kind of interested in [cheerleading] but I never thought I had enough time," Kowalski said. "And this year, with COVID, diving was less intense than it usually is and I knew cheer would be less intense [than usual], so I decided why not try it this year?"
Joining a new sport often presents its challenges, especially for those with less experience. Although Kowalski didn't have any trouble fitting in with her teammates—several of her friends were on her team—she struggled with learning how to perform.
"Learning the routine [was challenging] because I never had to learn certain motions or steps and memorize them," Kowalski said. "Since I was on varsity, everyone had done it before and they were picking it up really fast—all the motions, dance moves, and position changes. I felt like I was behind [because] I was trying to learn new things and I didn't know the best way to go about it or what to focus on in each part."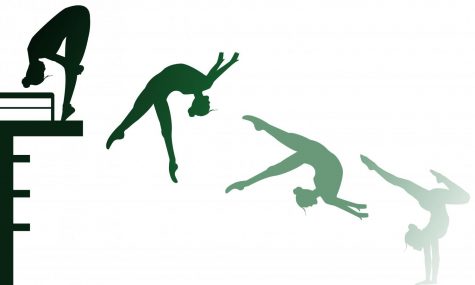 Whereas some athletes like Kowalski adopt a new sport because they're interested in another one, others need a change from their routine. Former swimmer Lia Novak '23 made the transition to cross country after seven years of swimming as she felt that her progress had become too stagnant.
"It seemed like I wasn't getting any faster," Novak said. "[But after I quit swimming], it was difficult not being active everyday. I wanted to do a fall sport and a friend mentioned she had cross country tryouts coming up and I asked if I could try it out. It went well, so I kept with it."
As a way to welcome new runners to the cross country team, athletes are paired with upperclassmen during the first few days of practice. Girls' cross country head coach Lindsay DePaul, who is new to the program herself, stresses the importance of this tradition among other measures to help smooth out the transition.
"As a coach, what's really important to me is making sure that everyone always has someone to run with so that no one is feeling lost within the program," DePaul said. "The biggest challenge is certainly making sure that everyone gets to know each other and feels part of a cohesive team, but we have some structures in place to help manage that."
Athletes who have participated in the Stevenson cross country program for multiple years are encouraged to welcome new runners such as Novak to the team. A three-year cross country and track runner, Abby Jiang '22 bonds with new athletes by running with them during practice.
"Just to start off, you can run with [a new athlete] first, and then help them find their group and adjust [to the team]," Jiang said. "You just welcome them, even if they start running faster than you."
In addition to the challenge of bonding with teammates, new athletes have to contend with the possibility of an injury that could set back their season. To prevent injuries, DePaul conditions her athletes as a way to make running more enjoyable for everyone.
"For a brand new athlete, my goal would be, by the end of the season, to get them enjoying running, having it feel like something they want to do again in the future, and without injury," DePaul said. "We certainly incorporate strength training, flexibility training, and other types of conditioning [to prevent injury], and we work closely with the trainers in order to do that."
The possibility of injury after adopting a new sport is not unique to cross country. Athletic trainer Tyler Kollmann explained that all new athletes should be careful to avoid the repercussions that may occur from making the switch too quickly.
"The biggest thing that you are always concerned about is what your body was used to in the prior sport, as compared to the actions and activities of the new sport," Kollmann said. "Unfortunately, what happens a lot of times is that athletes and students think that they can just go from one to the other. Often, their body starts to break down in some capacity in what we classify as overuse injuries, where they just do too much, too fast, too soon."
Athletes experience more than just these physical challenges when joining a new sport. Kowalski said that simultaneously participating in dive and cheer has often left her feeling really tired and with little time to get homework done after practice.
Nonetheless, Kowalski said that she has been able to stay motivated to continue her hard work due to encouragement from teammates, who have noticed her improvements. Ultimately, she encourages athletes who are considering the possibility of taking on a new sport to go for it.
"It takes time," Kowalski said. "You're not going to be an expert at it, find your people and start enjoying it right away. But even though [cheer] was overwhelming, I'm having so much fun and enjoying it way more than I thought I would."