Stevenson's senior support systems
Family, school offer help to seniors amid uncertain transition into college
The characteristic ding of a text message sounds as Lindsey Grant '21 pulls out her phone, opening a recent conversation with a student from a college she is particularly interested in. There is hardly a month left of Grant's high school career and the thought of leaving Stevenson behind seems frightening. However, interacting with college students in casual Q and A sessions — with questions ranging from details about her prospective major to what type of mattress is most practical for dorm life — have been extremely helpful in easing some of her worries for the future. 
Reaching out to college students with questions and concerns is by no means an oddity, especially since Commitment Day is imminent. Many high school seniors find themselves experiencing a mix of emotions as they near the end of this chapter in their lives and prepare to start anew at college. While the thought of making new friends and exploring new opportunities is one that sparks excitement for many, the sudden transition away from the familiarity and comforts of home is also a common cause for nervousness. 
"I am most nervous about making friends and forming new support systems," Grant said. "It can be frustrating knowing that it takes time to become close and [that] friendships aren't always instant."
To combat these anxieties, 'Stevenson to College' Coordinator Aileen Aragones emphasizes the importance of family involvement in the transition process to ensure students find the best college for them. She stresses the necessity of setting up support systems in a new environment.
"It is always important for students and families to make college decisions together, taking into account the shared priorities and interests when it comes to academic, social, and financial needs and respective resources provided by colleges," Aragones said.
In addition to her family, Grant has been utilizing current college students as a valuable resource in her decision-making process. She has tried to ask as many questions as possible to get the best picture of each college she is interested in regards to all of the factors incoming college students consider, such as the academic aspect of postsecondary education.
"I have reached out to students that already go to the schools and that has been a really positive experience," Grant said. "I got to hear a lot about my major and social life from a student involved in both." 
Colleges themselves also provide assistance for students. Post-secondary counselor Dan Miller has made efforts to point students towards the resources that colleges offer. Many colleges provide invaluable information to help students better acclimate to their new majors and environments.
"We encourage seniors to utilize their institutional enrollment checklist… to ensure they are timely in submitting a deposit, providing a housing deposit, filling out required forms for orientation, advising, etc," Miller said. "Each college should have FAQs and contact information for all the aforementioned steps before classes start in the fall."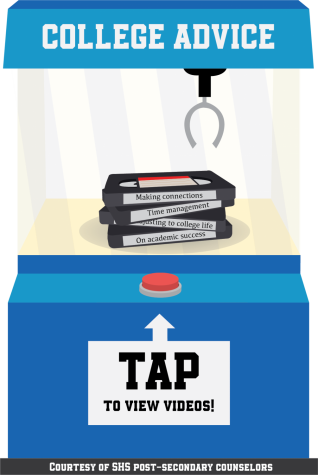 Even though these resources have helped Grant clear up a lot of her concerns and have made her more excited for the experience to come, they haven't completely resolved the emotional effects that come with the drastic shift to college life away from home.
"I am really sad to be leaving Stevenson because I've had such a great time here… and my favorite memories from the last four years have been in this school," Grant said. "I am feeling a bit nervous about making friends and not having my parents to rely on. That being said, I am excited for the opportunities that I will have in college."
Although college life is generally unexplored territory for current high school seniors, Grant, along with many other students, see this as an exciting challenge.  The chance to meet new people, while rather nerve-wracking at first, is an opportunity for incoming college freshmen to expand their horizons and knowledge in and outside of the classroom. 
"Even though [making new friends in an unfamiliar environment] is what I'm most nervous about, I am excited to meet new people; especially those with widely different backgrounds than me," Grant said.