Welcome to Zoom Room
From bathroom buttons to breakout rooms, staffers break down new Zoom features
As the calendar turned, our joy for the end of what can only be described as a tumultuous year was not the only new thing scheduled to arrive. We were on the cusp of a new presidency, a new semester and most importantly, a new year to break some resolutions (eat healthy who?). Now, we stand at the dawn of a new age, one that came zooming from the failures of Skype and Google Hangouts, one that has revised its platform to be even more soul sucking and life draining than before. Statesman has picked apart some of the most important features for your classroom consideration and presented them to you, the reader (because we know you're out there). 
Bathroom Button  
Beginning February, Zoom will release a "bathroom button" for all Zoom users. If you've ever left your desk (or bed) to use the bathroom, only to have your teacher call on you while you're out and assume you're absent, then the bathroom button is here to help. 
To maximize in-class productivity, any student who needs to use the bathroom will have the option to press the bathroom button to alert the host that they are leaving class. The host will see a five minute timer count down next to your name, which is decidedly an adequate amount of time for you to empty your bowels. Now, your teacher will know exactly where you are, and you'll now have the added benefit of experiencing a vague sense of discomfort as you remember the timer your teacher is watching while in the familiarity of your own facilities. 
It's fine, just relax. It's not like they're monitoring anything else. 
Private Chat (no longer so private):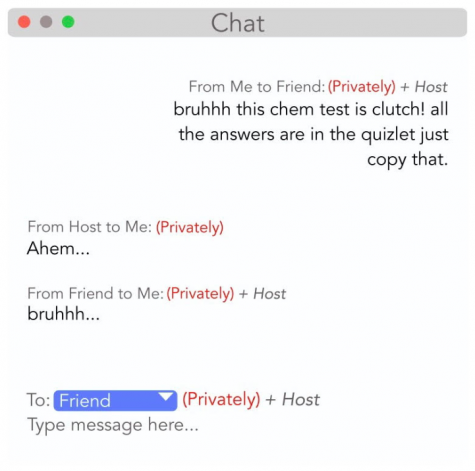 Yes, the messages sent through Zoom's private chat feature are still not visible to other participants. However, as part of the new Zoom Teach upgrade, which will be available along with their already existing Zoom Pro and Zoom Business packages, Zoom has allowed hosts to view messages between participants. So rather than seeing "(Privately)" next to the name participants wish to send a message to, it will be changed to "+ (name of host)", to ensure that participants are aware of who sees their messages, prompting them to think twice before typing and sending something embarrassing. Plus, teachers can never have too much power! So next class, remember before you tell your friend that Mr. Evel is a horrible teacher, because he will most definitely find out. Just like that, your recommendation letter is gone. 
Zoom Makeup 
Zoom will be building on its beautifying feature and beta lip colors with the release of a complete virtual palette. Participants will be able to "apply" everything, from foundation to a full on James Charles look, without tampering with their actual skin. 
With more schools and workplaces depending on Zoom, Zoom announced a partnership with Ulta Beauty last Sunday and will now be carrying some of the store's famous products in a virtual format. Now, you can wear a virtual smoky eye to hide those eye circles from staying up till 3 a.m. to finish your 60 pages of Euro reading, waterproof mascara to cry over your 2.782 that got rounded down to a 2 on the EBR scale and colored contacts to mentally break down while still looking fabulous doing so. 
Chin up, sister. You may never be able to blend like James Charles, but you can sure fake it.   
Location tracking  
When Zoom released an end of the year survey to educators and professionals who used the platform 20 or more cumulative hours per month, it reported that most hosts dealt with a multitude of excuses from employees and students about their location in order to avoid work. One teacher reported that her student informed her he drove to Iowa to visit his grandmother who was dying of cancer. Later, in a parent-teacher conference, it was discovered that said student was deep into creating his new e-boy TikTok series, which he placed as precedence over learning the derivative of an integral under a bounded curve. He, in fact, did not have a grandmother dying of cancer, and instead used his fake alibi to focus on creating content for his three followers, two of which are his grandparents. (The third being his spam).  
In response, Zoom released a location tracking service where your location and IP address will be recorded when you log in to the meeting. In an effort to keep productivity at its usual levels, the Zoom management team is looking forward to the more rigid office environment this structure will allow. After all, it's these little dictatorial details that we all miss. 
Zoom Dating 
A virus is in the air, and so is love. 'Tis the season, but with couples split across time zones and scattered across thousands of miles, Zoom is expanding its outreach, from professional usage, to dating (hey, it worked for Facebook!). For their Zoom date, couples will have the option to choose which perks of virtual dates they would like to enjoy. Zoom provides three options of romantic accompanying music: Vivaldi, Taylor Swift and A$ap Rocky as voted on by a team of Zoom interns.    
Couples will also have the option for romantic red lighting (or blue lighting if you planned the date to break up with your partner, in which case you will have the option to play James Arthur to intensify the moment). For the real life feeling of going on a date, if you choose to simulate a restaurant night with your bae, Zoom will provide a pre-recording of Pierre, a nosy French waiter who is down on his luck and is a little too comfortable talking to strangers. If you choose to plan a virtual beach date, Zoom Dating will provide the pre-recording of a recently divorced middle-aged man who is going through an existential crisis, but refuses to acknowledge it. Again, it's all in the details. 
In a beta run of Zoom Dating feature, couples reported a 52 percent increase in love for their partner, a 19 percent increase in happiness, a 19 percent break up rate and a 3 percent appreciation for Pierre. 
Glitches  
After one concerned student emailed Zoom headquarters with the subject line, "help I have the attention span of a goldfish and am currently failing calc," the Zoom team took pity on the plight of the millions of students struggling to reach their full academic potential amidst an economically and politically turbulent time. To combat this problem, Zoom will be releasing Glitches, a young software program programmed to make the meeting glitch every minute for 15 seconds. 
With the increasing rates of TikTok attention spans among young minds, Zoom thought it would be best to release Glitches so that students can simulate the serotonin inducing experience of TikTok while in class, while also catering to their goldfish sized attention spans with the one minute class intervals. During each period of Glitching, students will have the opportunity to type in any comments in the chat box and take the 15 seconds to absorb what the teacher just said. 
Students will be able to message each other to clear up confusion and ask questions during Glitching. In a trial version of the feature, some students invariably attempted to unionize the classroom, asking the full class to just not write anything on the test. 
"United we bargain, alone we beg," said John Jiminy '22, a self proclaimed TikTok star with a little over 3,000 followers. "Ms. Whatever-Her-Name can't fail everyone. What was I saying? Oh yeah. Glitches is totally poggers." 
Zoom reminds its users to take care of their mental health, go out for a walk or maybe spend an evening with some family. They also remind you to remember that your essay is due tonight at 11:59 p.m., three pages, eleven point Times New Roman font and single spaced.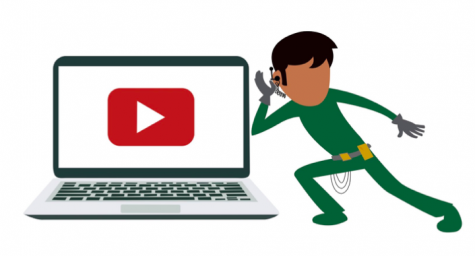 Browser Monitoring: 
Zoom will now allow meeting hosts to see if participants have the Zoom browser open, and if not, what browser they have open instead. This change has been made as a result of increased complaints from teachers regarding the tendency of their students to appear zoned out or have a "Zoombie" look about them, as well as increased spikes in the number of assessments containing word-for-word information from teacher resources. Student to student, there are better methods to cheat. Check out some fool proof methods here.   
WiFi Speed Test:         
With WiFi issues being at the top of the list of problems in the remote learning and working setting, Zoom has partnered with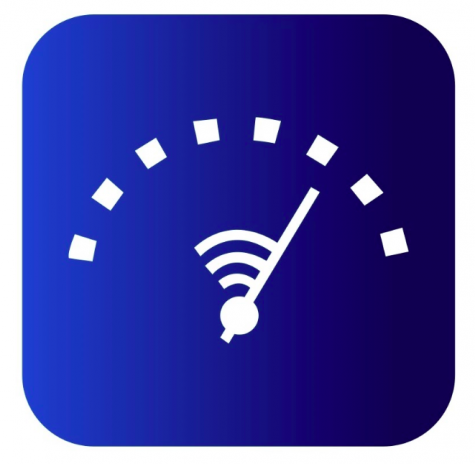 Xfinity to produce a Zoom-specific feature allowing the host to quickly run a test on the WiFi speeds of participants, all with the click of a button. Within one to two minutes, the host will receive a report detailing the WiFi speeds and status of all participants so that they are aware of any possible WiFi issues students are experiencing.  
For students, this will be especially useful when you experience those sudden internet connection issues while taking a test. Rather than scrambling to email your teacher about your predicament (which can be an agonizing process that involves much wailing and gnashing of teeth), you can trust that your teacher is fully aware of the situation. Now you can focus your energy on finishing the assessment that you definitely studied for. No Googling shenanigans here. That would be academically dishonest of you. We all know Stevenson students are better than that.  
"I would never cheat," Ecalla Wooni '23 said.
Breakout Room Gallery View: 
In an attempt to encourage the utmost virtual-face to virtual-face social interaction, Zoom has provided hosts with a gallery view of all in-session breakout rooms. This enables them to monitor who has their videos off, who is muted and vice versa. Zoom hopes that this addition will make participants more motivated to finally reveal their faces and voices in the breakout rooms they've been in all year, thereby increasing collaboration and productivity. 
Now, you can't hide behind the comfort of a muted mic and a shut camera. They're watching you. They always will be.