Digging for (Green and) Gold?
New England Patriots rumored to swap logo to mimic Stevenson High School Patriots, may face IHSA punishments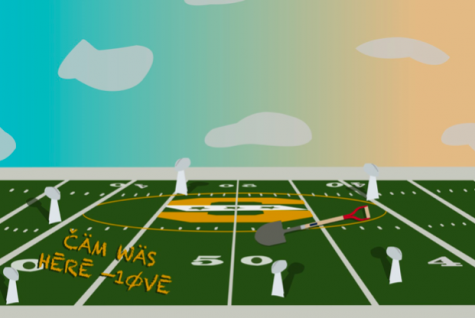 After their Week 17 win over the New York Jets, the New England Patriots — who finished 7-9 — are engaging in conversation with Adlai E. Stevenson High School in Lincolnshire, Illinois in hopes of receiving permission to use the school's s-shaped logo with three stars inside.
According to Chief Executive Officer Robert Kraft, the decal-based decision is being made in an effort to return to the New England Patriots' long-standing winning ways.
"The Stevenson Patriots are, unequivocally, one of the best high school football teams in the entire country," Kraft said. "We truly admire their commitment to excellence, as exhibited by their previous 30-year streak with a playoff appearance. Hopefully, we'll be able to have the same one day."
The New England Patriots themselves have made the postseason 17 out of 21 seasons since the beginning of the 21st century; maybe not so coincidentally, the last year they changed their logo was 2000, the season in which they embarked upon their historic run. Yet the departure of six-time Super Bowl Champion quarterback Tom Brady after the 2019 season sent ripples throughout the franchise, causing it to end its 11 consecutive years in the postseason. New England is optimistic that it can revive its playoff fortunes.
"We simply didn't do our job this year," head coach Bill Belichick said. "Rebranding ourselves can bring new energy to our team. We need that. Eleven straight years isn't good enough."
Per reports by ESPN's Jeff Wojnarowski, Kraft and Stevenson principal Troy Gobble have spoken over the phone three times since the end of the National Football League (NFL)'s regular season on January 3. Wojnarowski also notes that the Patriots are seeking to adjust the green and gold colorations of Stevenson's emblem to insert their traditional nautical blue, red and new century silver themes.
Although the 2019 season snapped Stevenson's own postseason surge, head coach Brent Becker expressed excitement that an NFL franchise would turn to a high school for logo inspiration.
"It's touching, really," Becker said. "At Stevenson, we pride ourselves on serving as the precedent for others, whether in terms of academics, renovations, etc. To see our ingenuity pay off in terms of branding is remarkable and an ode to all of our outstanding designers, faculty and staff."
However, New England's changing of the (figurative) guard may not be entirely straightforward. The Illinois High School Association (IHSA) is rumored to ensure that the NFL's Patriots refrain from implementing any element of Stevenson's logo that is too similar.
In order to avoid identical angles and congruent shapes, Wojnarowski adds that Belichick and Kraft are planning a trip to Lincolnshire to measure the exact dimensions of and even extract portions of Stevenson's midfield logo — action which would violate Rule 1.03.80 of the IHSA's rulebook and which could result in a scouting moratorium for IHSA football games.
At the same time, Belichick claims he is not complicit in any of these behaviors.
"I was shocked to learn the news reports about any sort of digging or measuring," Belichick said. "We would never let a logo's precise measurements distract us from the next game. Onto Cincinnati."
While Kraft, Belichick and the rest of the New England Patriots' braintrust must retain a watchful eye about the particulars of Stevenson's symbol, they now face their own unrelenting view: not just from IHSA Executive Director Craig Anderson, but also the entire NFL and IHSA landscapes.