Virtually Viable
Stevenson introduces virtual reality remote learning expansion to bring school building to student's home
Beginning in March 2021, Stevenson will be launching a new Remote Learning ++ model, which allows students and teachers to attend classes through a virtual reality (VR) system. This will allow students to experience a physical learning environment from the safety and comfort of their own homes. 
The model offers various tiers of VR technology and will be provided to all students and staff as an upgrade to the current Remote Learning+ and hybrid model. The school sees VR as the best of both worlds; it simulates school but within the safety of students' homes. Along with the VR system, a new VR+ team has been introduced to help the transition to the new system and applying it to regular education once COVID-19 is a thing of the past. 
"Zoom was such a limited model," said Warren Anderson, Stevenson's new Director of Virtual Reality."We wanted to create an experience where students were immersed in an academic environment with their peers and teachers while feeling like they were back in school."
The system allows students to learn in a simulated environment that is almost indistinguishable from in-person learning. At the most basic level, students will receive the Silver package, which includes a pair of VR glasses that will allow them to see a classroom environment and avatars of their peers around them. Upgrades are also being offered through a reward system. 
"We feared that academic motivation was low last semester when using Zoom, so to help motivate students, they will be able to upgrade their VR system as a result of hard work and good grades," Advik Khatric, a psychology teacher at Stevenson, said.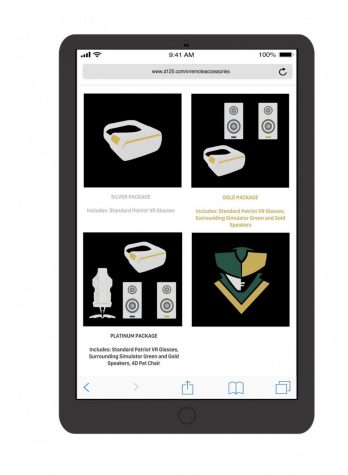 Students on the Green and Gold Honor Roll will be able to upgrade their Silver package to a Gold and Platinum package, respectively. Students who qualify for the Gold package will receive a surround sound speaker system along with their headset. Platinum students will also have a 4D chair that moves to simulate the physical experience of being in a classroom. 
"The thing that I missed the most about in-person school was the building," Alex Brooks '21 said. "Being at home but feeling like I'm in the school building will be a great experience, especially since this is my last year at Stevenson. The brick walls at my house and the grey carpet just don't have the same vibe." 
Beyond changing the environment itself, administrators also noted that this new system opens doors for new developments in instruction as well. 
A beta version will be implemented for the remainder of the 2020-2021 school year and administrators are hopeful that the model will continue to develop in the following months. 
"We are changing the future of education," Anderson said. "With VR, the opportunities are endless. I doubt we would ever return to in-person learning after our tentative launch." 
However, administrators recognized concerns regarding the increasing use of technology and screen time in students' lives. Student Council announced a destress program to help students manage these new challenges. The program will allow students to participate in a variety of activities including VR games and meeting comfort dogs virtually in a tournament style dog show. 
Ultimately, all academic classes and extracurricular activities will be conducted through VR for the foreseeable future. After the ability to return to in-person learning returns, the technology will be used within some classrooms and other school activities such as labs, meetings, shows, and tutoring.  
"This is a step in the right direction and is well worth the financial investment we've had to make," Anderson said. "This new style of learning is doing so much more than replacing the current education system. It is expanding it in so many creative ways."