"Music": the Tone-Deaf Musical
Staffers review Sia's failed directorial debut, time to do better for neurodivergence.
For someone with nine Grammy nominations for songs discussing alcoholism and mental illness, nobody expected Sia to be tone-deaf towards the Autism community. Sia's recent directorial debut movie "Music" faced backlash from neurodivergent and neurotypical people alike for misrepresenting those with autism. 
Although Sia may have had good intentions, the execution of the movie failed miserably. "Music" may have gotten two Golden Globe nominations, but far more deserved is the backlash that Sia is receiving for both how she has responded to the movie's critics and its misrepresentation of neurodivergence that is evident in the plot.
After the death of her grandmother, Zu (Kate Hudson) is left with no inheritance but instead handed the responsibility of her autistic half-sister Music (Maddie Ziegler). Rather than focusing on Music, as the title suggests, the movie follows Zu's financial struggles as a drug dealer while she learns more about Music's needs from Ebo (Leslie Odom Jr.), who is neurotypical and Zu's love interest. 
People often have the misconception that those who are autistic cannot communicate and are socially awkward, which stigmatizes the disability and silences the community. Essentially, Music's character is not explored but painted as an annoyance and challenge, feeding into the stereotype that the autistic community struggles with. 
Not only does the plot misrepresent the autistic community but so does the casting. Ziegler, a neurotypical actress and dancer, was cast as Music. Anytime a neurotypical individual impersonates Autism, authenticity is lost, and the portrayal becomes another mockery of the Autism community. While Ziegler isn't at fault for the trainwreck that 'Music' is (filming began when Ziegler was only 14 and bound by a contract signed by her mother and Sia, who is her godmother), Music's casting is still upsetting because autistic people already have a harder time getting roles in movies and shows.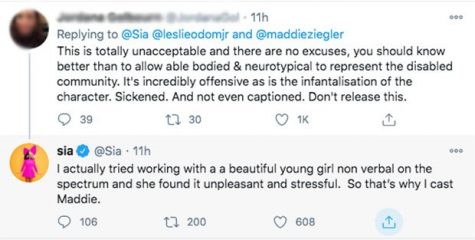 The problems with the film don't end with the casting; the movie is filled with multiple music numbers with bright colors and flashing lights, which may overstimulate neurodivergent people. Epilepsy is especially a concern for those on the autism spectrum, making "Music" inaccessible to the demographic it supposedly gives a voice to. 
When challenged about her decisions, Sia engaged in tense Twitter debates to defend herself on the filming and production process. Sia claims to have created this movie with good intentions as a letter to the Autism community, but she responded aggressively when criticized by an autistic actor. She tweeted back, "Maybe you're just a bad actor." 
Rather than addressing the actor's valid concern, Sia simply insulted him. Her response is inappropriate and unacceptable, especially given the severity of ableism today. Sia made it clear that she holds her pride to a higher regard than the respect neurodivergent people deserve.

Although Sia claims that she has done ample research, it was nowhere near enough. Sia was called out for scenes in the film where Music was restrained because the Autism community is trying to steer away from the usage of restraints due to their inhumane nature. Thankfully, Sia later announced on Twitter that these scenes would be removed from her movie, but it shouldn't have taken someone else to point out how problematic they were since she claimed to have done research.
Before the release of her film, Sia tweeted, "I'm sorry," and demonstrated her cowardice by proceeding to deactivate her Twitter account rather than face the consequences.
To avoid the mistakes Sia has made, people should make cognizant efforts to include those who are neurodivergent, even outside the film industry. These efforts can begin with the celebration of World Autism Awareness Day on April 2 and should extend past just this one day. 
The best way to learn about the Autism community and avoid being ableist is to listen to what people from the community have to say. Instead of arguing with them like Sia did, neurotypical people should actually talk to autistic people about their lived experiences, rather than relying on impersonations of them by neurotypical actors. It is important to give a voice to autistic people in everyday life and be conscious of how an individual's actions affect other communities.
The film industry has started making a conscious effort to give roles to autistic actors, such as Mickey Rowe, the first autistic actor casted to play an austistic character in a professional production. He was cast as Christopher Boone in the play "The Curious Incident of the Dog in the Night-Time." Instead of watching "Music," neurotypical people should opt for Pixar's short film "Loop," which helps audience members confront ableism by showing an autistic girl and a neurotypical boy work through miscommunication in a nine-minute short. 
"Music" had the potential to be a Golden Globe quality movie if it authentically portrayed Autism within its plot, casting, staging and attitude. Instead, to put it plainly, the film deserves its eight percent Rotten Tomatoes rating.