IHSA Meeting Gets the Ball Rolling
The IHSA decides start and end dates for sports, releases revised 2020-2021 schedule
On January 27, the Illinois High School Association (IHSA) released an updated sports schedule for the 2020-21 school year. The schedule, created in accordance with Illinois Department of Public Health (IDPH) guidelines, established a timetable for when all spring and winter sports could return to competition.
This modified schedule features different start and end dates for sports than the initial schedule released by the IHSA on July 29, 2020. Despite IHSA Director Craig Anderson's statement that due to Governor J.B. Pritzker's COVID-19 regulations, the IHSA wasn't expecting to start low-risk winter sports before January, the new schedule even allows for some higher-risk sports, like basketball, to resume competition. In addition, the new schedule allows for a maximum of 6 weekly contact hours for each team, an increase from previous guidelines.
Stevenson's athletic department appreciates the opportunity for athletes to compete with their teams under these new regulations.
"At the end of the day, I just want our athletes to be able to participate in the sport they love, and a lot of work has been done by several organizations, including our own athletic department," Athletic Director Trish Betthauser said. "I am more so just thankful and utterly grateful for all the work that has been done and all those people that have made this a possibility for our athletes."
The deliberation by the IHSA brought about quick change for some. Following the announcement, some athletes learned that practices and competitions for their sport would start on a different date than expected, driving them to adapt and be flexible to the new guidelines.
"Conditioning ourselves to play under whatever circumstances has always been the first priority," Seamus O'Connell '22, a boys football and basketball athlete, said. "Coaches in football and basketball did a great job at making it clear that we need to be ready for whatever happens, and my teammates have done a great job staying ready."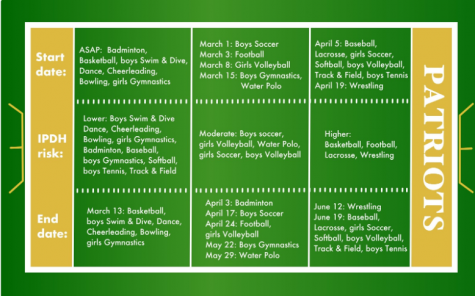 Coaches also have to manage and relay new information to their athletes. Despite the uncertainty, they have been working hard so athletes are prepared for the season. Though grateful for any chance to play, some coaches feel that their new season duration  is insufficient. 
"I certainly feel for students with all the changes and circumstances," Boys Basketball Head Coach Patrick Ambrose said. "I am somewhat pleased as we get to play, but it is rushed and I would extend the season if I could another two weeks until the end of March."
While optimizing the shorter competition and practice times that students now have, coaches must also make sure students are following the health guidelines issued by Stevenson. Although there are some exceptions, such as swimming and diving, the IHSA requires all student-athletes to wear masks while practicing and competing.
Alongside the mask requirements, students must enter Stevenson with the daily health screener ready, measure their temperature using an iPad and scan their ID to check-in. Still, in spite of the rules instituted by Stevenson and the IHSA, some athletes question the safety of athletics practices. While supportive of the additional contact days, girls volleyball athlete Nomun Gunbadral '24 feels that the safety guidelines that have been established are ineffective in a sports environment.
"I don't really think [the IHSA's] safety precautions are proficient because not everyone's social distanced," Gunbadral said. "And either way, these are sports, and sports contain physical contact." 
Athletes' schedules have been altered significantly since the start of the pandemic, but athletes like O'Connell are still optimistic despite the recent changes. O'Connell says he appreciates the ability to return and interact with his teammates.
"It feels really great to be able to compete and play alongside my teammates, especially in a year where there's so much uncertainty," O'Connell said.