Empty Stands, Full Effort
Stevenson athletes discuss how they have adjusted to the reality of playing without spectators present
Under normal circumstances, Ava Bardic '22 would be playing varsity basketball surrounded by a gymnasium filled to the brim with spectators, ranging from close friends and family to the average Stevenson student. For Stevenson athletes like Bardic, feeding off the energy of the crowd is a powerful motivating and energizing tool during games.  
However, due to the pandemic, Stevenson athletes such as Bardic are unable to compete with spectators present. Athletes have had to adapt to playing in a relatively empty environment; Lake County is currently under Tier 1 mitigations, meaning each athlete is only given one to two tickets for family members to attend, depending on their sport.
Bardic acknowledges that the lack of spectators during games has made it more challenging to get excited during the game and spark energy within individual players. However, she believes that the sense of comradery between herself and her teammates along with the support of her coach provide fair compensation for the missing fan environment. 
"Yes, it is more difficult to get pumped and excited to play when there aren't fans," Bardic said. "However, my coaches and my teammates have become my 'in person' motivation and my family and friends who watch online are my 'online' motivation."
To those students who find themselves missing being spectators during Stevenson sports events such as basketball, Bardic recommends that they use technology to their advantage. Students are able to watch current Stevenson sports through livestreams on the Patriot Athletic Network Youtube channel, as well as stay in touch with the girls basketball team through Instagram and Twitter.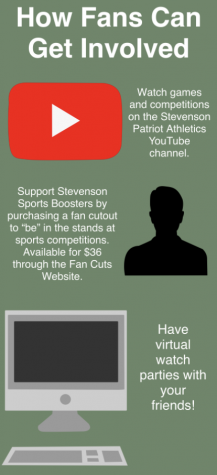 "Although we aren't able to have fans in-person, it is always fun to know that our friends are still watching us play even if they can't actually be there," Bardic said. "Students can always support us through any of these online options."
Girls' varsity head coach Ashley Graham also acknowledges how a lack of spectators during games makes it harder for her team to become energized by their surroundings. However, she is confident that so long as her team will put forth their best efforts every game. 
"It does make it more difficult because their whole lives they have played in front of their families and friends," Graham said. "Although, one thing remains— we play for the pride of putting on that Stevenson jersey and the joy the game brings us."
However, some athletes have had a more difficult time adapting to competing without the support of fans on the sidelines. Junior Varsity Swim Captain Bhavin Patel '21 said he misses seeing his friends and family.
"I kind of enjoy, when I'm swimming if I just tilt my head to the side and see people jumping up and down," Patel said. "It really hypes me up and gets me moving more." 
Patel said he believes that having fans present is a crucial motivator for many athletes. In addition to this loss of emotional support at competitions this year, Patel noted that the physical environment of swim competitions feels quite different without fans. 
"Especially during the relays, it's loud and it gets really hyped up, and I feel like that's all gone this year," Patel said. "Even now, during practices, it's quiet."
Despite these challenges, student-athletes have worked hard to remain optimistic this year. Regardless of the current state of fan environments during games, Bardic personally encourages all Stevenson athletes to take this time to strengthen the bonds with their teammates and believes that they serve as athlete's main support during pandemic-era games.
"During games and events, without parents and friends, your team is the only people who are there with you cheering you on," Bardic said. "Though our seasons and our games aren't exactly what was expected, we have to stay close to our teammates and try to make the best of what we have been given."